10 Great Cable Shows Streaming On Netflix Right Now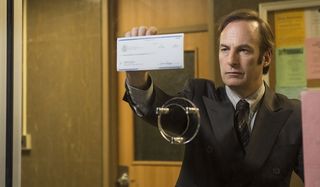 Streaming services have given TV fans plenty of options for binge-watching content, but there's still a certain thrill in watching great shows live as they air. Unfortunately, it can be difficult to tell the great shows from the terrible shows until a few seasons have aired; by that point, plots may have progressed too far for any new viewers to jump right into the action. Even shows that open each episode with a "Previously on" can't always give enough context to catch anybody up from the beginning.
Luckily, Netflix has a vast library of TV shows with past episodes to enable folks to catch up with a series. We went through the best TV that Netflix has to offer and discovered 10 great current cable shows that are available for streaming. Netflix can almost always be counted on to get all seasons of a show streaming before the next season premieres, so take a look at our list of great cable shows and prepare to tweak your queue!
It's Always Sunny In Philadelphia
It's Always Sunny in Philadelphia is a crazy comedy the revolves around the shenanigans of a group of shameless alcoholics in their Philly bar. The show has evolved over the years to stay fresh as season after season passes. The world would really be a much less hilarious place if not for the Lethal Weapon 5 subplot or the Nightman Cometh musical extravaganza or Charlie Day dancing around in a green body suit. Always Sunny finished Season 11 in early 2016, and it's already been renewed through Season 14. Catching up now would really be an investment in a funnier future.
How Many Seasons Are Available Right Now: 10
Where It Airs Live: FXX
Bates Motel
Bates Motel is a must-see horror series that has taken the premise of the iconic Psycho film and expanded it into an ongoing show that is as compelling as it is chilling. Norman Bates and his mom Norma run a small motel in Oregon. Their lives are anything but peaceful as Norman's mental state becomes dangerously unstable, and Norma is willing to go to some unnerving lengths to keep Norman safe and close. Bates Motel has finished four seasons, with the fifth and final set to debut in 2017. There's plenty of time to catch up on Netflix before the next set of episodes hits the airwaves.
How Many Seasons Are Available Right Now: 3
Where It Airs Live: A&E
Shameless
Shameless is a dramedy that follows the stories of a family in Chicago that struggles - and generally fails - to function. The series is led by William H. Macy as the single alcoholic father of six children, all of whom have problems of their own. Episodes range from pretty dark to mostly hilarious to surprisingly steamy. Shameless has aired six seasons so far, and a Season 7 is on the way. The premiere will air on Sunday, October 2 at 9 p.m., so newbies won't necessarily need to binge-watch to catch up in time for Season 7.
How Many Seasons Are Available Right Now: 4
Where It Airs Live: Showtime
Better Call Saul
Better Call Saul is a spinoff prequel of Breaking Bad, which is really reason enough to give the series a try. Breaking Bad was pretty awesome, and its spinoff is a witty further look at some of the most interesting side characters from Walt and Jesse's many meth misadventures. Bob Odenkirk is fantastic with the drama as well as the comedy. Better Call Saul has already been renewed for a Season 3. If the show continues its trend from Seasons 1 and 2, we should expect Season 3 to hit the airwaves in February 2017.
How Many Seasons Are Available Right Now: 1
Where It Airs Live: AMC
Pretty Little Liars
Pretty Little Liars is a mystery thriller aimed at teens, but it's pretty addictive for folks of all ages. The titular pretty liars are the former members of a clique that fell apart after the death of their queen bee Alison. Clues emerge that Alison's death may have been more scandalous than anybody guessed, and the girls are plagued by messages sent by a mystery antagonist known only as "A." A uses intimate information about the four friends to force them into unsavory actions. Pretty Little Liars is set to end after Season 7, the first half of which is currently airing. The second half will debut in winter 2017.
How Many Seasons Are Available Right Now: 6
Where It Airs Live: Freeform
The Walking Dead
The Walking Dead is the phenomenally popular zombie apocalypse thriller that has people everywhere talking on Monday mornings between October and April each year. A group of survivors led by former sheriff's deputy Rick Grimes struggles to survive after the zombie virus sweeps the nation. They must cross major moral lines if they want to live in a world with few allies and lots of ways to die. It's not the happiest or easiest show to watch, but it's awfully engaging. There's no end in sight for the series that draws millions of viewers each week. Season 7 of The Walking Dead debuts on October 23 at 9 p.m. ET.
How Many Seasons Are Available Right Now: 6
Where It Airs Live: AMC
Rectify
Rectify is a drama all about the wrongfully-convicted Daniel Holden in the years after his exoneration. He spent nearly two decades behind bars for rape and murder; adjusting to life outside of prison when he had been a resident on death row takes its toll. Fans of Netflix (opens in new tab)'s Making a Murderer series might enjoy Rectify for the fictionalized story that bears some serious similarities to the real life Steven Avery case, and viewers who enjoy some suspense with their drama may find themselves on the edges of their seats. The fourth and final season premieres in fall 2016.
How Many Seasons Are Available Right Now: 2
Where It Airs Live: SundanceTV
Archer
Archer is an animated spy comedy that spoofs James Bond tropes to perfection. It's not a show that's necessarily for everyone, though, due to pretty frequent crudeness. Still, the running gags and continuity are enough to bring laughs in every episode. Sterling Archer is a suave spy who likes to drink and loves the ladies, but he also has mommy issues made worse by the fact that his mom runs the spy agency where he works. Archer lives in a danger zone that has been known to result in everything from ants to tinnitus. The series was renewed for a whopping three seasons after Season 7. Season 8 will debut in January 2017.
How Many Seasons Are Available Right Now: 6
Where It Airs Live: FXX
Turn
Turn is a period drama that tells the tale of the Culper Ring of spies that turned the tide of the Revolutionary War. It's not exactly a documentary of everything that happened in history, but the excitement of 18th century espionage is enough to justify suspending disbelief. The show has recently been cancelled. Luckily, Turn will get a fourth and final season in 2017 to finish the story of the Culper Ring and bring the Revolutionary War to an end. If Season 4 follows the trend of Seasons 1 - 3, we can count on Turn returning in April and running until June next year.
How Many Seasons Are Available Right Now: 2
Where It Airs Live: AMC
Z Nation
Z Nation is pretty much the other post-apocalyptic zombie drama, and there are some similarities to the much bigger Walking Dead. Fortunately, Z Nation is different enough from the juggernaut AMC series that even Walking Dead fans can watch without feeling like they've seen it already. This zombie apocalypse story chronicles the cross-country journey of a team of survivors as they try to transport a man whose apparent immunity to the zombie virus may hold the key to a vaccine. The first two seasons have run from September to December, so any folks looking to catch up at a moderate pace may need to get a move on. A Season 3 has already been ordered, so we should be getting more Z Nation sooner rather than later.
How Many Seasons Are Available Right Now: 2
Where It Airs Live: Syfy
Laura turned a lifelong love of television into a valid reason to write and think about TV on a daily basis. She's not a doctor, lawyer, or detective, but watches a lot of them in primetime. Resident of One Chicago, the galaxy far, far away, and Northeast Ohio. Will not time travel, but will sneak references to The X-Files into daily conversation.