10 Great Shows To Stream On Netflix This Summer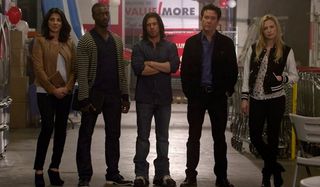 Summer can be a rough time for TV fans. Most of the big network shows are on hiatus, and fall premiere season can feel unbearably far off. Shows that debut in the summer months just aren't always enough to make up for all the series that are suddenly gone from the airwaves. Luckily, Netflix has a vast library of television series available streaming, and there's nothing like binge-watching to pass the time. The best shows for summer viewing are often shows that have already concluded and can be binge-watched from beginning to end. The pain of binge-watching five seasons of a show and then discovering that it's still in progress but on hiatus is a pain that none of us need over the summer.
So, as TV drought really begins to kick in, here is a look a ten shows that are perfect to stream over the summer. Don't worry - we've left shows with agonizing finale cliffhangers off the list.
Sons Of Anarchy
Sons of Anarchy was a crime drama on FX that followed the outlaw adventures of the Sons of Anarchy Motorcycle Club. Each season was divided into multiple plot lines that intersected at key moments to combine the personal lives of Jax Teller and his leather-clad nearest and dearest with the criminal activities of the gang as a whole. There are heartbreaking tragedies, fist-pumping triumphs, and plenty of guys blowing stuff up and punching each other's lights out. It was a show that was difficult to watch live because it sometimes meant waiting weeks between episodes, but it's perfect for binge-watching now that the engines have been cut.
How Many Seasons Are Available: 7
Chuck
Chuck was a series that combined an action-adventure comedy with a spy thriller and revolved around a lovable computer nerd named Chuck Baratowski. Chuck was a guy who was too smart for his menial job but didn't have the confidence to seek more out of life. When he accidentally embedded U.S. spy secrets into his brain, Chuck had to team up with CIA Agent Sarah Walker and NSA Major John Casey to take down bad guys, among other missions. Zachary Levi was fantastic at bringing both comedy and drama over the years as Chuck, and the rest of the cast formed a bizarre family unit that grounded the series for the whole run on NBC.
How Many Seasons Are Available: 5
Leverage
Leverage was a TNT drama in which the heroes were criminals and the cases were crimes. It followed the story of former insurance investigator Nate Ford after he turned from the law and started masterminding elaborate schemes to use extralegal means to help folks get vengeance for bad guys hiding behind loopholes. Nate led a five-person team that saw him as the mastermind and also included a thief, a grifter, a hacker, and a retrieval specialist. Timothy Hunter led the ensemble well, and the entire crew shared an exciting chemistry that kept the formula fresh.
How Many Seasons Are Available: 5
Friday Night Lights
Friday Night Lights was an NBC drama that centered on the high school football team in the small town of Dillon, Texas. The show split focus largely between the coach and his team of troubled young players. Coach Eric Taylor and his wife Tami's livelihoods in Dillon were directly connected to the success or failure of the football team, and the players turned out to have problems of their own that extended far beyond sacks and touchdowns. Topics tackled by Friday Night Lights ranged from drugs to family values to learning to live with disability. If you love character development and nuanced relationships, Friday Night Lights could be perfect for you.
How Many Seasons Are Available: 5
Breaking Bad
Breaking Bad was a fabulous AMC series that followed master chemist Walter White as he transformed from a mild-mannered high school teacher to a meth kingpin whose terrifying reach extended into all corners of the New Mexico underworld. Bryan Cranston was electrifying as Walt, and Aaron Paul as meth-addict-with-a-heart-of-gold Jesse Pinkman was the perfect scene partner for Cranston in driving the series through gripping highs and lows. Seasons were carefully mapped out to steadily build suspense from premiere to finale, and the writing worked whether an episode was a standalone bottle installment or an action-packed serialized gamechanger. Even if you've already seen Breaking Bad in its entirety, it's definitely a show worth streaming a second or third or fourth time.
How Many Seasons Are Available: 5
The Wonder Years
The Wonder Years was a delightful ABC sitcom that told the story of a middle-class suburban family in the late 1960s. Young Fred Savage starred as the emotionally driven Kevin Arnold, and episodes tackled everything from the Vietnam War to the shifting of 1960's family dynamics to Kevin's perpetual crush on Winnie Cooper. Kevin's point-of-view through his adolescence added an innocent charm to even the most dramatic moments, and there were plenty of laughs to be had along the way as Kevin came of age. Winnie Cooper's theme may get stuck in your head, and you may want to sing along with the opening credits for every episode, but you won't regret watching The Wonder Years on Netflix
How Many Seasons Are Available: 6
Lost
Lost was a supernatural drama on ABC that took so many twists and turns over the years that fans still debate what happened when and where, and just what that ending really meant. The main action occurred on a mysterious island that forced the survivors of the Oceanic Flight 815 crash to go to impossible lengths to survive. There were flashes back and flashes forward in addition to the island's bizarre shenanigans, and the crew of characters over the years was compelling enough that it was often easy to suspend disbelief concerning even the craziest of plots. You'll probably cry about as often as you'll laugh and scratch your head as the trials that face the characters get more serious, but it's an easy show to marathon and is well worth streaming.
How Many Seasons Are Available: 6
Nurse Jackie
Nurse Jackie was a Showtime drama that delved into some darkly humanist comedy as it explored the life of Jackie Peyton, who was an emergency department nurse who had to find ways to juggle her work as a nurse with her relationships with the other nurses and doctors at All Saints' Hospital in New York. As it happens, Jackie's preferred way of juggling her work involved pilfering prescription drugs to get her through her days. Edie Falco was phenomenal as the often-unlikable but always compelling addict Jackie, and the rest of the characters worked well enough to keep the show enjoyable even when Jackie herself was not. Nurse Jackie is definitely not your typical medical drama for streaming this summer.
How Many Seasons Are Available: 7
Psych
Psych was a TNT series that combined comedy with drama as two best friends teamed up to help the Santa Barbara Police Department solve crimes. Shawn Spencer used his unique observational skills to convince others that he could channel psychic powers to solve crimes, and his best buddy Gus did his best to keep Shawn in line as much as possible. They were a great comedy duo with wacky Shawn bouncing off of straight man Gus, and James Roday and Dulé Hill nailed the BFF dynamic that powered the series for the better part of a decade. Timothy Omundson was hilarious as Detective Lassiter, and Maggie Lawson was a charming female lead who never took Shawn and Gus too seriously. Psych is a show that's easy to get sucked into for multiple episodes at a time.
How Many Seasons Are Available: 8
The X-Files
The X-Files was a paranormal drama that followed FBI Agents Fox Mulder and Dana Scully as they tried to prove the impossible while in the thick of conspiracies and aliens and monsters. Mulder was a believer whose enthusiasm for investigating the impossible put him at odds with his superiors, and Scully was the skeptic scientist assigned to debunk him. They bonded over their mutual pursuit of justice and formed a partnership that has become legendary. David Duchovny and Gillian Anderson had enough crackling chemistry to keep The X-Files worth watching even when the stories got overly complicated. The show came back for a tenth season in 2016, but the original run from 1993 - 2002 stands on its own, though not as much when Duchovny left. Starting The X-Files is admittedly a massive undertaking, but there's a reason why fans are so loyal to all things Mulder and Scully.
How Many Seasons Are Available: 9
Resident of One Chicago, Bachelor Nation, and Cleveland. Has opinions about crossovers, Star Wars, and superheroes. Will not time travel.
Your Daily Blend of Entertainment News
Thank you for signing up to CinemaBlend. You will receive a verification email shortly.
There was a problem. Please refresh the page and try again.