Sorry Leonidas of Rhodes, Michael Phelps Broke Your 2000 Plus Year-Old Record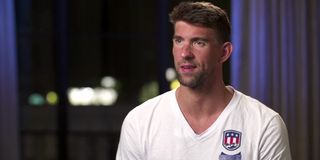 Michael Phelps is currently competing in his fourth summer Olympics competition in Rio, and while he is swimming in fewer events than in years past, he has still managed to dominate the events he picked up in 2016. Last night, he totally blew the other 200 m individual medley contestants out of the water, and landed yet another gold individual medal. This means he has 13 individual gold medals. It also means he finally broke a 2,168 year-old record, beating out Leonidas of Rhodes.
The news had already been running around the Internet prior to Michael Phelps' win, as statistician Bill Mallon pulled it out of the record books when Michael Phelps tied the record in terms of individual wins earlier during the Rio games. Of course, the modern-day Olympic games didn't start until 1896, so there's a good chunk of time when Olympic records were not recorded, for obvious reasons. Still beating a dude that competed well over 2,000 years ago is a feat, and one of the more interesting statistics related to the swimming champion's long career.
Thirteen Olympic gold medals is a ton, but it may not sound like a lot for a 4-time Olympian like Michael Phelps who has competed in so many races. However, he actually has 22 gold medals in full, counting events like relays in which he has competed as a part of a team. After winning his 13th individual gold medal on Thursday, a medal that was also his fourth in the row at these games, Michael Phelps told NBC that it was actually tough to keep it together when he was being handed his medal. Here's what he had to say.
As for Leonidas of Rhodes, the ancient Olympian was known for running rather than swimming. He ran three separate races: the stadion, the diaulos and the hoplitodromos in four separate Olympics. He was a beast in his own day and is still in the history books years later. Now, he's been beaten by Michael Phelps, in a sense.
For more Rio games coverage, be sure to head here. For more on what programs are headed to TV this fall, check out our TV premiere schedule.
Reality TV fan with a pinch of Disney fairy dust thrown in. Theme park junkie. If you've created a rom-com I've probably watched it.
Your Daily Blend of Entertainment News
Thank you for signing up to CinemaBlend. You will receive a verification email shortly.
There was a problem. Please refresh the page and try again.