Why The Fixer Uppers Are Annoyed At Some People Whose Houses They Fixed Up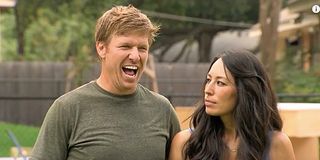 The Fixer Upper couple has been renovating old houses for a few years now. People love the final project, but maybe not as much as we were led to believe while watching on TV. A new report indicates that a slew of people who had homes renovated on the well-liked HGTV series Fixer Upper are now taking those homes and renting them out or putting them up on Airbnb rather than living in the homes themselves. This has, as you may have guessed, annoyed Chip and Joanna Gaines, who put a lot of time and effort into creating homes that their clients will respond to. In fact, it has led the couple to look into changing their policy for finding clients during the upcoming season of the reality series. Here is what they had to say in a statement:
We want to honor our national viewing audience. We want to do remodels for clients' homes. That's the true intent of our show, and we want to ensure that does not get lost in this new vacation rental trend. What started off with perfectly understandable intentions could cast a shadow of a doubt on the much bigger picture, and we are going to do our best to protect that moving forward.
The statement, from JoJo and Chip Gaines also mentions that the couple obviously sees the monetary potential in some of the Waco homes being rented out as vacation homes, with the couple tersely noting that "they get it." However, because they are seeing so many clients take advantage of the work they put in to the homes on the HGTV series, it is becoming a problem. It's becoming a problem namely because the choice to put those homes on Airbnb and VRBO is taking away from the idea Fixer Upper is selling on HGTV. The show spends a lot of time in the farmhouse that Chip and Joanna have lovingly made over. In addition, their clients often bring their children along and the whole idea about family and creating a home that fits your family's needs is really pushed on the series. If people are actually using those homes to make money on the side, it takes away from the magic a little bit.
Nonetheless, Fixer Upper has proven to be a big boon for Waco, Texas. In fact, the Waco Tribune says there are currently six former Fixer Upper homes that are now on the vacation rental market. When the homes were purchased and renovated on the series, the homeowners say they had every intention of living in them. However, the popularity of the HGTV show has brought in curious tourists and the homeowners saw a way to make a little extra cash. They also say that the rubbernecking from out-of-town tourists got really annoying, which is something the people living in the Full House home can certainly identify with.
Chip and Joanna Gaines get it. We get it. But we also get the feeling they may try to put the kibosh on this with contracts moving forward. Season 4 of Fixer Upper is expected to air later this year. In addition, you can find out what else TV has coming up here.
Reality TV fan with a pinch of Disney fairy dust thrown in. Theme park junkie. If you've created a rom-com I've probably watched it.
Your Daily Blend of Entertainment News
Thank you for signing up to CinemaBlend. You will receive a verification email shortly.
There was a problem. Please refresh the page and try again.