Everybody Loves Raymond Is Getting Kicked Off Of Netflix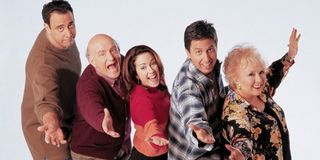 Netflix has been busy ramping up its original content for the past couple of years, but the dirty little secret of having all of those original shows in the lineup is that Netflix has lost a lot of syndicated content that used to be the backbone of the streaming service. We already knew a lot of movies wereleaving the streaming service in September, but as it turns out, one long-running comedy series is also leaving Netflix, as well. The fan favorite laugher Everybody Loves Raymond will also be departing Netflix, and soon.
This week, the subscription streaming service announced that Everybody Loves Raymond will end its Netflix run on September 1, 2016. In a press release, Netflix suggests we watch shows like Friends and Frasier instead, but it's likely to be little consolation to anyone who was in the middle of binge-watching the long-running series.
Ray Ramano has popped up in Parenthood, Vinyl and Men of a Certain Age in the time since Everybody Loves Raymond ended its official run, but his role as the lazy and generally good-natured Ray Barone is the one that fans still most identify with. The series aired for nine seasons on CBS during its initial run, which is a lot of content for the streaming service to lose in one fell swoop.
On the bright side, Everybody Loves Raymond is not exactly the sort of show where episodes need to be consumed in order. In fact, it's had such a highly successful run in syndication on regular TV outlets largely because fans can easily pop in and watch a random episode or five. That's an advantage that a lot of TV dramas just don't have. So, if you are a Netflix user who also subscribes to cable, it's likely you can find your Everybody Loves Raymond fix elsewhere. It's not like when Doctor Who or Battlestar Galactica left the service and fans were forced to either buy Blu-rays or just be sad about it (Although Who is available on Amazon Prime now).
Plus, although Netflix (opens in new tab) taketh away, it also giveth. This month, there are a ton of TV shows and movies that are expected to hit the schedule, including but not limited to London Has Fallen, Zootopia, The Walking Dead Season 6 and Scream Season 2. You can check out the full list here. In addition, if you are more into Netflix's original dramas, you can find out when all of your favorites are returning with our Netflix premiere schedule.
That'll be the thing to watch carefully moving forward over the next few years. We know Netflix is going to continue expanding original programming. We know that's extremely expensive. So, will that continued expansion further decrease the number of syndicated shows and movies the service makes available to fans? Will it further increase the company's monthly fee? Or will the service take a bit of a profit hit? Only time will tell.
Reality TV fan with a pinch of Disney fairy dust thrown in. Theme park junkie. If you've created a rom-com I've probably watched it.
Your Daily Blend of Entertainment News
Thank you for signing up to CinemaBlend. You will receive a verification email shortly.
There was a problem. Please refresh the page and try again.