New Supergirl Season 2 Trailer Hints About Why Supergirl And Superman Are Teaming Up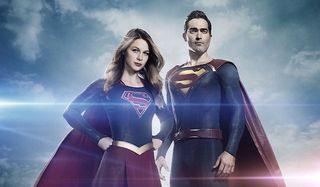 After a whole season of only being seen hazily, from far away or from boot height, Superman is now getting to meaningfully participate in Supergirl in Season 2. Tyler Hoechlin's Man of Steel will guest star in the season's first two episodes when he arrives in National City to spend some time with his cousin and shake things up a bit. However, the show has been cagey about what specific event will bring the two Kryptonian heroes together, but now we may finally know the answer thanks to a new trailer: they're both flying to save a crashing shuttlecraft.
Kara Zor-El kicked off her superhero career when she rescued a falling plane in the Supergirl pilot, and the latest Season 2 preview alludes that she'll finally team up with Superman to stop a shuttlecraft from crashing back to Earth and saving the occupants inside. News announcers from both National City and Metropolis are updating viewers on the shuttle's descent, but their reports differ on which hero they expect to save the day. National City is looking to Supergirl to save the day, while Metropolis is obviously depending on Superman. We also hear Kara's voiceover about how she's dreamed of teaming up with Kal-El, so lucky for her, this is the start of a beautiful partnership.
Early into Supergirl Season 1, Superman promised Kara he wouldn't get involved in her superhero activities unless she asked so that she prove she was capable in following in his footsteps on her own. Whenever he did get directly involved, Kara either just missed him or he was incapacitated. Now that she's had a whole year to protect humanity as the Girl of Steel, she's finally getting to realize her wish of operating alongside her cousin, who has been looking after Earth for over a decade. No doubt Kal is eager to see how Kara is progressing with her abilities and superhero-ing, but judging from official photos already released, he's glad to spend some quality time with her.
During their time together, Supergirl and Superman will also battle the Kryptonite-powered cyborg Metallo, but it won't all be punching bad guys and saving people from crashing. The two Kryptonians, be it in their costumes or their civilian identities, will also be stopping by the DEO and investigating Lena Luthor, Lex Luthor's sister who claims to want to restore her family name, but may have more sinister plans in motion. So far Tyler Hoechlin's tenure as the Man of Steel is only set for two episodes, but it seems highly unlikely that he won't return at some point in the future.
Supergirl Season 2 premieres Monday, October 10 at 8 p.m. EST on its new home, The CW. Don't forget to also check out our fall TV premiere schedule to see when your other favorite shows are returning.
Your Daily Blend of Entertainment News
Connoisseur of Marvel, DC, Star Wars, John Wick, MonsterVerse and Doctor Who lore. He's aware he looks like Harry Potter and Clark Kent.
Your Daily Blend of Entertainment News
Thank you for signing up to CinemaBlend. You will receive a verification email shortly.
There was a problem. Please refresh the page and try again.