10 Most Shocking Grey's Anatomy Deaths, Ranked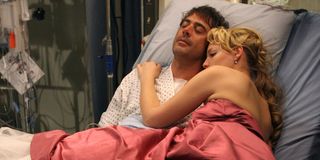 Grey's Anatomy has been on the air and breaking hearts for what feels like forever. In fact, the medical drama is about to enter its whopping 13th season on ABC. And like every other season, we can expect Shonda Rhimes and company to absolutely break out hearts and reduce us to ugly crying messes in the comfort of our homes. One of Grey's' tried and true methods for eliciting this emotional response is through character deaths, and there have been a ton of them throughout the series' long tenure. But which ones were the worst?
The following is a list of the 10 most shocking Grey's Anatomy deaths. These aren't necessarily the most heartbreaking deaths (although many of them are), but the ones which took the viewers off guard and probably reduced them to tears in the process. Obviously major spoilers are ahead for the medical drama, as well as some possibly upsetting imagery of the scenes. Let's get right into it.
10. Heather Brooks
Heather Brooks (played by Napoleon Dynamite and Veronica Mars actress Tina Majorino) joined the cast in Season 9, when a new group of interns joined the ranks of Grey Sloan Memorial Hospital. She was arguably the least annoying intern of the group, although Cristina Yang dubbed her "mousy" which became her other name to the staff. During the superstorm which sent the hospital into a black out, her fellow intern Shane lied and told her that Derek wanted her to search the generator room for Richard Webber. Unfortunately, this resulted in Brooks being electrocuted and hitting her head badly during her fall. Derek and Shane eventually rushed her into surgery, but the swelling in her brain was too much and she died on the table. It was a massive shock to lose one of the interns so soon, and caused some really great drama due to Shane's guilt over the situation.
9. Doc The Dog
Back in Season 2 Meredith was still a bit of a basket case, reeling from the realization that Derek had been married the whole time they were seeing and working with each other. So Mer made a compulsive decision and adopted Doc from a local pound. But while Doc and Meredith had a special connection, he often terrorized her roommates George and Izzie, so eventually Meredith gave the dog to Derek and Addison. But Doc soon got sick (of course), adding an interesting dynamic to the Meredith/Derek/Finn love triangle. Doc would eventually need to put down, breaking the hearts of basically everyone on earth. However, when Meredith drowned in Elliot Bay, she got to reunite with her lost pup in the strange dream sequence she spent a few episodes in.
8. Adele Webber
Adele (Loretta Devine) was honestly one of the most pity-able character on Grey's Anatomy. She had to live knowing that her husband had an affair and loved Ellis Grey, lost the child she and Richard conceived later in life, and watched as her husband put his work before their marriage. Things only got worse when Adele was diagnosed with Alzheimer's- the same exact disease which claimed Ellis. On the day of Bailey's wedding, Adele was brought into the hospital and the bride did surgery on her in a wedding dress. But while she would survive the surgery, it was too much for her heart and she succumbed to an attack. The audience was given hope that all went well, and was shocked when Richard told Meredith at the wedding that Adele was gone. The whole thing ended with a tragic fantasy sequence which featured the couple dancing to their wedding song- "My Funny Valentine".
7. Susan Grey
Susan Grey (played by American Horror Story regular Mare Winningham) was Meredith's stepmother, Lexi's mom, and Thatcher's wife. We first met Susan when she brought her other daughter to Seattle Grace for treatment. After Ellis Grey died (which was far less shocking because she'd been sick for the entirety of her tenure on the show), she and Thatcher went to the hospital to check on Meredith. During her subsequent appearances, Susan succeeded in breaking down Meredith's walls and the two developed a great relationship. But everything changed when Susan came to the hospital due to an annoying case of the hiccups and acid reflux. What started as a regular medical problem soon turned dire, as she went into sepsis and had to get emergency colon surgery. Unfortunately, she died in surgery after suffering a very rare complication. This death came out of nowhere, and once again took away one of Meredith's few loved ones- making her angry and bitter for bothering to open up to someone. Oh, and Thatcher totally slapped Meredith in the face afterward. What a winner.
6. Denny Duquette
Long before Jeffrey Dean Morgan was bashing people's heads in as Negan on The Walking Dead, he was a fan favorite character in Grey's Anatomy. The charming heart patient may have been Izzie's one true love, despite the two never interacting outside of the hospital. Izzie's love for Denny caused one of the biggest WTF moments from Grey's history: when Izzie cut his LVAD wire in order to move Denny up on the transplant list. This resulted in Seattle Grace essentially stealing the heart from Erica Hahn's patient at Seattle Presbyterian, as well as well as Izzie's medial career being in jeopardy. His heart transplant was successful and he and Izzie were engaged. But Denny shockingly died from a stroke caused by a clot, and Izzie went up to see him in her prom dress and found him dead. Denny's death was also shocking because it was one of the first major character deaths in the series. He would go on to make multiple post-mortem appearances in hallucinations suffered by Meredith and Izzie.
5. McSteamy
The rest of this list is going to be a doozy, and Mark Sloan's death is no exception. McSteamy's death was a direct result of the emotionally exhausting plane crash episode. In the second half of the episode, it became clear that the mourning Mark was actually in a much more dire situation. Cristina eventually found extreme bruising on Mark's chest, and she and Meredith did crude surgery on him in the woods in order to drain the fluid surrounding his heart. Cristina would have to continually stop Mark from dying while they waited for help, despite his insistence that Lexie was waiting for him on the other side. McSteamy eventually would be treated in Seattle and woke up for one day before falling into a coma and passing away after 30 days of being unresponsive. Mark's death was especially shocking because we had just lost Lexie, so many fans (myself included) thought it impossible that another character death would happen so soon. Boy were we wrong.
4. Percy and Reed
Charles Percy and Reed Adamson were two surgical residences that joined the show when Seattle Grace and Mercy West merged into one facility. They both had antagonist relationships with the original cast, in particular Izzie Stevens. While not particularly likable, no one could have predicted the events of Gary Clark's rampage during the two-part shooter episodes. These thrilling two hours of television started off with a bang when Clark pulled out a gun and shot Reed in the head during the opening moments of the episode. He would also eventually shoot Percy in the abdomen, and we watched as Bailey and patient Mary (played by Mandy Moore) attempt to save his life with limited resources. This type of violence was unprecedented for the series, and Percy's death in particular served as one of the biggest tear jerker moments. Oh and Mary would eventually bite the dust the next season, after surviving the shooter. What kinda crap is that?
3. Lexie
Few characters on Grey's Anatomy have been as lovable as Meredith's (original) half-sister Lexi, played by a pre-Supergirl Chyler Leigh. Joining the series as an intern in Season 4, she immediately captured our hearts with her attempts to connect with Meredith, her unrequited crush on George, and her eventual love story with McSteamy. Her death came out of literally nowhere during the plane crash episode. In the first moments of the episode, Meredith and Cristina attempt to find the other doctors- realizing that Lexi was in the back of the plane which broke off during the crash. They soon found Lexi under a piece of debris, which crushed her pelvis, legs, and left arm. Her resulting death is one of the most horrifying and emotionally exhausting moments from the series, as she died about 10 minutes into the episode with Mark holding her hand telling her that they were "meant to be". Literally no one saw this coming, and I personally remember trying not to make audible noises from crying during the death scene.
2. McDreamy
Have you started ugly crying? Now we get to one of the most shocking and polarizing moment of Grey's Anatomy history- the death of Derek Shepherd. In an episode that will live in infamy, Derek pulled over to save the lives of car crash victims. After being a total badass, he attempted to drive away himself and his car was hit by a semi. The rest of the episode showed Derek narrating while receiving crappy medical care at a non-trauma facility by Perfect Penny. While non verbal, Derek knew that he needed a head CT, and we were forced to watch the doctors slowly kill him. Meredith would eventually arrive at the facility to say goodbye to her husband and one true love, all while a slow cover of "Chasing Cars" played, breaking all of our hearts. Many fans still haven't recovered from the shock of Derek's death, and tons of viewers vowed to stop watching forever after the events of the episode. That's some polarizing TV.
1. George
One of the most shocking moments in TV history (at least in my book) comes from the death of George O'Malley. Toward the end of his tenure on Grey's, T.R. Knight's George O'Malley decided to leave Seattle Grace and become an army doctor. During the finale episode, a Jon Doe was brought into the hospital- terribly injured and disfigured from saving a life and being hit by a bus. In the climactic final moments of the episode, Jon Doe takes Meredith's hand and writes the words "007" with his finger, revealing to his friend that it was in fact George that they'd been treating. This resulted in a thrilling final scene, where both George and Izzie are coding at the same time and meet each other in a dream sequence. Izzie, clad in her prom dress, takes the hospital elevator- echoing her actions before Denny's death. When the elevator door open we are shown George in an officer's uniform, revealing to the audience that both characters may very well be in the after life. And while Izzie survived, George O'Malley was lost forever.
While all of the deaths in Grey's Anatomy pack an emotional punch, nobody saw George's death coming. This shock would forever remind fans of the series that no one is safe, a promise it has kept throughout 13 seasons.
Your Daily Blend of Entertainment News
Corey was born and raised in New Jersey. Double majored in theater and literature during undergrad. After working in administrative theater for a year in New York, he started as the Weekend Editor at CinemaBlend. He's since been able to work himself up to reviews, phoners, and press junkets-- and is now able to appear on camera with some of his favorite actors... just not as he would have predicted as a kid.