Grey's Anatomy Just Had A Huge Twist Related To Derek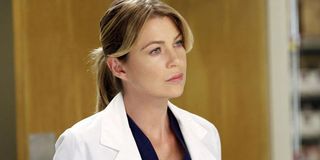 Spoilers abound in this article if you haven't caught Thursday's episode of Grey's Anatomy!
Grey's Anatomy is currently airing its 12th season on ABC. You would think at this point that the show is could not possibly reveal a twist that we haven't already seen coming. But that's exactly what happened when Grey's Anatomy aired the fourth episode this fall, "Old Time Rock and Roll." We finally got to meet Callie's new girlfriend, Penny, but unfortunately, Penny is the twist. Toward the end of the episode, Grey's Anatomy revealed that Penny is, in fact, the doctor who totally messed up when McDreamy entered the hospital last season. Yeah we know, not good. At all.
Here's what happened. Amelia, Meredith and Maggie were throwing a dinner party (although the latter was not around for the actual party). Callie, of course, was on the guest list and she decided to bring her new girlfriend along. Obviously, this made Arizona uncomfortable at first, as last season Arizona and Callie's marriage was broken and they decided to split and date other people. While that was the uncomfortable moment we were expecting, it wasn't exactly the uncomfortable moment we got.
Instead, we saw Meredith look more surprised when she saw Penny, as she realized Penny was, in fact, the doctor who had botched Derek's visit to the hospital and caused his death because of her mistakes. If you can remember back to last season, you'll probably be able to recall the scene after Derek died, when Mer gave a pep talk to a then unnamed doctor, telling her to learn from her mistakes so something like Derek's untimely death wouldn't happen again. It was probably the most gut-wrenching moment in an already emotional episode, and we didn't think we'd ever see that doctor again. However, that doctor is wholly and unmistakably Penny, and clearly Meredith is going to have to confront some of the feelings she had already put behind her in the coming weeks.
While Season 12 of Grey's Anatomy has seen a time jump and a much-restored Meredith, Derek really did seem to come into play a lot during last night's episode. Mer even directly addressed her relationship with Derek when she explained her had slept with her when she was just an intern. She also spent some time training the current interns on how to break bad news, which was an ongoing plot throughout the episode, as well. One of the things she said related to how the person who got the bad news from the hospital worker would always remember the doctor or intern or whomever, which became especially key when Mer saw Penny again.
I honestly always kind of thought the time jumps kept Meredith from really grieving wholly in front of the fans, but having to confront a person who had a serious effect on her past might just change that. We'll have to wait and see how long Penny sticks around, and how much she'll ultimately end up affecting Meredith's social life.
A lot of other exciting stuff happened in the episode, including Maggie and Andrew's sexual activities causing Maggie to get teased by other members of the staff. But the key for longtime Grey's fans was always going to be the connection to McDreamy. And while I never felt Derek Shepherd's death was super well done, I do believe this scene was right on the money.
You can catch new episodes of ABC's Grey's Anatomy on Thursday nights at 8 p.m. ET.
Reality TV fan with a pinch of Disney fairy dust thrown in. Theme park junkie. If you've created a rom-com I've probably watched it.
Your Daily Blend of Entertainment News
Thank you for signing up to CinemaBlend. You will receive a verification email shortly.
There was a problem. Please refresh the page and try again.