We Finally Know Who Felicity Smoak's New Boyfriend Is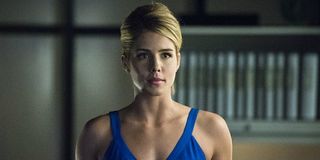 Warning: MAJOR spoilers for the Season 5 premiere of Arrow ahead. If you haven't caught the episode, yet, feel free to check out one of our other lovely articles.
By now it has become pretty clear that a large portion of the Arrow fanbase really disliked what happened with the Olicity romance; it was cute at first, but it eventually spiraled out of control. The folks behind the show seem to have recognized that, and they're intent on doing something about it. We've known for some time Felicity Smoak would have a new boyfriend in the fifth season of Arrow, but the actual identity of this mysterious new love interest has remained a very closely guarded secret -- until now. Sorry to break it to you, Olicity shippers, but Ms. Smoak now appears to be head over heels in her new relationship with SCPD officer, Detective Malone.
During the final moments of the Season 5 premiere of The CW's Arrow, Oliver Queen is shown lamenting the fact that things may never go back to the way they once were for him and his allies. To really hammer this idea home, one of the last things we see in the episode is Felicity Smoak returning home to her apartment, only to find a new love interest waiting to comfort her after a long day of vigilante work. Although her new boyfriend is initially kept out of sight, he eventually leans down, and we find out that Felicity is dating Tyler Ritter's Detective Malone -- who we meet earlier in the episode. After finding herself romantically involved with three separate superheroes, and one supervillain, it looks like Felicity Smoak just wants to settle down with a normal guy who works a relatively normal job. We can't say that we blame her.
At this point we still know very little about Detective Malone -- he hasn't even been given a first name yet -- but he seems like a trustworthy fellow. Quentin Lance has vouched for him has one of the non-corrupt officers left in the Star City Police Department, which means he could eventually become a member of Team Arrow in the long run. That being said, people Quentin has trusted before have eventually revealed themselves as bad guys, so we may have to keep our eyes on Detective Malone for the foreseeable future.
Another aspect of this relationship that hasn't exactly been made completely clear is how Felicity and this cop got together in the first place. Was he simply a rebound following her breakup with Oliver, or are have the events of Flashpoint started to show their handiwork in Star City? Only time will tell, but we have a feeling that Oliver isn't going to be happy when he finds out that Felicity has a new man in her life. He's even started killing again, so Malone should probably watch his back.
For now it looks like Felicity Smoak is incredibly happy with her new boyfriend, but we will have to wait and see how long this newfound happiness actually lasts. Arrow airs every Wednesday night at 8 p.m. EST on The CW. Make sure to check out CinemaBlend's comprehensive fall TV premiere schedule and fill out your television viewing calendars accordingly!
Your Daily Blend of Entertainment News
Originally from Connecticut, Conner grew up in San Diego and graduated from Chapman University in 2014. He now lives in Los Angeles working in and around the entertainment industry and can mostly be found binging horror movies and chugging coffee.