3 Big Reasons Oliver Returning To Killing Is The Right Move For Arrow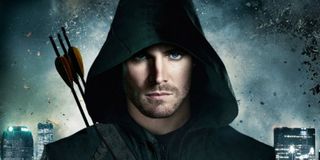 The fall TV season is upon us, which can only mean one thing: all of The CW's DC Comics shows are about to deliver the thrills in a major way. Plenty of game changers will occur across all of the Arrow-verse series this year, including a serious upheaval on the show that started it all. After three seasons of walking the straight and narrow, Stephen Amell's Oliver Queen a.k.a Green Arrow looks to be returning to his use of lethal tactics to protect the citizens of Star City.
This creative choice has generated quite a debate among Arrow fans. Here at CinemaBlend, we seem to be divided right down the middle. Laura Hurley believes Oliver shouldn't start killing again, but I personally think that it's the right decision for the character, the show, and the Arrow-verse as a whole. Check out my list of reasons (as well as Laura's list) and let us know what you think! Now let's get the ball rolling with the implications Oliver's lethal tactics have for the entire Arrow-verse...
The Arrow-verse Needs Moral Ambiguity
Oliver said it best during the series premiere of The Flash: Barry Allen can be something that the Green Arrow never could -- not just in terms of physical abilities, but in terms of morality as well. Arrow has recently struggled to try and match the lighthearted tone of shows like The Flash and Supergirl, but it should really be embracing the inherent darkness of a gritty, street-level crime drama. The best stories told on Arrow lend themselves to far greater levels of moral ambiguity than other shows within the Arrow-verse, and that means making killing not only possible, but inevitable. Not only does this help further differentiate all of the shows set within this universe, but also it actually has the potential to make the dynamic of crossovers far more interesting. Just look at Legends of Tomorrow -- the interplay between the killers and the less battle-hardened members of the team provides some of the show's most interesting moral dilemmas. The Arrow-verse needs that right now.
Oliver Queen Isn't Bruce Wayne
Somewhere along the line we made the mistake of believing that all of DC's masked vigilantes work the same way. Don't let the fact that Oliver Queen often serves as the Arrow-verse's surrogate Batman fool you -- these two characters operate by different moral codes. While Bruce Wayne has become iconic for his "One Rule" against killing his enemies, Green Arrow has often found himself depicted in far murkier shades of grey in the comics. He doesn't go around murdering every bad guy in sight like The Punisher, but he also has a very firm understanding that taking lives may be the cost of doing business in the world of superheroes. Having a version of Green Arrow that is willing to kill does not compromise the integrity of the character; it actively embraces it and further distances Arrow from the Batman mythos.
His Non-Lethal Approach Hasn't Been Entirely Convincing
Regardless of whether or not you approve of Oliver's willingness to kill, the simple fact of the matter is that he has killed three out of his four primary nemeses so far in his solo series. He had no reason to believe Malcolm Merlyn would survive an arrow to the heart, so Season 1 still counts. Outside of Season 2, Arrow has had a very hard time providing a genuine rationale as to why Oliver should even stick with that mentality. Not killing Deathstroke worked, but it worked because of the history shared between those two characters, and the way his mercy echoed that history. Oliver's unwillingness to take lives has gotten people killed, and he has even actively encouraged his allies to use lethal force against enemies when he's not around to lend a hand. At this point it simply feels like Arrow should acknowledge how far Oliver has come as a hero, and allow him to grapple with the fact that killing does not make him less of a hero anymore. New episodes of The CW's Arrow kick of tonight at 8 p.m. ET. To find out when the rest of your favorites are returning, check out our fall TV premiere schedule.
Your Daily Blend of Entertainment News
Originally from Connecticut, Conner grew up in San Diego and graduated from Chapman University in 2014. He now lives in Los Angeles working in and around the entertainment industry and can mostly be found binging horror movies and chugging coffee.