The Punisher: What We Know So Far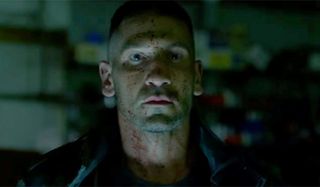 When Marvel Studios and Netflix announced a deal back in late 2013, the idea was for the two companies to collaborate on five different shows: Daredevil, Jessica Jones, Luke Cage, Iron Fist and The Defenders. That all changed after the second season of Daredevil, however. Jon Bernthal made such an incredible impression with his turn as Frank Castle a.k.a. The Punisher in those episodes that Marvel and Netflix have decided to add to their original plans by giving the beloved character his very own series.
Over the last few months, we've heard a number of announcements and rumors about The Punisher Netflix show, but because keeping all of that information together can be tricky, we're here to help. Below and on the following pages, we've gathered absolutely everything we know about the series so far, and collected all of it into one easy-to-read guide. Who is making The Punisher show? Who will star in it? What will it be about? Read on, and get all the answers you desire and more!
When Is The Punisher Release Date
The roll-out plan for Netflix's Marvel Studios shows has always been... complicated. Since launching Daredevil in 2015, the streaming service has had tremendous success with the brand, but been forced to make tough decisions about when to release the new season of an established show versus a brand new series. Because of this, the company has been hesitant to make big release date announcements -- which actually runs in contrast with the notorious flag-planting that Marvel Studios' film division has been practicing for years.
To get to the point, right now The Punisher doesn't have an official release date -- though it does look as though we could see the series come out some time in 2017, which would be a big deal. To date, we have never seen more than two Marvel Netflix shows come out in a calendar year, and it's already been announced that Iron Fist will come out in the first half -- specifically on March 17, 2017 -- and that The Defenders will be coming out in that 12 month stretch as well. That being said, The Punisher is already filming, which typically suggests that it is only months away from being in front of audiences. Because of the way things are run, it's possible that we won't have a Punisher release date until after The Defenders come out, so you'll have to be patient for a firm answer to this question.
What Is The Punisher Story?
Those of you who watched the aforementioned Daredevil Season 2 (which I assume is at least 90% of you), already got a taste of who Frank Castle is in the Marvel Cinematic Universe. Played by Jon Bernthal, Frank is an ex- Special Forces Marine who served his country in the Iraq War, and came home alive-but-weary to a loving family. This reunion didn't last long, however, as, one day after his return, a day of fun in Central Park turned into a bloody massacre, as his wife and two children were killed. Frank himself was left with a bullet in his head, but he survived, and after escaping machinations within the District Attorney's office to have him killed, he took to the streets a new man. Unable to just stand by as more innocent lives were taken by terrible people, he launched his own one-man war against crime in New York City and became The Punisher.
This just about catches you up to where things were left with the character the last time we saw him -- the controversial anti-hero donning his classic skull logo and stocking up on weapons -- but we don't really know much about what's going on with him in The Punisher show itself. As you'll learn as you continue to read this feature, we know some of the characters who Frank will be interacting with, but we don't really know what the plot of the series will be to connect them all together.
Who Is The Showrunner?
Writer/producer Steve Lightfoot has now been working in the film and television industry for more than a decade, but will be making his first venture into the world of comic book adaptations with his work on The Punisher. It's been officially confirmed that Lightfoot will not only be serving as the showrunner and executive producer on the series, but he is also going to be personally scripting the first two episodes and helping audiences dive head first into Frank Castle's world.
Admittedly Steve Lightfoot isn't a big household name, but his credits give audiences plenty of reason to be confident in what he'll be bringing to the Marvel Cinematic Universe. He's most recently been working as a consulting producer and writer on the Netflix series Narcos, but before that he spent a few years of his life as one of the most active writers on Bryan Fuller's Hannibal. His work on that acclaimed horror series could suggest that while part of us roots for Frank Castle's vigilante ways in the Punisher show, we also may have to watch his bloody and violent actions from between our fingers (and in our nightmares).
The Punisher (Jon Bernthal)
Back in June 2015, it was simultaneously confirmed not only that Frank Castle a.k.a. The Punisher would be making his way into the Marvel Cinematic Universe, but that he would be played by former The Walking Dead star Jon Bernthal. The casting was immediately celebrated by fans, and anticipation for the incarnation immediately grew. And we were definitely not disappointed. Bernthal was the great highlight of Daredevil Season 2, which fully explains why Marvel decided to give the character his very own Netflix (opens in new tab) series.
We've already seen Frank Castle experience some seriously scary stuff as he launched his assault against the various crime families in Hell's Kitchen in early 2016 (including a brief stint in prison), but there is certainly a lot more pain and punishment on the way. Castle was quite effective using a small gun cache -- as well as meat hooks -- to take out mobsters in Daredevil Season 2, but thanks to his access to the collection of Colonel Ray Schoonover, he now basically has a fully stocked armory at his disposal. We don't really know what Frank will be going after in the first episodes of his own series, but we do know that his enemies are going to have to try and dodge a whole hell of a lot of bullets.
Billy Russo a.k.a. Jigsaw (Ben Barnes)
Created by the team of Len Wein and Ross Andru, Billy Russo a.k.a. Jigsaw has been the archenemy of Frank Castle's since the mid-1970s when the anti-hero was first introduced -- and so it's only fitting that the character would be featured in The Punisher's first television series. Fans have already seen one live-action adaptation of the character, brought to life as a pretty boy gangster by Dominic West in Lexi Alexander's Punisher: War Zone, but it sounds like Steve Lightfoot and his team will be altering the villain's history a bit for the Netflix show.
In October 2016, it was officially announced by Marvel that Ben Barnes will be playing Billy Russo in The Punisher series, but the character's description is very different from any version that fans have seen before. According to the press release, Russo will be Frank Castle's best friend from his days in Iraq as a Special Forces Marine -- and doesn't exactly return to New York to become a hitman for the mob. Instead, he runs a successful private military corporation called Anvil. Surely this company will be up to some crazy shady dealings that eventually reveal Billy Russo as a serious villain -- but we'll have to wait and see exactly how that all unfolds.
Micro (Ebon Moss-Bachrach)
As you might guess, Frank Castle isn't too big on making friends in his vigilante life as The Punisher. Not only does he clearly operate at maximum efficiency all by himself, but the truth is that most people don't really like being around a guy who technically qualifies as one of the most dangerous serial killers in human history. That being said, Frank has been known to have some friendly associates now and again in the comics, and one of those particularly useful associates is Micro.
Created by Klaus Janson and Mike Baron, and previously played by Wayne Knight in Punisher: War Zone, Micro in the comics is a hacker/weapons expert who has been known to keep Frank Castle traveling heavy with technology, arms and ammunition. In the Marvel Cinematic Universe, however, the character will be slightly different. Played by Ebon Moss-Bachrach of Girls fame, Micro in this continuity is a former National Security Administration employee who feeds Frank the information that he needs to keep doing his dirty Punisher related business. We don't know exactly when or how he will be introduced in the Punisher series, but given that his connection to Frank is teased at the end of Daredevil Season 2, we assume that Micro will be a key part of the cast from the get-go.
Dinah Madani (Amber Rose Revah)
It just wouldn't be a proper Punisher story if Frank Castle wasn't being hunted by some kind of authority -- but in the Marvel Netflix series he will be drawing attention that's a bit more significant than from just a normal NYPD detective. Instead, Frank will be finding himself with a target on his back courtesy of Dinah Madani, a Homeland Security agent who will be played by Amber Rose Revah. Not much is known about the character's part on the show yet (notice a theme growing?), but she has been described in official literature as being "vexed by the Punisher."
Dinah Madani is a unique inclusion on this list, because she differs in a significant way from every other hero or villain mentioned: she isn't a character from the comics. Instead, Steve Lightfoot and his team apparently felt that the best way to go with the show was to introduce a brand new investigator whom fans have never seen before. As a result of this, we have no real expectations of what she will be doing in the Punisher show, so we'll just have to wait and see.
Karen Page (Deborah Ann Woll)
As she is in the comics, Deborah Ann Woll's Karen Page is primarily considered a Daredevil character in the Marvel Cinematic Universe -- but it looks as though she will be playing at least a small supporting role in the Punisher series as well. While absolutely nothing is known about the show's plot or how Karen could fold into it, the Woll was spotted on the set of the series during production, confirming that she will be appearing for at least one episode.
This isn't too surprising given that Karen Page and Frank Castle actually formed a tight bond in Daredevil Season 2. While most people were extremely quick to completely write off Castle as a total lunatic (which he kind of is), it was Karen who didn't judge a book by its cover and did some digging. She was the one who discovered the truth about what happened to Frank's family, and she was also the only one who really managed to earn the anti-hero's trust. After seeing their relationship to this point, it's really not much of a surprise that Karen would show up on The Punisher show.
The Defenders
In the same way that all of the Marvel Studios movies have been leading up to 2018's The Avengers: Infinity War, Netflix and Marvel announced a particular endgame when they revealed their partnership back in 2013. The idea then was that Daredevil, Jessica Jones, Iron Fist and Luke Cage would first all get their own shows, and then they would all come together for a special event series called The Defenders. As mentioned earlier, that is still very much the plan, and it looks like we could see the show arrive on Netflix sometime next year... but what we don't know at all is how The Punisher might fold into it as well.
Thanks to the character's incredible popularity, Frank Castle is now a key member of the Marvel Cinematic Universe on Netflix, so we fully expect that he will be at the very least appearing in The Defenders - but right now that's just an assumption. It's worth noting that there is very little chance that the character would wind up joining the titular group -- mostly because the heroes would probably want nothing to do with him -- but he could certainly find a way to be helpful at some important moment, given that at the end of the day he is really trying to fight for the forces of good.
CIA Agent Rawlins Paul Schultze
Throughout its development, The Punisher series has left clues suggesting that part of the show will be dedicated to Frank Castle's ghosts coming back to haunt him -- and it seems like one of those will be the very much alive CIA Agent Rawlins. Set to be played by Nurse Jackie star Paul Schultze, Rawlins was a dirty agent dealing in drugs and other nefarious affairs in Afghanistan through Russian connections, and this brought him in direct conflict with Castle. One could see him winding up being one of the Punisher's more significant foes back in New York.
Curtis Hoyle (Jason R. Moore)
Within the Marvel Cinematic Universe, there are very few people even aware that Frank Castle is still alive, but Curtis Hoyle will be one of those individuals, and play a significant role in the Punisher series. In the comics, Hoyle is a member of the Rockhouse Operation -- which is a drug ring -- but the official Marvel press release about the character described him as a friendly. On the show, he will be played by up-and-coming actor Jason R. Moore.
Sarah Lieberman (Jaime Ray Newman)
Micro is the kind of character you'd expect to be portrayed as a basement dwelling creep, but within this new adaptation he will actually be a married man. On The Punisher series, the character will have a wife in Mrs. Sarah Lieberman, who will be played by Bates Motel/Major Crimes actress Jaime Ray Newman. According to Marvel, Sarah isn't a big fan of her husband (real name David Lieberman) making deals and providing Frank Castle with what he needs to take out criminals.
Lewis Walcott (Daniel Webber)
Being a former soldier is obviously a very important part of Frank Castle's life -- having signed up for the military at the age of 18 (the day after September 11th) -- and that veteran status will surely connect him to Lewis Walcott. Lewis is a soldier who has just returned from war, but he is having a hard time adjusting to life away from the battlefield. We know he will be played by Daniel Webber in the series, the actor best known for playing Lee Harvey Oswald in Hulu's 11.22.63, but there aren't really any details available about the character beyond that.
Sam Stein (Michael Nathanson)
Earlier in this article we highlighted DHS Agent Dinah Madani, but now it's time for you to get to know the man that has her back. In The Punisher series, Michael Nathanson (The Knick) will be playing Agent Sam Stein. The two federal officers don't have the greatest relationship, but when the important time comes they'll surely find ways to overcome their differences. Stein isn't a character from the comics so we don't really have much background about him, but that information will come in time.
Your Daily Blend of Entertainment News
Assistant Managing Editor
NJ native who calls LA home and lives in a Dreamatorium. A decade-plus CinemaBlend veteran who is endlessly enthusiastic about the career he's dreamt of since seventh grade.