Upcoming Marvel TV Shows: The Full List Of What's Ahead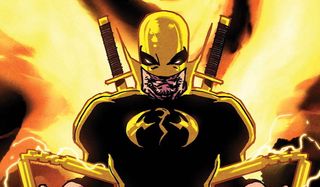 The Marvel Cinematic Universe is still proving itself to be one of the most popular current movie franchises, but since 2013, this franchise has been expanding on the small screen as well. Agents of S.H.I.E.L.D. kicked off the MCU's TV endeavors on ABC, and since then Netflix has become the home for Marvel's street-level heroes. Just as superhero movies are dominating in theaters year round, superhero TV shows are also extremely popular right now, and Marvel is making sure it has plenty to offer fans.
There are a lot of Marvel TV projects that are either already airing, set to air or somewhere in the production stages. It's hard to keep track of everything, which is why we've put together a list of all the officially announced projects that are coming in the future, whether it's a few weeks from now or years away.
Agents Of S.H.I.E.L.D. Season 4
Agents of S.H.I.E.L.D. was the first MCU TV series released, and on Tuesday, September 20, it will return for Season 4 on ABC. However, unlike previous season, the show will now be airing in the 10 p.m. timeslot in order to tackle darker material. There's a lot of new elements to look forward to, from Jason Mara playing the new head of S.H.I.E.L.D. to Mallory Jansen playing AIDA, the Life Model Decoy whose voice we heard at the end of the Season 3 finale. However, the biggest debut is without a doubt Robbie Reyes, a.k.a. Ghost Rider (seen above), played by Gabriel Luna. He will be used to introduce magic and mysticism into Agents of S.H.I.E.L.D., which, of course, is meant to time with the release of Doctor Strange.
Iron Fist Season 1
There are rumors that Danny Rand will make his MCU debut during Luke Cage, but he'll get his first chance to fully shine in Iron Fist. The series, under the leadership of Scott Buck, is still shooting in New York City, and will premiere sometime in early 2017. Fans got their first look at Iron Fist from a short teaser shown at San Diego Comic-Con 2016, but there's still plenty about it that's shrouded in mystery. As the first of the Marvel Netflix shows that directly features a main protagonist with mystical powers, Iron Fist promises to be one of the more unique MCU offerings in recent years. You can check out the first trailer for the project, below.
The Defenders
Much like how Marvel's first batch of big screen superheroes eventually teamed up in The Avengers at the end of Phase One, Marvel's street-level heroes are gearing up to join forces in The Defenders, which will have Daredevil's Douglas Petrie and Marco Ramirez acting as showrunners. Instead of being a full 13-episode season, this will be a miniseries lasting eight episodes, though there's always the chance a follow-up could be ordered. The Defenders will air sometime in 2017, at least a few months after Iron Fist, and according to Daredevil star Charlie Cox, production will begin near the end of 2016. A release date has ben set for Friday, August 18, 2017.
Jessica Jones Season 2
Jessica Jones earned a lot of positive reception upon its premiere in November 2015, so it was no surprise when a few months later, Season 2 was ordered. However, because Iron Fist and The Defenders have already claimed 2017, and it doesn't look like Marvel is keen on squeezing in an additional installment of their Netflix shows per year, Jessica Jones Season 2 won't premiere until 2018 at the earliest. Fans will still see Jessica and a few members of her supporting cast participating in The Defenders, but showrunner Melissa Rosenberg and the rest of the crew will have to wait a while to continue the heroine's solo adventures.
Daredevil Season 3
Daredevil kicked off Marvel's Netflix programming in April 2015, and it expanded Matt Murdock's world even further with Season 2 back in March. A Season 3 renewal was inevitable, but just like with Jessica Jones Season 2, Daredevil will have to go on hiatus due to a packed 2017 schedule. While not confirmed, it's also possible that Daredevil Season 3 will air after Jessica Jones Season 2, meaning it won't air until the latter half of 2018. However, Matt Murdock will be one of the main Defenders, and Foggy Nelson is also confirmed to appear in the miniseries, so fans won't be separated from the Man Without Fear's corner of the MCU for long.
The Punisher
Jon Bernthal's Punisher was one of Daredevil Season 2's highlights, and considering the character's popularity and previous movie appearances, some speculated that Frank Castle might get his own spinoff series. After months of rumors, Netflix finally confirmed that they are making a Punisher TV show, which will be overseen by Hannibal executive producer Steve Lightfoot. While The Punisher is still in the pre-production stage and hasn't been assigned a release date, they are already casting, as Ben Barnes has been added as a regular, and he's rumored to play the villain Bobby Saint. Because Jessica Jones Season 2 and Daredevil Season 3 already have 2018 seemingly covered, unless Netflix wants to air a third Marvel show that year, The Punisher may not air until 2019 at the earliest.
Cloak & Dagger
Right now, ABC and Netflix are the two homes for Marvel's live action TV programming, but they're soon going to expand to basic cable with Cloak & Dagger on Freeform in 2017. Described as a "superhero love series," the show will follow teenage protagonists Tyrone "Ty" Johnson and Tandy Bowen, who realize their special powers work better when they're together, but their feelings for each other will "make their already complicated world even more challenging." Cloak & Dagger will take place within the MCU, but it's unclear what its connections will be to other areas of this franchise.
Damage Control
So far all of Marvel's live action TV projects have been dramas, with elements of humor mixed in here and there. Damage Control aims to change that, by delivering a half-hour, single-camera sitcom that ABC ordered as a put pilot. The show would follow a cleaning crew that's sent to tidy up after battles between superheroes and their adversaries in the MCU. The project was announced last year, with Modern Family's Ben Karlin executive producing, and this past January, ABC president Paul Lee implied we could see it on the air as soon as the 2016-2017 TV season. Still, with the lack of details surrounding Damage Control, it remains unclear if/when we'll see this project officially move forward.
The Runaways
Netflix isn't the only streaming platform where Marvel wants to establish a presence. They also aim to plant a flag on Hulu with The Runaways, based off the group of outcast, teenage superheroes that led their own comic book series from 2003 to 2009. Hulu gave The Runaways a full series order, with Gossip Girl veterans Josh Schwartz and Stephanie Savage handling the adaptation. A release date hasn't been scheduled yet, but after years of failed attempts to make The Runaways into a movie, it's good to see these characters are finally getting their live action due.
New Warriors
There's been a lot of talk lately about whether we might see Squirrel Girl join the MCU. While the chances of a movie appearance are slim, it looks like she may get a chance to shine on TV, albeit with other teenage superheroes. New Warriors is reportedly in development, and like Damage Control, it's intended to be a half-hour comedy. ABC Studios is working on the project, but it doesn't look like it will actually find a home at ABC, as it's being pitched to cable channels and streaming outlets. New Warriors is definitely one of the weirder projects coming down the pipeline, but assuming it comes to fruition, it could make a nice comedic addition to the MCU lineup.
Other Non-MCU Related TV Projects
Legion
Marvel's Untitled X-Men TV series
Your Daily Blend of Entertainment News
Connoisseur of Marvel, DC, Star Wars, John Wick, MonsterVerse and Doctor Who lore. He's aware he looks like Harry Potter and Clark Kent.
Your Daily Blend of Entertainment News
Thank you for signing up to CinemaBlend. You will receive a verification email shortly.
There was a problem. Please refresh the page and try again.