Why Gilmore Girls Didn't Tell Us Who The Father Is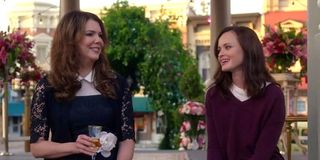 It's hard to believe that the Gilmore Girls revival has already been out for a full week at this point. A huge chunk of audiences who tuned in for the premiere last Friday stuck around for all four revival episodes, but not everyone was super happy by the time the final episode credits rolled around. Nearly a week after the show's releases, show creator Amy Sherman-Palladino has clarified exactly why Gilmore Girls ended with Rory revealing her pregnancy to Lorelei and why the show didn't tell us who the father is. Here's what she has to say:
Even prior to the premiere of Gilmore Girls: A Year In The Life, Amy Sherman-Palladino was busy talking about how her series has never really been about the men in Rory's life. Looking back, I suppose that should have been a huge clue regarding the ending to the series, but I was still pretty shocked when the last four words---the four words that Amy Sherman-Palladino has been teasing for a long time---ended up revealing that Rory was pregnant. As Sherman-Palladino noted in her interview with THR, there aren't a ton of people who could potentially be the father of Rory's baby. The most likely suspect is obviously Logan, unless the show really would choose to stretch things to make it the Wookie or the nearly invisible Paul.
Amy Sherman-Palladino has pretty clear ideas about her series, and in some ways it's really commendable that she stood by her guns and put Rory through a bunch of trials and poor decisions on the way to figuring herself out. In other ways, though, the big pregnancy reveal was just sort of the icing on the cake in terms of Rory making bad decisions through the whole run of Gilmore Girls: A Year In The Life. Sleeping with an engaged man, falling asleep while in the middle of a freelancing gig and taking her problems out on the people around her were all hallmarks of this new series and they did show that Rory was complicated, even if we didn't always like her very much.
Still, as a fan, it's tough to see Sherman-Palladino act like fans are jerks for caring who Rory ends up with. Your partner can go a long way to help you to get back on track when things are bad, as Jess started to do for Rory in the revival series. It's okay to need a little help to move forward. It's okay to want a partner or a person to parent with, and It's okay to want to know who the father is.
So far, we don't know if we will ever get more Gilmore Girls, and the cliffhanger may be the last we get of Rory and Co. There are certainly a lot of questions we still have. Who is the father? Will he be involved, or will he shrug and cop out sort-of like Christopher did? Will Rory be able to finish her book? Will she stay in Stars Hollow? Emily and Lorelei both got pretty happy endings at the end of the series, despite dealing with issues throughout, but for Rory things are still pretty up in the air. Up in the air may be where they stay over the long haul.
To find out what else Netflix has coming up in lieu of Gilmore Girls, head here.
Amazing Race & Top Chef superfan with a pinch of Disney fairy dust thrown in. If you've created a rom-com I've probably watched it.
Your Daily Blend of Entertainment News
Thank you for signing up to CinemaBlend. You will receive a verification email shortly.
There was a problem. Please refresh the page and try again.