Marco Polo Cancelled By Netflix, Will Not Return For Season 3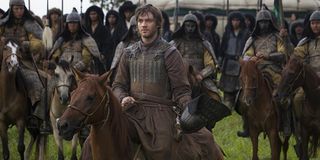 It was just a few short months ago when Netflix was in a period where very few shows were cancelled. The subscription streaming service was busy building its lineup, and so even shows that were underperformers were getting second and sometimes even third seasons or more. However, in more recent months, Netflix has started culling the lineup somewhat. Although a slew of new programs are still being released, some of them are being cancelled and this week we learned another show has been axed by Netflix. Marco Polo will not be returning for a third season.
If you've been keeping tabs on Marco Polo, the news shouldn't be super shocking. The second season of the drama premiered back in July and there'd been no word from Netflix on a potential third season in the time since. Sometimes Netflix does take its sweet time with renewals, but on a show that has more of an epic premise and a larger set and budget, you would think the cast and crew would need to get moving right away if they wanted to keep producing new episodes at a regular interval.
While our own Nick Venable liked the epic scope of the drama, critics weren't in love with the series, and Deadline is reporting that viewership was down for Marco Polo during Season 2. Since Netflix doesn't actually release ratings, it's hard to tell how well the show was doing; suffice to say, a cancellation usually indicates that things weren't all that swell---especially considering how expensive the drama was to produce. Still, two seasons is a lot more than a lot of shows get, and fans of the show should at least be pleased that they have more than a few paltry episodes of the series.
The other bonus to something like Marco Polo is that it will always be available on Netflix and can be revisited whenever you want. When network TV shows get cancelled, a lot of times they are lost in the abyss, unless you want to purchase a full copy of the season at an inflated rate. CBS All Access, Hulu and some streaming services can be a big advantage in terms of re-watching programs, but sometimes shows just aren't easily accessible. One pro to Netflix originals is that everything is easily accessible.
While Marco Polo has now been laid to rest by the subscription streaming service, Netflix has a slew of other big programs coming up, including scripted originals, comedy specials and more. To find out what is headed to the schedule during the new year, check out our Netflix premiere schedule for all new and returning dates. You can also take a look at what has been cancelled and renewed here.
It's unfortunate that Marco Polo was cancelled. However, if you are looking to add the series to your dvd or blu-ray collection, you can check that out here (opens in new tab).
Your Daily Blend of Entertainment News
Reality TV fan with a pinch of Disney fairy dust thrown in. Theme park junkie. If you've created a rom-com I've probably watched it.