Emmy Rossum And Shameless Are In A Contract Dispute And It Could Mean Bad Things For The Show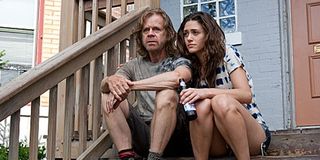 Shameless is currently airing its seventh season on Showtime, but it looks as if the subscription cable network wants to bring the show back for an eighth season. However, there may be an impediment to the renewal: series lead Emmy Rossum, who has become more of a know name during her time on the long-running series. For years now, Rossum has made less on Shameless than her co-star William H. Macy. Now she reportedly wants equal pay or better to continue on the dramedy.
For the last several days various outlets have been reporting that Rossum has been looking into gaining the same pay as William H. Macy on the series. However, a new report over at Variety states that Showtime has already offered Emmy Rossum the same salary as William H. Macy, who plays alcoholic patriarch Frank Gallagher, is getting. The real problem holding up negotiations, according to said report, is that Emmy Rossum is now looking for more pay than her co-star, and it is holding up negotiations.
Salary negotiations can be a big deal when shows are in later seasons at channels. The stars have more clout than they do earlier on because it's generally in everyone's best interests to keep the gravy train rolling. That's how The Big Bang Theory cast ended up making so much money per episode the last time they negotiated. This concept occasionally backfires, however, as we say last season when Castle tried to fire cast members and keep budget negotiations going for others. In that situation, the series simply ended up being cancelled by ABC.
Earlier reports noted that William H. Macy has scored a hefty pay raise for a potential Season 8, so presumably Emmy Rossum would be making top dollar for her appearance if a deal is worked out. So far, Showtime is still looking to negotiate with the actress and there is no plan in place if she were to decide to quit. However, the show can't move forward without a deal or a decision being made. It's entirely possible that Showtime could be forced into a position to make a tough decision about Rossum or about the series if the negotiations don't work out.
What is allegedly happening is that Rossum wants to be paid more now to make up for all of the seasons when she was paid less than William H. Macy. I'm all for female leads making the same amount as their male co-stars, but to be frank, in general there are often pay differences between cast members early on in shows---and not necessarily due to gender. William H. Macy had been a well-known and well-liked actor for years before signing on with Shameless. At the time Emmy Rossum was signed on, she was just The Phantom of the Opera girl. Sure, she'd been in a few bigger movies, but she was never the #1 name in those movies, and she hardly had the negotiation clout that William H. Macy had going in.
Perhaps now Emmy Rossum can argue she's the heart of the show. Both actors have appeared in the same number of episodes, but Rossum's Fiona is the one keeping things together and an argument can be made that she is a vital component to the series. Maybe it's about time she needs to make more money, but the question is whether or not she's a more valuable player than William H. Macy. We'll find out in the coming weeks. In the meantime, we'll let you know whether negotiations stall or whether Shameless Season 8 finally moves forward.
To find out what else is coming to TV, head here.
Your Daily Blend of Entertainment News
Reality TV fan with a pinch of Disney fairy dust thrown in. Theme park junkie. If you've created a rom-com I've probably watched it.