Emmy Rossum Talks Beautiful Creatures And Her Siren's Call At NY Comic Con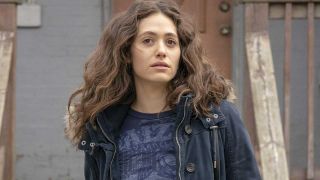 (Image credit: Showtime)
In the wake of Harry Potter, Twilight, and The Hunger Games, there's no shortage of young adult novel adaptations looking to be the next cross-demographic blockbuster. But with a cast that includes Academy Award winners Emma Thompson and Jeremy Irons, two-time Oscar nominee Viola Davis, along with a panoply of hot young talent and a supernatural love story, Beautiful Creatures might be the best bet to carry on this trend.
Based on the first novel of Kami Garcia and Margaret Stohl's Caster Chronicles, Beautiful Creatures centers on the love that blossoms between two teens in the small town of Gatlin, South Carolina. Alden Ehrenreich (Twixt) and Alice Englert (Ginger and Rosa) star as Ethan Wate and Lena Duchannes. He is a sophomore student instantly enchanted by her, the new girl in school with a strange secret. Lena is a caster (a more PC term for witch), and when she turns 16 she'll be claimed by the forces of good (the Light) or evil (the Dark). If you're unfamiliar with the books, I suggest watching this behind-the-scenes clip, which explains casters and Lena's plight in pretty accessible detail.
The panel kicked off with a "little tease," an exclusive clip that showed some impressive special effects, plenty of drama, and a Southern Gothic tone that seems like True Blood for PG-13 audiences. Talking heads of the actors explain that this is essentially a Romeo & Juliet tale "with magic attached" and "a race against time."
After the lights came up, out came the panel's participants. While Englert was unable to make Comic Con, Ehrenreich appeared along with Emmy Rossum who plays Lena's dark cousin Ridley, Thomas Mann who plays Ethan's bestie Link, Zoey Deutch who plays the bullying Emily Asher, producer Broderick Johnson, writer-director Richard LaGravenese, and Caster Chronicles authors Kami Garcia and Margaret Stohl.
Garcia and Stohl spoke with enthusiasm about LaGravenese's adaptation, saying they were happy to pass off their story to him, as they don't consider themselves filmmakers, and trusted his vision for their book's movie. For his part, LaGravenese is clearly passionate about the property, as he laid out the next exclusive clip, he set up the story so quickly and with so much Beautiful Creature-specific lingo that those of us who hadn't read the books were admittedly a bit befuddled.
Spoilers ahead for those who haven't read the books. Lena's 16th birthday is fast approaching, and her cousin Ridley wants to her to go dark so they can reunite. As incentive/threat she puts Ethan under a spell, and the two young women battle it out, throwing magic that involves practical effects with spinning floors that have the leads lashed to them. Once this ends, Ethan is freed from the spell. This is where the clip we saw picks up, where Lena is left to explain to him about "The Claiming," the moment when she will be claimed by light or dark, but Garcia tells us, "Lena wants to claim herself." End of spoilers.
With so many rules of the world to explain, and people already saving their spots for the eventual Walking Dead panel, the crowd was peppered with people who had no interest or patience in this project and so were behaving like jerks. One guy toward the back was repeatedly shouting things, including "Whores!" The panel tried to maintain focus with Rossum, its biggest star, shouldering the most attention/questions. She told us about she'd read several of the books before her audition, and so loved the character of Ridley that she rehearsed her 15-page audition sides tirelessly in preparation. As Ridley is a siren, Rossum, who also has a music career, confirmed she will have a song in the film, though it's too soon to say if it will make the soundtrack. Nonetheless, she'll have a new album out early next year.
The biggest enthusiasm came in response to the smallest audience member who took to the mic. A young boy who looked about 8 years old asked each member of the panel what was their favorite part of making the movie. A huge and genuine "Awwwww!" came from the crowd. Then each responded warmly. Rossum loved all the snacking she got to do in character. Deutch thrilled over a particular Emma Thompson scene. Ehrenreich enjoyed working with his fellow actors and getting to do wirework stunts. Garcia loved watching Thompson and Irons face off, and Stohl said she was most excited by watching the interplay of the actors. But the kid's big moment wasn't over. He thanked them all, and before leaving the mic chastised the man bellowing in the back, a sentiment that was met by overwhelming cheers from the entire theater. At this point the brute in the back either quieted down or left, as he was not heard from again.
Except to hear plenty more about the involved and magical world of Casters as Beautiful Creatures prepares for its release on February 13th, 2013. To find out more on the film, check out our Blend Film Database.
Your Daily Blend of Entertainment News
Staff writer at CinemaBlend.