Watch Terry Crews And His Amazing Abs Rock Out With The Troops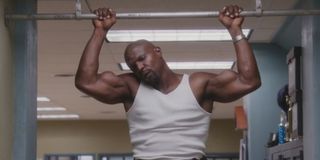 There's a lot to like about Terry Crews, but one of the things I probably like the most is that he's willing to go for it in whatever situation. The man recently took off his shirt and got on a stage with a bunch of fully clothed members of the armed forces and sang some Taylor Swift and more. The whole thing is Terry Crews at his finest. Check it out, below.
Terry Crews is a man who has been known to take his shirt off on more than one occasion, but watching him in army fatigue pants dancing around and singing some Taylor Swift music along with a version of "I Don't Know But I've Been Told." And he did it all for Rock The Troop a brand new program led by Dwayne Johnson that is set to pay tribute to and showcase veterans and soldiers fighting in our armed forces. It's also expected to highlight Veterans Operation Wellness, a campaign by Spike.
Dwayne Johnson is hosting, and a slew of big names have been around for the promos, including but not limited to Kevin Hart, Jack Black Keegan Michael-Key, Rob Riggle, Nick Jonas, Flo Rida, Tenacious D, Lynyrd Skynyrd and more. Matthew McConaughey, Chris Pratt and George Clooney, among others, even released a message for the special a few days ago, so it looks like it going to be a star-studded affair.
Spike has done a good job figuring out how to get pretty big celebrities onto the network thanks to its Lip Sync Battle series but that hasn't translated over into a lot of the network's other shows. However, one good way to get celebrities to unite is to find a cause that they can invest in, and the troops are a pretty great cause. In addition, it probably helps that Dwayne Johnson is involved. (Because The Rock never sleeps, you can check out the full list of his upcoming projects, here.)
I'm all in on seeing big name celebrities and unabashedly watching Terry Crews' abs for a few solid minutes, but Dwayne Johnson has actually been pretty sentimental about putting together Rock The Troop, and it's easy to see how he got so many fun names on board. Here's what he has had to say about the special:
As for Terry Crews, we're assuming he decided to be part of the team when someone told him he could pull out his abs. It's worked on B-99 and again when he was on Lip Sync Battle, after all. Erm, we mean he probably joined when someone told him he could help out the troops. Yup, that's what we mean.
We don't have to wait too much longer to catch the big names in action. Spikes' Rock The Troops is hitting the schedule tonight at 9 p.m. ET. To find out what else you can catch on TV this holiday season, take a look at our premiere schedule.
Amazing Race & Top Chef superfan with a pinch of Disney fairy dust thrown in. If you've created a rom-com I've probably watched it.
Your Daily Blend of Entertainment News
Thank you for signing up to CinemaBlend. You will receive a verification email shortly.
There was a problem. Please refresh the page and try again.