How Green Arrow Is Protecting Himself From Other Heroes, According To Stephen Amell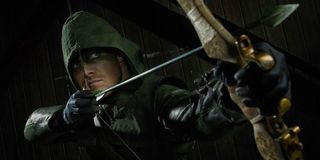 It's hard to argue against Oliver Queen being probably the most relatable hero in the Arrow-verse. Sure, he's got mad archery skills and muscles for days, but he's still just a man. Despite his physical limitations, though, Stephen Amell seems to think that Oliver has already started to prepare for an inevitable battle against some of the Arrow-verse's most powerful heroes. Like the Boy Scouts, it's all about being prepared. The Arrow actor explained Oliver's insurance again a particular super-someone:
Stephen Amell and David Ramsey recently took the stage at Wizard World New Orleans (via GeekSquire) and addressed Oliver Queen's concerns about the other heroes in the Arrow-verse. As Amell explained, Oliver has seen the capabilities of the people around him, and he has almost certainly developed contingencies for handling each of them. He has already had to fight against Kryptonians and speedsters over the course of his career as a vigilante, so he knows the importance of making sure that he can take them down if necessary.
Comic book fans have seen moments like this before, and Green Arrow is obviously no stranger to Kryptonite. The character famously used the radioactive rock during the events of The Dark Knight Returns to take down Superman in the middle of the Man of Steel's fight with an aging Batman -- thus ensuring victory for The Caped Crusader. Oliver has already met Kara Danvers, so we're sure he knows about her bigger and stronger cousin. We can only imagine that the thought of Kal-El's very existence, no matter what Earth he's from, doesn't help Oliver sleep too well at night.
After Stephen Amell's answer, David Ramsey similarly chimed in to point out that such a plot thread could pave the way for a great crossover next year. The heroes of the Arrow-verse have become an incredibly cohesive unit over the course of the last few years, so driving a rift between Oliver and the superpowered members of the small screen DC world could represent incredibly fertile storytelling ground. It's also worth noting that the idea bears a ton of similarity to the famous Tower of Babel storyline, in which Batman's secret plans for taking down every member of the Justice League fell into the hands of Ra's Al Ghul. Green Arrow has essentially become The CW's surrogate Batman, so it wouldn't be surprising to see The Emerald Archer take The Dark Knight's place.
That Justice League story was eventually adapted into an animated movie called Justice League: Doom. Check out a special feature from that film in which Batman lays out how to beat all of his allies below:
As the Arrow-verse continues its expansion, I think seeing Oliver Queen prepare to fight against his closest allies could represent the next logical narrative step. Kryptonite hasn't made its way to Star City just yet, but we would love to see Green Arrow start to tinker with it in his Arrow-cave. If things start looking similar to what happens in the clip above, prepare for good times.
Arrow will return to The CW on Wednesday, January 25 at 8 p.m. EST. For more information related to all of the most highly anticipated spring TV debuts, make sure to check out our comprehensive midseason premiere guide.
Your Daily Blend of Entertainment News
Originally from Connecticut, Conner grew up in San Diego and graduated from Chapman University in 2014. He now lives in Los Angeles working in and around the entertainment industry and can mostly be found binging horror movies and chugging coffee.
Your Daily Blend of Entertainment News
Thank you for signing up to CinemaBlend. You will receive a verification email shortly.
There was a problem. Please refresh the page and try again.