8 Huge DC Universe Secrets That May Have Been Accidentally Leaked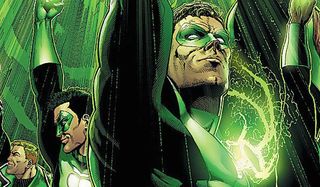 We reported a few weeks back that DC Entertainment, in celebration of reaching 1 million subscribers to its official YouTube channel, plans on hosting a full-day live stream of its DC All Access show on Friday, September 2. DC All Access, in the past, tends to focus on comic books and video games, but with so much happening on the DC front on television and in the movies, we also figure that news for potential TV and film properties could be announced as part of the all-day event.
On that note, a Reddit user claiming to have access to the DCEU's upcoming plans took to the Web to post a LOT of information ahead of the Sept. 2 event. Naturally, once the fans turned up the heat, the post was removed from Reddit -- which could mean that it's crap, but could also mean that people in power strong armed the user and demanded it be taken down before the real news could drop on Sept. 2. Thankfully, the folks over at ScreenGeek grabbed the details that they say could arrive during the DCEU all-access event, and they ran through the key beats.
It goes without saying that, for now, all of these are rumors that may or may not come true -- and they are LOADED with spoilers for upcoming DCEU properties. Even if they turn out to be false, there's enough information in here about movies we can confirm are happening that you might not want to keep reading if you hate spoilers. I'm about to dive deep into what was revealed on Reddit, so bail out now if you want to stay pure on the future of the DCEU. Ready?
The Man of Steel 2 Villain
Less than a month ago, we ran with a report that DC was pushing forward with a tradition sequel to Man of Steel, giving Superman his spotlight (instead of asking him to once again share the screen with Batman, or the full Justice League). According to the leaked report, Man of Steel 2 will drop in 2020, and they will NOT use the name Superman anywhere in the title. Brainiac will be the villain, and he'll be the result of Lex Luthor (Jesse Eisenberg) using alien tech to enhance existing LexOS. The report says that the Man of Steel sequel could introduce secondary characters like Supergirl and/or Superboy. They also say that DC is trying to recruit the likes of J.J. Abrams and Duncan Jones to direct the film ... which sounds crazy, until you remember that J.J. Abrams once almost directed a Superman movie called Flyby. Maybe he'd like another crack at it?
A Ton Of Justice League Details
I'm staying on projects that we KNOW are happening for the time being, before we dig into future projects that feel like speculation. We know that Zack Snyder is hammering away at Justice League for a November 2017 release, and we have seen the team gathered in the cast photo shared above. The leaked report confirms that Steppenwolf is the villain, but adds that Lex Luthor (Jesse Eisenberg) -- having been freed from prison -- helps bring Steppenwolf to Earth in exchange for technology and information. The report states that Lex is still trying to get the public to hate superheroes, but his plan is failing this time around.
As for Superman, the leaked report does confirm that when Henry Cavill steps back into the Superman suit -- because we all know he isn't going to stay dead -- he will have a beard, long hair, a tattered black suit, and he will be skinny af. But, in a very cool sounding sequence, Cavill will appear to get stronger with every punch thrown in a battle, because Superman will be in our sun longer with each passing second. The report also claims that there will be a scene involving Joker (Jared Leto) and Harley Quinn (Margot Robbie), where they are committing a crime and expecting to be caught by Batman, only, the whole Justice League shows up, and it's a comedic "Holy shit!" moment. We shall see.
There's also a major tease about the end of JL. Read on.
When Green Lantern Will Show Up
This one seems to come up often, but the leaked report states that Green Lantern indeed will show up at the end of Justice League, possible in a mid-credits teaser. And there are reasons to believe why this MAY be true. First, if Steppenwolf finds some way to come to Earth from Apokolips, then it's easy to explain why Green Lantern would need to come down to our planet to investigate. Also, DC has made it clear that they want to have a Green Lantern Corps film in the DCEU, going so far has to give it a 2020 release date (but no real details beyond that). Seeing as how Justice League will be the movie that officially rolls out such high-profile members as Aquaman (Jason Momoa), The Flash (Ezra Miller) and Cyborg (Ray Fisher), it does make sense that we meet the DCEU version of Green Lantern in Justice League.
Darkseid On Hold?
Most DC fans assumed that the presence of Steppenwolf in Justice League automatically would lead to Darkseid being brought into the DCEU by Justice League 2, and the leaked report does say that Darkseid will be teased in a possible end-credits stinger on JL. But they go on to say that Justice League 2, which likely will be pushed back to the end of 2019 to make room for Doug Liman's Justice League Dark, may or may NOT use Darkseid, and that the villain could be held on the shelf. The report notes that a comparison to Marvel's own Thanos could be what has DC concerned.
If Darkseid is shelved, the report states that the Injustice League, the Crime Syndicate and The Society are all options for Justice League 2, mainly because "they really want multiple villains for the sequel for some reason." To that end, it's being reported that the Tower of Babel plot is also being discussed.
We May Be Getting A Teen Titans Movie
This is the first time this has been reported. And there aren't a lot of details in the leaked report, but it states that there WILL be a Teen Titans movie, and that Deathstroke (played by Joe Manganiello) will be the main antagonist. Now, the bad news. The report claims that Cyborg will not be in the Teen Titans movie, as they are using him for The Flash. However, Nightwing will be introduced to the DCEU in time for the Teen Titans movie. So there's that.
Aquaman And... A Guest?
A lot of the details pertaining to James Wan's upcoming Aquaman movie are facts that we've already heard, even though very little of this has been confirmed by the studio yet. Black Manta remains the chief villain in the movie, though the report now says that he'll be a Darth Vader-type villain, whose appearance and voice all contribute to him being more intimidating.
This next bit concerns me -- and in truth, I don't believe it, but here's what it says. Aqualad will be a part of this movie. They say that the character will fight alongside Aquaman (Jason Momoa), and that there will be a lengthy battle between Black Manta's army and both Aquaman and Aqualad before the film's epic conclusion. Seems like a silly character to introduce alongside Momoa's stoic Aquaman, but who know? Anything is possible at this point.
The Flash's Main Villains
We believed that The Rogues would be the primary adversary in Ezra Miller's first solo The Flash movie, and we appear to be correct. But the leaked DC report has more details about the DCEU's version of Captain Cold, who they repeatedly describe as "creepy." According to the report, Captain Cold will wear "a sleek mechanical suit that has the same color scheme and pattern as his comic book incarnation." They also say that the movie will have a lot of fun with their own interpretation of the Speed Force, which has been a hit on The CW's version of The Flash, and should be very creative and different in the movie.
Exciting Casting Bits
There is a LOT of information in the report about potential casting, but seeing as how we have no real idea if any of these deals will pan out, I'm just going to rattle off some of the more exciting ones, so you know what might be in play, if any of this turns out to be true:
Luke Evans was approached to play Sinestro in a Green Lantern movie.
Rob Lowe has been asked to play a villain in The Flash movie. DCEU really wants Rob Lowe as a villainous character.
Misha Collins, Channing Tatum, Milo Ventimiglia, Steven Yeun, and Jake Gyllenhaal have all been offered DCEU roles.
Emily Blunt, Rosamund Pike, Alexandria Daddario, and Jessica Chastain have also been offered DCEU roles.
We may see a new lineup in Suicide Squad 2, though that movie might be pushed to 2021, and it's unlikely that David Ayer will direct.
So, there you have it. All of this might be confirmed on Friday, Sept. 2, when the DC All Access channel goes live for a full day. Or it might all dissolve into fan speculation dust. But this is what's out there. Do you believe any of it? Some of it? Or none of it at all?
Your Daily Blend of Entertainment News
Sean O'Connell is a journalist and CinemaBlend's Managing Editor. He's frequently found on Twitter at @Sean_OConnell. ReelBlend cohost. A movie junkie who's Infatuated with comic-book films. Helped get the Snyder Cut released, then wrote a book about it.
Your Daily Blend of Entertainment News
Thank you for signing up to CinemaBlend. You will receive a verification email shortly.
There was a problem. Please refresh the page and try again.