6 Awesome Batman Comic Stories That Gotham Needs To Use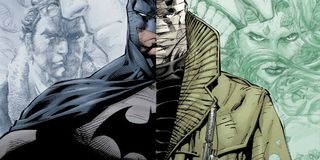 Arguably no live-action comic book adaption has become more willing to take risks than Gotham. The Fox series started its life as a simple Batman prequel series in 2014, but it has since evolved into something much more complicated and bizarre. Over the course of the last three years, fans of The Dark Knight's history have learned to throw out their expectations whenever they watch this show because expectations are pretty much useless in Gotham City. Even when it has broached a classic Batman tale, Gotham has always found ways to take extreme left turns with its storytelling and delve into completely unfamiliar territory.
Considering the sheer depth of the Batman mythos, there is always room for even stranger adaptations. To build on that idea, we have compiled a list of six iconic Batman stories that Gotham should consider adapting in some form or another in the near future. Take a look at our list and let us know what classic Batman stories you think deserve the Gotham treatment. Now, without further ado, let's kick this list off with a story about Gotham's most enigmatic character.
Riddler Hijacks The City - Batman: Zero Year - Dark City
Out of all the characters on Gotham, one of the most fascinating character to watch over the course of the last two and a half seasons has been Edward Nygma. Beginning the series as little more than a gimmick character, Nygma has experienced a serious fall from grace, and he has subsequently gone on to genuinely embrace his status as one of Gotham's most notorious big bads. Now we think it's time for him to step things up a notch. On that note, we believe that it's time for the Dark City storyline to play out in live-action. During that particular Zero Year arc, Nygma embraces his status as The Riddler during the early years of Batman's career and uses his vast technical know-how to knock the power out in Gotham and flood the city. His one condition for turning the power back on is for a "worthy opponent" to face him, and I think we wall know who that is.
Harvey Dent Becomes Two-Face - The Long Halloween
Harvey Dent has been a mainstay of the Gotham ensemble since the first season of the series, and the show has never made a secret of the fact that he's not the most stable guy in the city. There's a profound darkness lurking inside of Mr. Dent, and it's aching to get out. That's where the iconic storyline from The Long Halloween comes in. During the events of that particular narrative, Harvey Dent is in the middle of prosecuting Sal Maroni when the mob boss suddenly rises from the courtroom stand and throws acid in the talented District Attorney's face. This incident exacerbates Harvey's (already tenuous) grip on his sanity and ultimately pushes him down the path towards becoming Two-Face. Gotham has kept Dent as his usual, handsome self for the last three years, and we think that it's time for the show to finally mess up that pretty face of his.
Catwoman Is Falcone's Daughter - Batman: Dark Victory
If there's currently room in Gotham to use certain notable plot threads from The Long Halloween, then it only makes sense for that story's follow-up to get in on the action as well. Although most people primarily remember Batman: Dark Victory for its remarkable retelling of Robin's origin, there are many other aspects of the book's plot that could fit perfectly into Gotham's current narrative. Most notably, that particular book ends with Selina Kyle acknowledging that notorious Gotham City mobster Carmine Falcone is her father. Although a direct adaptation of Dark Victory is nearly impossible in the Gotham universe at this point, the Falcone-Selina relationship has already been hinted at many times. To make it canon at this stage of the series would honor the source material while simultaneously embracing all of the weirdness that Gotham is already known for. We also wouldn't mind if they also found a way to hint at Dark Victory's origin of Robin as well; we're just saying.
Gordon And Bruce Trapped In Arkham City - Arkham City
Gotham City has become a considerably more dangerous place to live since the first season of the Fox series, and someone will eventually need to do something about that. Considering everything that went down at Indian Hill, as well as the fact that Gotham has already introduced Hugo Strange into the equation, we think that there is no better time for a live-action version of the Arkham City narrative. The story doesn't necessarily even need Batman to work; all we want to see is Jim Gordon and/or Bruce Wayne trapped in a walled off portion of the city and forced to use their wits to escape the clutches of Gotham's worst criminals. Gotham already spends the bulk of its time focusing on the storylines and personal lives of the city's villains, so forcing the titular city to place them in a No Man's Land-esque situation would be an absolute treat for fans of the Batman mythos.
Bruce's Secret Brother - City Of Owls
As of right now, Bruce Wayne's doppelgänger is only known as 514A on Gotham. We are aware that he is a result of the Indian Hill experiments conducted by Hugo Strange, and we also know that he now has an affiliation with the Court of Owls. Although it definitely wouldn't be a direct adaptation, we think this storyline can (and should) set up the reveal of 514A as Lincoln March a.k.a Thomas Wayne Jr. from the Court of Owls story arc -- specifically the City of Owls issue. In the source material, the character is a secret younger brother of Thomas and Martha Wayne who is forgotten at a children's hospital in Gotham. Wayne Jr eventually becomes a member of the Court of Owls at a very young age and subsequently vows to kill Bruce and take his place as the "rightful" heir to the Wayne family. If that's not a Gotham story, then I don't know what is.
Tommy Elliot's Hatred Of Bruce - Hush
For a show based on Bruce Wayne's childhood, Gotham's ability to shy away from Bruce's relationship with Tommy Elliot for as long as it has is pretty commendable. The character appeared during a single episode of Season 1 as a schoolyard bully towards Bruce, but that storyline played out in a relatively mundane and wholesome (by Gotham standards) way. Tommy is still out there, and we feel these two rascals should finally bond with one another. Their relationship in the Hush story arc from 2003 has become a fascinating aspect of Bruce's personal backstory. For those of you who don't know, Tommy hates Bruce because Bruce's father successfully saved Tommy's parents from a car accident that he orchestrated. It's the type of tale that's perfect for the current state of Gotham's arc; after all, Gotham has already introduced the young Mr. Elliot, so it would be a shame not to use him more down the line.
You can catch new episodes of Gotham on Monday nights at 8 p.m. ET, only on Fox. Take a look at what else is coming at midseason with our TV premiere schedule.
Your Daily Blend of Entertainment News
Originally from Connecticut, Conner grew up in San Diego and graduated from Chapman University in 2014. He now lives in Los Angeles working in and around the entertainment industry and can mostly be found binging horror movies and chugging coffee.
Your Daily Blend of Entertainment News
Thank you for signing up to CinemaBlend. You will receive a verification email shortly.
There was a problem. Please refresh the page and try again.