Black Sails Season 2 Review: Same Old Setting But A Brand New Attitude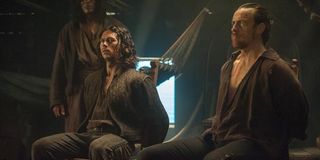 While there was swashbuckling and undercutting speeches from the get-go, Black Sails spent a good chunk of its first season setting up for the future of the series, a future, which as it turns out, packs a lot more punch than its first 8 episodes. I was worried Season 2 might get off to a slow start, but director Steve Boyum's premiere is quick out of the gate, thrusting straight into gory action and pirate plotting, as well as introducing a brand new villain. This isn't the series we left behind last spring.
It is the same old Captain Flint (Toby Stephens), however, getting into trouble and figuring out what move to make next. The premiere picks up where we left off, with the Walrus in pretty bad shape and the crew stranded. Flint's in need of a plan and some inspiration, and the slippery John Silver (Luke Arnold) might be his biggest asset. Then again, he also might be Flint's biggest problem. Back in Naussau, Eleanor Guthrie is also dealing with a royal headache, but her problem comes in the form of brand new character Ned Low, played by Tadgh Murphy. We've seen a glimpse of the character in Starz's early previews for the series, but he's much more intimidating in the first two episodes, easily proving that Black Sails was missing such a virulent villain before his appearance.
As the writing staff has toyed with what friendships and relationships work and what don't over the course of numerous episodes, they've found something delightful in fan favorite Max (Jessica Parker Kennedy) and Rackham (Toby Schmitz), who have plenty of opportunities to verbally spar with one another in the two episodes Starz made available prior to Saturday's premiere. It took some time for Max and Rackham to gain so much screen time and so much authority on the show, but in this case the long game has paid off, and the brothel scenes are amongst the most engaging.
The show has always looked beautiful, of course. Set in and off of the port of Nassau in the Bahamas and filmed in Cape Town, South Africa (those tricky buggers!) the details are dense in the show. Period dramas have gotten better with costumes and details more recently, so Black Sails doesn't stand out immediately among the pack; the details are not cartoon-y either (unlike a similar Disney franchise we will decline to mention). It is the fine points that transport viewers to a different time and place. They offer us an escape. They add to the value of a series. While there are other period dramas on numerous networks, there are none that look quite like Black Sails.
Fans are used to shows on Starz delving into the action immediately. Spartacus' first season was more action-packed and gory than most shows are able to be during their runs. More recently, Outlander jumped into the time travel action nearly immediately. In the case of Black Sails, despite the big cannons, the swordplay and the giant Michael Bay notation attached to every poster and every preview early on, Jonathan E. Steinberg and Robert Levine sought to build a complex world connecting historical names like Anne Bonny and fictional names like Billy Bones, all while creating a story of their own. Now the fruits of that labor have paid off. In Season 2, the foundations have already been built, and Black Sails is free to open its sails and traverse wherever it pleases. The drama is bolder and sharper than ever, and it's become the crowd pleaser it has always meant to be.
Rating:
Black Sails is returning for a 10-episode second season. Additionally, Starz has already signed on for a third season of the drama, which is expected to hit the schedule in 2016. You can catch new episodes of the drama beginning on Saturday, January 24 at 9 p.m. ET.
Photo Credit @ Starz
Amazing Race & Top Chef superfan with a pinch of Disney fairy dust thrown in. If you've created a rom-com I've probably watched it.