Watch Melissa McCarthy Try To Save A Rhino, Fail Badly In Hilarious Super Bowl Commercial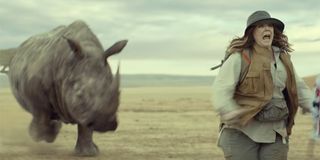 Melissa McCarthy is saving the planet in our latest look at upcoming ads for the Super Bowl. Driving the new 2017 Kia Niro, McCarthy is jumping from scene to scene in an effort to save miscellaneous popular causes. At first, things seem to be pretty normal and as McCarthy and others rush to save the whales you get a real 80s action vibe! You can feel the adrenaline as McCarthy and crew blast through the ocean to the Bonnie Tyler classic I Need A Hero. It's so hype I begin to question why McCarthy is even needed for this commercial, but the next thing I know she's slamming into ships and getting gored by a rhino; it really spirals out of control. Watch the whole video below...
As you can see, McCarthy also falls off a cliff, faceplants on a glacier, and gets launched by a blue whale into the side of a ship. It's the classic physical comedy schtick that McCarthy owes a lot of her comedic success to, and while I laughed a lot, I wish we would've seen more of her wit on display! Don't get me wrong, McCarthy does the physical stuff very well, but as you may have seen in Spy, she's no slouch when it comes to selling a witty joke or being serious! Do you have enough time to build and crack a witty joke in a minute-long commercial? Probably not.
I know, I know. I'm really asking a lot of a commercial meant to entertain a casual audience during the biggest sporting event of the year. While the casual viewer may watch this commercial and move on without a second thought I'll undoubtedly be "that guy" when I go on a rant at the Super Bowl party. I am just legitimately a huge fan of Melissa McCarthy and desperately want want her to do more than just fall down. Then again, I guess I shouldn't care if she has no problem with it. Hell, Chris Farley made a career out of doing stuff like that! That's probably a bad example.
McCarthy rant aside, the commercial is pretty good, and those effects are some of the best I've seen in a Super Bowl ad! Did you get a good look at that whale? I'm putting that CGI whale up there with the whale from The Life Of Pi. Easily one of the best digital whales that I've seen in my life.
Now that I'm sitting here thinking about all of the stuff I loved about the commercial, I'm realizing I completely glossing over the fact that this commercial was not an ad for Melissa McCarthy or blue whales, it's about the Kia Niro! I'm not a huge car guy, but the 2017 Niro definitely looks way better than my 1997 Ford Contour! Maybe it's time to upgrade and drive the same car that LeBron James allegedly drives.
Update: We reached out to Kia and got a comment on the most important issue here...
Your Daily Blend of Entertainment News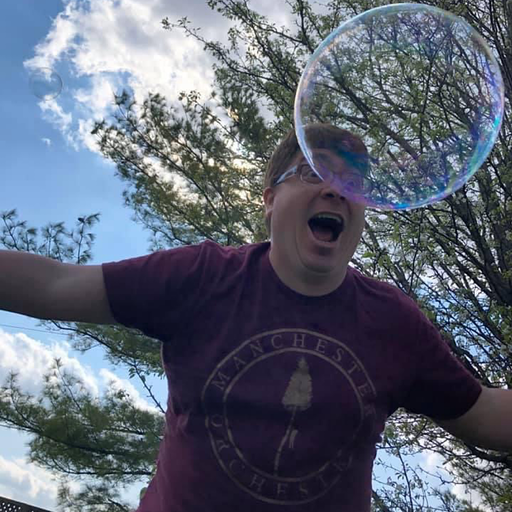 Mick contains multitudes and balances his time reporting on big happenings in the world of Star Trek, the WWE, reality television, and other sci-fi shows.