How Legends Of Tomorrow's Sara Lance Just Got A Lot More Important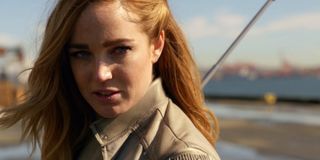 Controlling a team of misfits is never simple -- particularly when the bad guys you're chasing are after a spear that can completely rewrite reality. That said, Sara Lance has made it look relatively easy throughout Legends of Tomorrow's second season. Tonight was the first episode which saw Rip Hunter try to step back into his official role as Captain of The Waverider, and the entire affair ultimately ended with him realizing that Sara has become far more qualified than him. This is a significant shift regarding who the "main" character of Legends of Tomorrow may truly be, and it means that Sara's role on the series just became far more important.
Tonight's episode of Legends of Tomorrow was one of the tenser and action-packed affairs of the season (especially among Ray Palmer and Eobard Thawne), but it was a quieter moment towards the end that proved most dramatic for Ms. Lance. After an entire episode of bickering over the delegation of leadership duties, Rip Hunter finally admitted that Sara Lance is the official Captain of The Waverider, and handed total control over to her. The two even shared a warm toast between friends as the younger Lance sister settled into her new position.
Naturally, everyone brings something unique to the team on Legends of Tomorrow; Sara herself even tells Rip this much to cheer him up. However, the Captain of The Waverider is ultimately the one who makes the toughest calls. People are going to live and die based on how Sara operates in the coming episodes, which means we will see her continue to grapple with the responsibilities required of this job. Caity Lotz is obviously no slouch in the acting department, so I think we're going to see quite a few emotions from this former League of Assassins badass.
This development for Sara's character feels particularly important because it shows how far she has come over the course of this season -- not to mention her entire existence in the Arrow-verse. At the beginning of Season 2, Sara was completely ready to abandon the team at a moment's notice to accomplish her personal objective of killing Damien Darhk. Now she has accepted the calling of Captain, and it genuinely seems that she has committed herself to a calling higher than herself. Sara has been a lone wolf since her earliest days as The Canary on Arrow, but the moment Rip acquiesced The Waverider to her was the moment she became the character that we've been waiting to see.
Of course, we would be remiss for not pointing out the fact that this raises genuine questions about Rip's future on the team. As much as we love his character (and Arthur Darvill's portrayal of him), his role as a member of The Legends could soon become redundant -- between Sara's position as Captain, and Nate's duties as team historian. The possibility of a major team death has become more and more likely with each passing episode, and Rip is still a contender for that honor.
What do you think of Sara Lance's new role as the definitive Captain of The Waverider? Beyond that, what do you believe that this means for Rip Hunter now that he has accepted his role as a subordinate on his ship? Let us know what you think in the comments section below to keep this conversation going!
We will bring you more information related to Legends of Tomorrow as new updates become available to us. The time travel series airs every Tuesday night at 9 p.m. EST on The CW. For more information related to 2017's remaining spring television debuts, make sure to check out our comprehensive midseason premiere guide and fill out your TV viewing schedules accordingly!
Originally from Connecticut, Conner grew up in San Diego and graduated from Chapman University in 2014. He now lives in Los Angeles working in and around the entertainment industry and can mostly be found binging horror movies and chugging coffee.
Your Daily Blend of Entertainment News
Thank you for signing up to CinemaBlend. You will receive a verification email shortly.
There was a problem. Please refresh the page and try again.