6 Really Popular U.K. TV Shows That Were Adapted And Failed In The US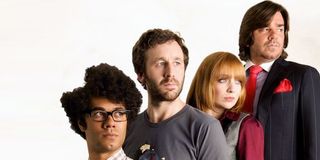 There have been several successful American shows that were built on the backbone of U.K.-produced programming. The Office, Dancing With The Stars, Kitchen Nightmares; that list can go on and on. It's way more entertaining, however, to check out TV shows that were a hit in the U.K. and then absolutely failed when adapted for the U.S., for varying reasons. (Weirdly enough, quite a few are tied to Doctor Who in some way.) Check out the list, and if you're from the U.K., read it with a smug grin knowing that America got your shows wrong.
The IT Crowd
The IT Crowd was a hilarious sitcom with relatively few episodes that quickly gained cult status in the U.K., as well as in other countries. While ratings were never necessarily spectacular, the show achieved syndication status, and this story of three IT professionals working in a London basement was shipped to America. Commissioned by NBC, the pilot for the American version of The IT Crowd featured the excellent Richard Ayoade, a star of the U.K. version, reprising his role from the original series as Maurice Moss, and the new version also boasted Joel McHale. Sadly, an NBC Chairman stepped in and squashed the whole thing, with no official reasoning ever given, but the cancellation did free up McHale to do Community, so all's well that ends well. For the curious, the pilot was put online years later.
Broadchurch
Before he landed the job as Doctor Who showrunner, Chris Chibnall headed up another wildly successful show in the U.K. by the name of Broadchurch. The series, which top-lined former Doctor David Tennant, has been a massive critical success throughout its run and just last month concluded its final season (with a U.S. airing impending). In 2014, Chibnall went to the U.S. to seek to retell the tale with a new name, Gracepoint, and a new location, keeping its male star. In hindsight, it's almost baffling how Gracepoint failed, since David Tennant hit U.S. TV as the States' Doctor Who craze was growing, and it co-starred Anna Gunn, fresh off Breaking Bad's finale. Regardless, viewership was never phenomenal, and Fox classified it as a limited series, never expressing interest in extending the series as it was done with Broadchurch.
Coupling
It's hard to believe that Steven Moffat, the man who brought us Sherlock and made Doctor Who a household name again, could fail in the U.S., and it's even harder to believe if you're a fan of Coupling. Moffat's sexualized sitcom was based on the relationship that led to his marriage to his current wife Sue Vertue, and critics compared the show to American hits like Friends and Seinfeld. That interested NBC, obviously, which was searching out such a replacement for Friends. Coupling's American debut was hated by American audiences, as the episodes largely reused Moffat's original scripts, with some changes. BBC America openly mocked the remake, going so far as to run original episodes after the remake aired, encouraging audiences to tune in to see the superior U.K. version. NBC axed the show after only four episodes.
Skins
If you love teen dramas and have never watched the U.K. version of Skins, you really should. In addition to the great music, you'll spot a young Dev Patel, a pervy Nicholas Holt, a pre-Doctor Who Peter Capaldi and others, in a tale that involves sex, drugs and all forms of debauchery. MTV, seeing the show's success, enlisted creator Bryan Elsley to reset the story in Baltimore, Maryland. Season 1 hit MTV and caused a massive rumbling, although not one that you typically want to hear from audiences. Sex, drugs, and trendy music? This might be what teens do in private, but certainly not on American television in such a glorious portrayal! Several advertisers heard audience complaints about Skins, along with allegations regarding child pornography, and began pulling their content from the program. Needless to say, MTV didn't pursue a Season 2.
The Inbetweeners
The U.K. version of The Inbetweeners was a huge hit. With only 18 episodes over 3 seasons, the debauchery-driven story of teens Will, Jay, Simon and Neil earned the friends two spinoff films, as well as a couple tie-in books. (Headlines still circulate about creators Damon Beesley and Iain Morris teasing another season.). Knowing that, you might assume that a series with the same premise in America, on MTV no less, would be a runaway success, right? Despite having the creators in tow, the American reboot never clicked with audiences, and though many said this was due to censorship preventing the central non-studs from speaking the filth that made the U.K. version so hilarious, others remarked it was just boring. The series was canceled due to incredibly low ratings, and later aired in the U.K. presumably for shits and giggles.
The Tomorrow People
The Tomorrow People began in the U.K. in the early 1970s as ITV's answer to Doctor Who, concluding its initial run in 1979. The show rebooted in the '90s and lived on through a number of audio plays throughout the 2000s. Seeing a wealth of content to grab from, The CW enlisted TV god Greg Berlanti to bring The Tomorrow People to America, and try he did. Luke Mitchell, Peyton List, Mark Pellegrino and Stephen Amell's cousin Robbie Amell were the big names heading up the series, but star power isn't everything, and critics familiar with the original Tomorrow People series critiqued the U.S. remake for not living up to its roots, and others simply stated the series was dumb. Even with Arrow Season 2 as a lead-in, this show actually managed to lose an audience, so you know something was wrong.
To all U.K. friends or Americans with a taste for programming across the pond, are there any other examples you can think of? Let us know, and perhaps you can find some current ones on our summer premiere guide or our renewal guide heading towards cancellation!
Your Daily Blend of Entertainment News
Mick likes good television, but also reality television. He grew up on Star Wars, DC, Marvel, and pro wrestling and loves to discuss and dissect most of it. He's been writing online for over a decade and never dreamed he'd be in the position he is today.