Why Arrow Needs To End After Season 6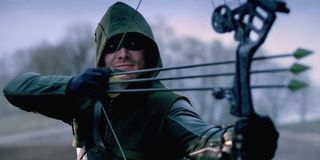 Arrow continues to be one of The CW's best series, and Stephen Amell consistently delivers as the titular badass. That said, it's also hard to deny that Arrow has clearly shown signs of wear and tear, and with the series running out of flashback material beyond the Season 5 finale, Arrow is officially closing Oliver Queen's five-year arc to become the proper Green Arrow. Which means it's time to start thinking about bringing his series to an end with the conclusion of Season 6, because now that Oliver has become the hero that comic book fans know, he can and should transition from central star to supporting hero on other Arrow-verse shows.
We already know that the sixth season of Arrow is officially on the way, and we'd certainly like to see the archer go out with a blaze of glory, but we're growing concerned that the show may simply be spinning its wheels. The CW recently released a handful of general plot descriptions for all of its upcoming Arrow-verse seasons, and while most of the shows sound like they're going in new directions, Arrow's basic Season 6 plot description sounds strikingly familiar. Specifically, the synopsis describes Oliver Queen coping with his status as leader of Team Arrow when a mysterious force from his past returns to Star City to turn his life upside down. Sound familiar? It should because that's the DNA of basically every season of Arrow to date. You would think Oliver would learn from his battle with Prometheus, but you would likely be wrong.
And even if that storyline becomes a far different thing than its simplified logline, the creative team should flip the script and let Oliver operate from the sidelines, instead of leading the charge. This has become a common tactic with other characters in the Arrow-verse anyway. John Barrowman, Katie Cassidy, and Wentworth Miller all inked deals to appear across several Arrow-verse series last season, while never actually treating a single show as a permanent home, and The CW has already proven that it knows how to make this system work with Oliver himself. Even outside of his live-action crossover cameos, Stephen Amell has provided his vocal chops to Oliver Queen as a side character in the animated Vixen series (and recent animated film), and the results have consistently breathed new life into the character.
The trick here stems from the fact that Oliver Queen becomes an entirely different character whenever the Arrow-verse depicts him in a group environment. His solo series gives us the in-depth look at his inner monolog and opens him up as the conflicted, troubled hero that we have come to know and love over the last five years. However, whenever Oliver is allowed to step away from leadership to take on a supporting role, he becomes more darkly mysterious, which arguably offers up a more badass TV persona.
Realize it or not, there's already a model for success in the animated DC realm that shows exactly how to do this. Batman: The Animated Series kicked off a beloved universe of DC cartoons back in the 1990s, and those series eventually spun off into Justice League and Justice League Unlimited. When Kevin Conroy's Batman made the jump to a superhero ensemble, that universe scaled his inner monolog back considerably, which made him more brooding and helped contrast him with the rest of the heroes. He was still clearly Batman, but his depiction changed ever so slightly to accommodate a change in environment and social circle -- which ultimately kept the character fresh for audiences. Providing fewer details, oxymoronically, leads to more complex characters in certain situations, and The CW could easily accomplish the same thing with Green Arrow.
Aside from the fact that an Oliver downgrade will ease quite a bit of tension that currently exists within the character himself, axing Arrow and relegating The Emerald Archer to supporting player status would also free up The CW's Arrow-verse lineup for some fresh blood. The animated Vixen series has proven that there's still plenty of room in this universe for new personalities to enter the equation, and Black Lightning will already be airing when Season 6 ends, so shuffling the deck and taking Arrow out of the mix might represent the best course of action to mix things up. With Arrow gone, we could see a Suicide Squad series, a Speedy spinoff, or a drama focusing entirely on the Star City Police Department. Much like Oliver's bad hairstyles, the options are quite literally endless.
Arrow's Season 5 finale will air tonight at 8 p.m. EST on The CW. Still sad to see Oliver Queen and the rest of Team Arrow go? Fret not! You can take a look at our comprehensive summer premiere guide and get yourself caught up on all of the most highly anticipated small screen debuts of the next few months!
This poll is no longer available.
Originally from Connecticut, Conner grew up in San Diego and graduated from Chapman University in 2014. He now lives in Los Angeles working in and around the entertainment industry and can mostly be found binging horror movies and chugging coffee.