The Big Orange Is The New Black Characters Who Returned In Season 5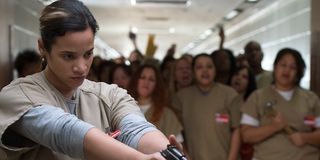 Spoilers ahead for Season 5 of Orange is the New Black. If you haven't binge watched the full season, you may want to bookmark this story and come back to it.
The fifth season of Netflix's popular dark comedy Orange is the New Black was released this past Friday, leading many of the hardcore fans to binge through the full season, and therefore avoid potential spoilers. Season 5 is far more dramatic than comedic, as the prison riot started in Season 4's finale raises the stakes and leaves you ugly during nearly every episode. But Season 5 did have some moments of levity, and brought back a ton of long missing characters. Here are all of the surprise returns that happened in Litchfield's latest chapter.
Larry
When Was He Last Seen?: While Larry was a major character for the first two seasons of Orange is the New Black (opens in new tab), we haven't seen him in quite some time. He and Piper have split up after she started getting wrapped up in life at Litchfield... and Alex. We last saw Larry in Season 2's finale, with he and Polly starting their own life as a couple, and essentially abandoning Piper to her own devices.
How Did He Return?: Season 5's penultimate episode split its flashbacks between Alex and Piper, and how their tattoos speak to their complicated relationship. In Piper's flashback, we see she and Larry getting their own tattoos while living in New York. But this just makes Piper miss her ex, and she calls Alex and leaves her a message. But little does she know that Alex has already named her to the police, and she'd soon be charged in the crime that would land her in Litchfield.
Monica, Black Cindy's Daughter
Where Was She Last Seen?: Black Cindy has one of Litchfield's most complicated family backgrounds. She actually gave birth to Monica, but was way too irresponsible and ill equipped to parent her. As such, Cindy's mother adopted the girl, and Monica actually believes her to be her sister, rather than mom. This all comes from Black Cindy's Season 2 flashback episode, which began to peel back the layers of the otherwise funny character
How Did She Return?: Many of the inmate's families are seen in Season 5, as the riot at Litchfield continues to become a news frenzy and pop culture event. When we see Monica, she's watching the news about Litchfield, and tells her Grandmother/Mother that she fears for Black Cindy. Cindy's mom first tries to lie and say she was transferred, but Monica puts two and two together when a meme of Cindy goes viral.
CO Bell and CO O'Neill
Where Were They Last Seen?: Remember when the guards in Litchfield were actually good people? Fun times. Bell and O'Neill (along with the rest of the OG COs) walked out of Litchfield before the lake incident, leaving room for Piscatella and his cronies to take over power. Wanda Bell also had a brief cameo in Season 4, where she was seen working as a crossing guard.
How Did They Return?: Bell and O'Neill showed up for one episode in Season 5. While the prison inmates struggled to maintain order and get their demands met, CO Bayley struggled with his guilt over Poussey's death, and his inability to be properly punished. He eventually sought out Bell and O'Neill, who are now expecting their first child. Unfortunately they are just too blissfully happy to give Bayley the guidance he needs. Yes, I said Wanda Bell was happy. Just go with it.
Leanne's Mother
Where was she last seen?: Leanne's mother has never appeared in the present before, instead shown in flashbacks during the Leanne-centric episode "Where My Dreidel At" in Season 3. It turns out that Leanne grew up Amish, speaking Pennsylvania Dutch and living in meager means. She eventually sells out her buddies for meth use, leading to her isolation within the community. She'd eventually run away because of this.
How did she show up?: Leanne's mother gets a bit of dialogue in the season finale, although she is previously seen among the crowd outside the prison. When Leanne and Angie are brought out of Litchfield after burning the inmates' files, her mother calls out to her in Pennsylvania Dutch. Leanne is touched that her mother still cares about her, and ensures her that she's ok and a good person now.
Pornstache
Where was he last seen?: After being a major character for the first two seasons, Pornstache faded into the background following his arrest for having sex with Daya. The Wire actor Pablo Schreiber reprised his role for a brief appearance in Season 3, which showed Pornstache still very much incarcerated for his crimes. But when it turns out that the baby isn't his, it seems like he might be released earlier than anticipated.
How did he show up?: Pornstache appeared for one episode in OITNB's fifth season. Daya eventually comes to the realization that she'll have to atone for shooting CO Humphrey (making her partly responsible for his eventual death). But before she turns herself in, she calls Pornstache's mother to inform her that her daughter is still alive, and currently living in foster care. Pornstache is thrilled with this news, determined to have a new life and a family of his own.
Piper's Mother Carol
Where was she last seen?: Piper's mother Carol showed up quite a bit during the first two seasons of Orange is the New Black. But as Piper became more focused on her life in the prison, we saw those characters on the outside fade away. The last time we saw Carol, it was when she visited Litchfield for Piper's birthday in Season 3. But when Piper antagonizes her with some fake sex noises, Carol storms out of visitation.
How did she show up?: Much like Leanne's mom, Carol showed up at Litchfield in the final two episodes of Season 5. When Piper spots her in the crowd, she calls from Caputo's office and the two share a rare moment of compassion and honesty. Of course, Carol would ruin it in her typical wasp-y ways, but it was great to see the character return in such a big moment in the series.
Poussey
Where did we last see her?: Well, this is a loaded question. Poussey's death in Season 4's penultimate episode absolutely shocked Litchfield community, as well as Orange is the New Black's many fans. The scene is heartbreaking and terrible, as is Taystee's reaction to her best friend's death. But Poussey also got a flashback episode in the season finale, giving the fans one last happy memory to cherish as we bid goodbye to one of the prison's most sweet and genuine inmates.
How did she show up?: Flashbacks, baby. Much like Jason Biggs' Larry, Poussey got to come back through another character's flashbacks. Episode 5 "Flaming Hot Cheetos, Literally" further expanded Taystee's backstory, showing her history with her biological mother. Taystee girl never had a real family, but then we see the very first time that she and Poussey meet in the library. It's a moment of pure joy in a very dark season, and it was one of the best surprises of Season 5.
Corey was born and raised in New Jersey. Double majored in theater and literature during undergrad. After working in administrative theater for a year in New York, he started as the Weekend Editor at CinemaBend. He's since been able to work himself up to reviews, phoners, and press junkets-- and is now able to appear on camera with some of his famous actors... just not as he would have predicted as a kid.
Your Daily Blend of Entertainment News
Thank you for signing up to CinemaBlend. You will receive a verification email shortly.
There was a problem. Please refresh the page and try again.