Orange Is The New Black Season 5: What We Know So Far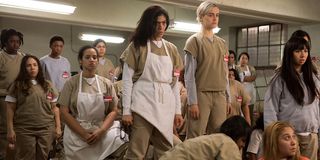 Since its first season on Netflix, black comedy Orange is the New Black has continued to reinvent itself. What started as the story of Piper's introduction to prison has since become an ensemble piece that fleshes out the backstories of both the inmates and correctional officers. Each season has its own overarching plot, and Season 4 was all about Litchfield Correctional Facility going through major changes and becoming a much darker place than we saw years ago.
Season 4 really flipped the script on what to expect from Orange is the New Black. Due to the disarray of the prison, inmates were seen standing up to authority, and the ensemble all fractured into their own stories. Now we can look forward to Season 5, and what to expect from the season. Will more characters die? Will we see a return of long lost inmates? What's going on with that gun? Here's what we know about OITNB Season 5.
When Will Season 5 Be Released?
The release date for Orange is the New Black has officially been set by Netflix, with the series continuing with past traditions. Season 5's release date is June 9th 2017, which should come as no big surprise to hardcore fans. Season 1-4 have consistently been released toward the middle of June, so season 5 is consistent with the pas. Summer TV shows have the added advantage of less competition, and it's become a ritual for TV fans to expect shows like Orange and Game of Thrones once the weather gets warmer.
Which Actors Will Return?
At this point in Orange is the New Black's tenure, they've amassed quite the extended cast of inmates and CO's. We can obviously expect to see series regulars like Piper (Taylor Schilling), Alex (Laura Prepon), Gloria Mendoza (Selenis Levya, who will make her MCU debut in Spider-Man: Homecoming), and Red (Kate Mulgrew). But there are quite a few casting questions that are up in the air. Despicable Correctional Officer Humphrey's (Michael Torpey) fate is certainly in the air, as we last saw him at the scary end of a gun. Considering how furious the inmates are, it's not out of the question that he might end up dead in the opening moments of the Season 5 premiere. There is also a question mark around Lori Petty's Lolly, who was a breakout character last season. While Petty seemed to not know if Lolly was appearing in Season 5, she seemed fairly confident she'd have some sort of role, as the character is currently in psych.
Then there's Laverne Cox, who was largely absent during Season 4. Now that Sophia is out of the SHU, hopefully Cox will finally get the promotion to series regular that she's been owed. Sophia was one of the first characters to get a backstory episode, and it was a groundbreaking moment in Hollywood. It's strange that Sophia has been kept mostly as a tertiary character, especially considering how much fans love her. Most of the cast has gotten raises since Season 1, so it's time for Laverne Cox and Sophia to get what they deserve.
When The Season Will Take Place
Breaking away from the past traditions of the series, Orange is the New Black's new season will take place across the span of just three days. All 13 episodes will be contained in this timeline, so it should be quite the juxtaposition from the past seasons. It would stand to reason that these three days will likely follow the events of last season's cliffhanger ending, with Litchfield in the midst of a full on riot.
Which Characters Are Currently In The SHU?
With all of the Litchfield ladies spread across different facilities, it can be a bit confusing to remember where everyone is. Sophia spent most of Season 4 in The SHU because of sheer negligence, as well as her own fighting spirit. Because there was no one to help her, Sister Ingalls (Beth Fowler) purposefully got herself sent to solitary in an attempt to find and help Sofia. This eventually worked, but Sister Ingalls is still stuck in the box for the foreseeable future.
Of course, its possible that The SHU will become very crowded after the events of the Season 4 finale. Inmates are usually sent to solitary for bad or aggressive behavior, and the finale ended with a riot starting within the prison. Basically anyone who was present in the final scene has the potential to be shipped off to The SHU or Max, so Sister Ingalls may be released to make room for more deviant inmates. Lucky her.
Which Inmates Are Still In Maximum Security?
In addition to the SHU, we've seen a handful of inmates transferred to max after major offenses. While Natasha Lyonne's Nicky was transferred back last season, there are still a few ladies who are stuck there. Carlin (Ruby Rose) was seen briefly having some sort of relationship with Nicky during their time in max and is (to our knowledge) being kept there. As is Golden Girl member Taslitz (Judith Roberts) who attempted an assassination on Vee (Lorraine Toussaint) back in Season 2, and was briefly shown giving Nicky a nod last season. And then there's Miss Claudette (Michelle Hurst). The major season 1 character was sent to Max after attempting to strangle a CO, and we haven't seen or heard from her since. Here's hoping she'll finally return to Orange is the New Black, and straighten out all the crazy new inmates.
Who Is In The Medical Ward?
Another setting within Litchfield is the Medical Ward, which we've seen here and there throughout Orange is the New Black's tenure. There are currently a few characters in Medical, namely Crazy Eyes (Uzo Aduba) and her suitor Maureen (Emily Althaus). While it's a relief that Crazy Eyes is safe from the craziness of the prison riot, her relationship with Maureen is a big old mess that will presumably be a highlight of early Season 5 episodes. While Crazy Eyes is still mourning Poussey (Samira Wiley), she will soon have to turn her focus to Maureen, who she sent to Medical after nearly beating her to death.
Who Will We Be Seeing Outside Of Litchfield?
While most of the action in Orange is the New Black is set within Litchfield Penitentiary, there are a fair amount of plot lines that revolve around those in the outside world. Chief among them for Season 5 will be Daya's mom Aleida (Fear The Walking Dead's Elizabeth Rodriguez), who was recently released after completing her sentence. We last saw Aleida watching the news of Litchfield's riot on TV, and she will presumably have her claws out and ready to go to bat for her daughter from outside. We're also likely to see the current state of Daya's baby and Cesar (Berto Colon), both of which haven't been seen since Season 3.
And then there's Matt McGorry's Bennett, who hasn't been on the show since early Season 3. While the actor is busy with ABC's How to Get Away With Murder, maybe we'll finally see his return to Litchfield. For a moment it seemed like McGorry's character might be killed off of HTGAWM, but a recent episode put him in the clear. But, if Danielle Brooks (who plays Taystee) and Kimiko Glenn (who plays Soso) can both make the time to appear on Broadway this past season, perhaps McGorry's schedule isn't quite as impossible as it seems. With so many terrible CO's currently in the cast (we're looking at you, Piscatella), it would be refreshing to have an officer on staff who isn't a total monster.
The State of Litchfield
Season 4 of Orange is the New Black (opens in new tab) was a game changer in regards to the overall running and tone of Litchfield Penitentiary. While the first few seasons saw the minimum security facility as fairly relaxed, everything changed in the opening moments of Season 4. After being bought by a private company, we saw the number of inmates doubled, as well as a brand new set of guards introduced after the old ones walked out. This, coupled with the slop the inmates are currently being served, resulted in Litchfield becoming a more miserable place.
Additionally, the race issues that kept inmates in separate bunks has hit an all time high with the addition of new inmates. Maria Ruiz (Jessica Pimentel) has transformed from sweet pregnant inmate to gang leader after a surge of Dominican inmates entered the facility. And with Piper utilizing the new white supremacists as protection, a certified race war was being battled within Litchfield. With Poussey's tragic death echoing issues related to the black lives matter movement, tension regarding race is at an all time high.
There is a strong possibility that Season 5 will open with a full on riot happening within Litchfield. The inexperienced CO's are way over their head with the anger and violence that has broken out, and there are also side characters like Caputo's (Nick Sandow) girlfriend Linda (Beth Dover) that are unprotected within the halls of the prison. Is this the opportunity that a-hole Piscatella (Brad William Henke) needs to get his job back at Litchfield? It just might be.
The Cliffhanger
Of course, what fans are most excited to see in Season 5 is the answer to that crazy cliffhanger. The final moments of Season 4 saw Taystee start a prison riot after finding out that Caputo refused to mention Poussey's death in his press conference while also defending the CO that killed her. This resulted in all of the dorms coming together, armed in a hallway. Officer Humphrey tried to handle the situation and whip out an illegal gun, but Martiza Ramos (Diane Guerrero) quickly disarmed him. Daya (Joy actress Dascha Polanco) eventually picked up the weapon, and had he and fellow CO McCullough get on the ground. Most of the show's main characters are present during this confrontation, so one wrong move could quickly take the life of several characters, including Taystee, Judy King (Blair Brown), Red, or Flaca (Jackie Cruz). Alex and Piper happened to run away from the riot, so they're safe.
Orange is the New Black recently released a clip that picks up exactly where the cliffhanger left of. Check it out.
We'll continue to update this story as new information becomes public. So make sure to check back with us at CinemaBlend for all things Orange is the New Black.
Your Daily Blend of Entertainment News
Corey was born and raised in New Jersey. Double majored in theater and literature during undergrad. After working in administrative theater for a year in New York, he started as the Weekend Editor at CinemaBlend. He's since been able to work himself up to reviews, phoners, and press junkets-- and is now able to appear on camera with some of his favorite actors... just not as he would have predicted as a kid.