Former TLC Star Toby Willis Sentenced To Prison For Child Rape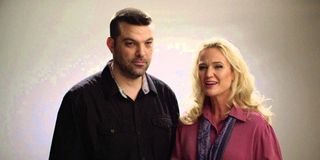 TLC hasn't had the best luck when it comes to signing reality stars with shady pasts. Now, Toby Willis of TLC's The Willis Family is going to be paying for his particular shady past for a very long time. He has been convicted of four counts of child rape by a Tennessee court, and he'll spend 40 years behind bars in prison.
Toby Willis pleaded guilty to all four counts of child rape that he was facing. The Tennessean reports that Willis received two sentences of 25 years and two sentences of 40 years for the four counts of rape. The sentences will be served concurrently, which means that he'll be serving 40 years rather than 130 years in prison. Currently 47 years old, Willis may spend the rest of his life behind bars for rape.
The first arrest came back in September, when an investigation from the Tennessee Bureau of Investigations discovered that Toby Willis sexually assaulted a 12-year-old girl around twelve years ago. Willis attempted to escape authorities by hitchhiking out of Tennessee, but he was ultimately captured and arrested in Greenville, Kentucky. Now that sentencing has been completed. the family has released a statement thanking their supporters for the kind words during the ordeal, thanking law enforcement for handling the case, and acknowledging that the impact of Toby Willis' actions will likely last much longer for his victims than his 40 years in prison.
The Willis family entered the spotlight back in 2014 when they appeared on Season 9 of NBC's America's Got Talent. Toby and wife Brenda will appeared with their 12--yes, 12--children to sing and dance in primetime. The family was professionally known as The Willis Clan, and they made it all the way to the quarter finals of Season 9. They did ultimately lose America's Got Talent, but they managed to score a reality TV deal with TLC out of their America's Got Talent fame.
The Willis Family ultimately only ran for two seasons, with a grand total of 13 episodes making it to the airwaves. TLC announced that the show had been cancelled only days after Toby Willis' arrest in September 2016, although the network states that the cancellation had already been decided before the arrest took place. We can bet that folks at TLC are glad that The Willis Family had already gotten the axe before the legal battle began.
This was far from the first time that TLC reality stars have made headlines for ugly reasons. The popular series 19 Kids and Counting starring the Duggar family tanked after reports broke that Josh Duggar had sexually molested his sisters, and Here Comes Honey Boo Boo got the axe after concerns arose that matriarch Mama June had become involved with a registered sex offender. The split of the Gosselin family was exactly clean either. Obviously TLC could not have possibly seen some of these controversies arising, but we have to hope that the network has better luck with future reality stars.
Resident of One Chicago, Bachelor Nation, and Cleveland. Has opinions about crossovers, Star Wars, and superheroes. Will not time travel.
Your Daily Blend of Entertainment News
Thank you for signing up to CinemaBlend. You will receive a verification email shortly.
There was a problem. Please refresh the page and try again.