Wait, Is The Flash Actually Letting Wally West Take Barry's Place In Season 4?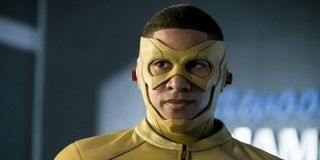 Warning: spoilers ahead for Season 3 of The Flash! Read ahead at your own risk!
The Arrow-verse is no stranger to status quo shifts, but The Flash introduced one of its biggest changes to date, when Barry Allen surrendered himself to The Speed Force after defeating Savitar at the end of Season 3. The burden of protecting Central City has fallen onto the remaining members of Team Flash, and it's a responsibility that Wally West will apparently take seriously going into Season 4, and a newly leaked photo of Keiynan Lonsdale from the set of The Flash even seems to suggest that Wally may take Barry's place as the fastest man alive.
If you know about the comic book history of The Flash, then you know this could potentially be a huge moment. With Barry Allen now trapped in The Speed Force, Wally has to step up to the plate to ditch his yellow Kid Flash uniform in favor of Barry's red Flash suit -- although it admittedly doesn't seem to fit him very well. Loosely inspired by the seminal Crisis On Infinite Earths storyline, this twist appears to suggest that Wally West may now be the titular hero on The Flash for the foreseeable future, rather than Barry Allen.
As jarring as it would feel, this twist may sit well with many segments of The Flash fanbase. Wally West's comic book popularity has often rivaled Barry's, and his status as The Flash proper on the classic Justice League animated series has made him an icon for anyone who grew up in the 2000s. Wally has a legitimate claim to The Flash mantle, so this possibly shift in direction could prove popular with those fans hoping for the show to make more of a long-term creative decision.
With all of that said, there might be another much simpler explanation for why Wally West is wearing Barry's suit in this set picture. Central City (among other locations) believes in The Flash as a symbol of hope, and criminals could declare open season on the city if they found out The Scarlet Speedster was no longer running around (even if heroes like Kid Flash and Jesse Quick are around to help out). So in the same way that John Diggle, Roy Harper, and Malcolm Merlyn have all donned Oliver Queen's Green Arrow suit over the years, Wally may actually be posing as Barry to convince Central City's citizens that there's nothing to worry about, in the face of crime and the metahuman threat.
Beyond that, it doesn't seem likely that The Flash will simply drop Grant Gustin. The 27-year-old actor has remained a focal point of this world since his introduction on Arrow, so the odds of him returning to reclaim the red suit from Wally seem pretty good. Plus, Keiynan Lonsdale has said that Wally doesn't even feel particularly qualified to become the titular Flash, but that could have just been deflection. Now, it's just a matter of how far we will get into Season 4 before Barry returns.
Why do you think Wally West is wearing Barry Allen's suit in that photo? Give us your take in the comments section below! The Flash will return to The CW for its fourth season on October 10 at 8 p.m. EST. Until then, take a look at our summer TV premiere guide for more information related to this rest of this season's major small screen debuts.
Your Daily Blend of Entertainment News
Originally from Connecticut, Conner grew up in San Diego and graduated from Chapman University in 2014. He now lives in Los Angeles working in and around the entertainment industry and can mostly be found binging horror movies and chugging coffee.