Two Big Ways Batman Will Start To Show Up In Gotham Season 4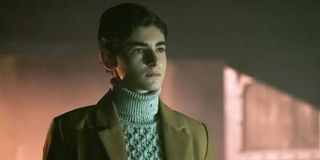 Gotham has spent three seasons so far telling the origin stories of a number of huge DC Comics heroes and villains. Bruce Wayne himself has been a protagonist from the beginning, but there was no guarantee that we'd ever get to see him as Batman on the series given his age. Young Bruce has taken on some characteristics that we associate with the Caped Crusader over the years, however, and it turns out that we'll see him become even more like Batman in a couple of big ways in Season 4. Gotham executive producer John Stephens appeared at a panel at San Diego Comic-Con, and he had this to say about Bruce Wayne in Season 4:
Bruce Wayne won't be donning the cape and the cowl in Season 4, but it sounds like he'll learn how to use some of the tools that will become instrumental to his war on crime as an adult. The very last scene of the Season 3 finale Bruce Wayne going full vigilante and saving a family from a mugging; apparently, he'll continue that work moving forward.
John Stephens' mention of Batman: Year One indicates that Bruce will probably keep pretty busy in the next batch of episodes. The Year One comic story (and movie adaptation) chronicle Bruce Wayne in his very early days as Batman, as he learns the tricks of the trade and how best to use his particular set of skills to fight crime and scare the daylights out of bad guys. He suffered some pretty big mishaps in the comic before he got around to saving the day; we can bet that Gotham's Bruce won't be turning the tide of crime in Gotham City any time soon.
Interestingly, the body armor and grappling hooks won't be the only ways that young Bruce will begin to resemble his future Bat-self. At a SDCC roundtable, John Stephens went into greater detail about how Bruce will grow in Season 4, saying this:
The Batman we all know and love/fear doesn't run around at all hours in his cape and cowl, and his entire crusade in Gotham City would fail if he couldn't maintain his identity as airhead playboy Bruce Wayne. Gotham will evidently give us the origin story for the Bruce Wayne who will be able to use his reputation as a playboy to avoid certain prying questions. Bruce will get to enjoy some of his advantages as a billionaire with no adult supervision apart from his doting butler, and his experiences will tie into the double life he eventually builds as Batman.
From what we know so far of Gotham Season 4, Bruce won't be the only character who will go through some major changes. A couple of folks seemed to die in the Season 3 finale that we know will be up and about in Season 4, and some unconventional team-ups are in the works as well. Throw in Scarecrow, a frozen Riddler, and even Jerome, and I'd say we're in for a wild ride.
Gotham will return for Season 4 on Fox on Thursday, September 21. Check out our fall TV premiere schedule for all the other important dates for shows that will be on the airwaves in the coming months.
Resident of One Chicago, Bachelor Nation, and Cleveland. Has opinions about crossovers, Star Wars, and superheroes. Will not time travel.