One X-Files Star Confirms Return For Season 11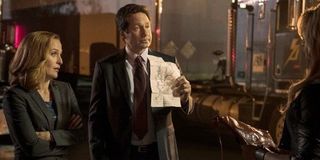 The X-Files returned to the small screen back in the beginning of 2016, nearly 14 years after the Season 9 finale that fans assumed was the series finale. The last episode of the revival ended on a huge cliffhanger that had fans dying for payoff, and we finally learned back in April that the show would be back for an eleventh season. David Duchovny and Gillian Anderson will reprise their roles as Agents Mulder and Scully, and we now know of one more actor who will return. Annabeth Gish -- a.k.a. Monica Reyes -- broke the news via social media:
Yes, it seems that we did not see the last of Monica Reyes after her relatively brief appearance in the Season 10 finale in 2016. Annabeth Gish's post on Instagram confirms her character's return in Season 11. In her Season 10 appearance, Monica reached out to Scully, who was glad to reunite with her old FBI friend... until Monica revealed that she has been working with the Cigarette-Smoking Man ever since Mulder and Scully made their dramatic departure in the Season 9 finale. After the CSM managed to survive the terrible explosion that destroyed the building he was in, he made a deal with Monica to spare her life if she worked with him in his shady dealings with aliens and other shadowy men.
Scully didn't take too kindly to the news that Monica made a deal with the cigarette-smoking devil to save her own life, even if she also intended to sabotage the plans that would result in the deaths of a lot of people. Her information helped Scully as she raced to find out why so many people were falling ill and how to save them, so they at least parted as allies, if not necessarily pals.
Given the huge cliffhanger at the end of the Season 10 finale, it makes sense that Monica would turn up again. The Cigarette Smoking Man's plan was still unfolding and a whole bunch of people were still dying when last we saw Scully and Mulder in action. Although the priority may be securing DNA from William to save Mulder's life, they may need to recruit Monica again to help save the world. If that's the case, Monica's life may end up in a great deal of danger, and she's not quite as guaranteed to survive in The X-Files as Mulder or Scully.
It should be interesting to see how much of Monica Reyes we get in Season 11. If she survives the resolution of the cliffhanger, she could become a source to our intrepid agents moving forward. If not... well, she had a good run, and at least she tried to help Scully. Only time will tell.
Annabeth Gish isn't the only supporting actor who has signed on for The X-Files Season 11. Mitch Pileggi has joined up as well, so we can count on more of the long-suffering Skinner dealing with Mulder and Scully. No announcement has yet been made, but it's likely that William B. Davis will be back as well as the Cigarette-Smoking Man. For more of what's to come when The X-Files returns in the 2017-2018 TV season, take a look at our breakdown of what we know so far. If you're still in the market for shows to watch in the not-too-distant future, our fall TV premiere schedule can help you out. Our list of reboots and revivals can also show you many other projects that are coming back to television.
Resident of One Chicago, Bachelor Nation, and Cleveland. Has opinions about crossovers, Star Wars, and superheroes. Will not time travel.
Your Daily Blend of Entertainment News
Thank you for signing up to CinemaBlend. You will receive a verification email shortly.
There was a problem. Please refresh the page and try again.