The X-Files Season 11: What We Know So Far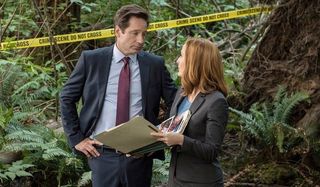 The X-Files was one of the biggest shows on television during its original run, even inspiring two feature films all about the investigations of Mulder and Scully. Fox brought the show back for a revival Season 10 back in early 2016, and fans got a combination of the mythology, aliens, and monsters that made The X-Files what it was back in the early days. Now, we have to look ahead to the next chapter of the X-Files saga. So, join me in whistling that old theme song, wanting to believe, and trusting that Season 11 is out there. Check out our breakdown of everything we know so far about the future of The X-Files on Fox!
Is The X-Files Renewed?
For quite a while after Season 10 came to an end, it felt like The X-Files was done for good. Sure, Fox and David Duchovny were openly eager to return for more, but Gillian Anderson had her reservations about how much time she would have to spend away from her family to reprise the role of Scully once more, and there's no classic X-Files without both Mulder and Scully in the middle of the action, as Season 9 proved way back in 2001. The longer it took for news to break, the less likely a Season 11 seemed. Then came the announcement that Duchovny and Anderson would be voicing their characters in an audio book. With no accompanying announcement of a TV reunion, that could have been it.
Luckily, it didn't take too much longer for Fox to break the news that The X-Files has officially been renewed for Season 11. The infuriating cliffhanger will be resolved, and we'll get to watch even more monsters, conspiracies, and probably aliens when we get the next batch of episodes.
How Many Episodes Will Be In The X-Files Season 11?
Fox has officially ordered 10 episodes of Season 11 of The X-Files, which is an increase of four from the six-episode Season 10. The ten-episode order falls in line with David Duchovny's previous statements that six episodes was too short for a season but he and Gillian Anderson could definitely not come back for another full 22-episode season. Ten episodes should allow the X-Files team to answer some of the lingering questions from Season 10, delve into new chapters of the mythology with enough detail to make sense, and introduce some entertaining new monsters and mysteries. We'll have to wait and see how many episodes will be Monster of the Week and how many will be devoted to the mythology.
When Will The X-Files Season 11 Premiere?
No official premiere date has yet been set for Season 11, although Fox has announced that it will air at some point in the 2017-2018 TV season. Production is slated to begin this summer. Season 10 aired as a midseason event series, beginning in January and ending in February. Given the huge ratings success The X-Files brought to Fox in early 2016, the odds are pretty good that the network will air Season 11 around the same time. It will obviously run for longer with a ten-episode order, but there's plenty of time in early midseason. We can only speculate at this point, but midseason 2018 is a pretty solid guess.
Who Will Be Back?
At this point, the only big names definitively attached to Season 11 are David Duchovny as Fox Mulder, Gillian Anderson as Dana Scully, and series creator Chris Carter as executive producer. The chances are good that William B. Davis will be back as the Cigarette-Smoking Man, and I know I'd be heartbroken if Mitch Pileggi didn't return yet again as the long-suffering Walter Skinner. Agents Miller and Einstein were still in the mix in the Season 10 finale, so they would make for logical additions to at least the Season 11 premiere. We've probably seen the last of the Lone Gunmen, and both John Doggett and Kersh are probably off the table, but we can likely count on plenty of familiar faces.
Where Did We Leave Off?
The Season 10 finale ended with the fate of the human race in jeopardy thanks to the Spartan virus. Scully came up with a cure, but the crisis was still on a global scale, and she was slightly distracted by the fact that Mulder was circling the drain. Then, what looked an awful lot like an alien spaceship arrived overhead after she mentioned needing to track down her long lost son William. We'll need to see the cliffhanger resolved and some expansion on the William story before we can get back into the Monster of the Week cases at the FBI, so my guess is that Season 11 will get off to a pretty exciting start.
What Questions Still Need To Be Answered?
Any longtime fan of The X-Files knows that there are already about ten years and two movies' worth of questions that are still unanswered, but some are more pressing than others. We've already come up with four huge questions that we absolutely need answered (and you can check out our picks here), but there are plenty left. Who is helping the Cigarette-Smoking Man? Is Scully really immortal? How is Mulder better at hand-to-hand fighting now than when he was a spry 30-something agent? What happened to Doggett? How was William conceived naturally if Scully literally had no ova left?
Obviously, some questions are more likely than others to actually be answered. I've pretty much given up on the answer to the William question, unless somebody cranks up the Moby and convinces Chris Carter to write out a flow chart. Still, there are some that Season 11 almost certainly will address.
Could A Spinoff Happen?
There was all kinds of spinoff chatter when Robbie Amell and Lauren Ambrose were cast as Agents Miller and Einstein, and then even more chatter once their characters debuted as Mulder and Scully 2.0, but nothing ever came of it. The return of Original Recipe Mulder and Scully for Season 11 naturally gets the priority over The X-Files 2.0, but there's still the chance of a spinoff. If one of the episodes of Season 11 is a backdoor pilot, I'd say that it's possible Fox is at least considering Miller and Einstein as stars of a spinoff. We'll have to wait and see.
Stay tuned to CinemaBlend for the latest in The X-Files news, and don't forget to check out our summer TV premiere schedule to discover all your viewing options now and in the coming weeks. Be sure to drop by our rundowns for cable/streaming and broadcast TV renewals and cancellations as well. Our TV season finale schedule can give you all you need to know about your favorite shows ending.
Resident of One Chicago, Bachelor Nation, and Cleveland. Has opinions about crossovers, Star Wars, and superheroes. Will not time travel.
Your Daily Blend of Entertainment News
Thank you for signing up to CinemaBlend. You will receive a verification email shortly.
There was a problem. Please refresh the page and try again.