Wait, Is Game Of Thrones Trying To Tell Us Something About Tyrion And Dany?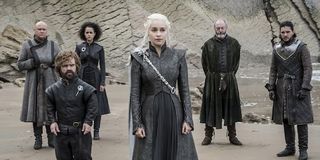 Warning! The following post contains spoilers for Game of Thrones Season 7 finale. Read at your own risk!
The Season 7 finale of Game of Thrones brought a lot of crazy moments, but none were crazier than Daenerys and Jon Snow doing the dirty. As fans groaned in unison with the couple, realizing we were all witnessing another passionate incest scene, one character looked on with equal concern, despite being oblivious to their blood-ties. So, is Game of Thrones trying to tell us Tyrion Lannister has romantic feelings for Daenerys? A GoT book synopsis from the 90s, combined with another scene from the finale, has us really questioning the moment.
According to a 1993 letter from George R.R. Martin that laid out a rough outline for the entire Song of Ice and Fire series, Tyrion Lannister was destined to be in a love triangle involving Jon Snow that would spark a bitter rivalry between the two. (Perhaps even grosser than the incest we witnessed in the Game of Thrones season finale: the two men were initially to compete for the love of young Arya Stark.) What happens after that is blacked out, as the publisher who initially shared the letter (as shared by Business Insider) apparently felt that part may have been a bit too sensitive to share. But it was stated in Tyrion's outline that the rivalry would turn deadly. Martin also listed all three characters involved as survivors of the series as well, so who knows exactly what was planned?
This outline has plenty of plot elements that are not consistent with the series Game of Thrones or the books, meaning we can't take it for gospel, but there are some similarities that make that Season 7 scene very curious. For example, Tyrion's outline-centric lust for Arya began after he was exiled from the Lannister family (for murders he did not commit), and he was eventually meant to align with the Starks to wage war against his family. With Jon Snow firmly established as Dany's new lover in the series, one has to wonder if the showrunners are trying to revive this old idea by having Tyrion and Jon become bitter enemies. With the two already showing such mutual respect for one another throughout the show, a love triangle would really be the only way to cause this tension. (Because drama!)
Cersei Lannister seems to subscribe to the theory that Tyrion loves Daenerys, as she told her brother earlier in the season finale his loyalty to Dany was primarily because she was a "foreign whore who didn't know her place." It was a deep cut referencing Tyrion's failed romance with Shae, and also an interesting and potentially foreshadow-friendly line for Game of Thrones to throw in there, considering his reaction to the sex scene later in the episode. It's often said that siblings know how to hurt you the most because they know you the best, so does Cersei see something that Tyrion has not made apparent to the audience?
While even he may not know for sure, Tyrion actor Peter Dinklage doesn't seem to subscribe to the Daenerys and Tyrion love theory. Instead, Dinklage was quoted in an HBO behind the scenes segment saying his concerned look was all about how the romance would look to the realm, and the many dangers it could lead to for many. While that's a valid concern to have, that forlorn look definitely didn't look like a man worried about political ramifications, so it may be best to take Dinklage's words with a grain of salt.
Game of Thrones is officially in the offseason, but Season 8 speculations have only just begun. Fans can find plenty of analysis on the show here on CinemaBlend, and everyone can share their thoughts regarding the Golden Company or why Season 7 ended with that crazy scene. Anyone ready to just throw their hands up and move on with television until Season 8 rolls around can visit our fall premiere guide for tons of new shows to check out.
Mick likes good television, but also reality television. He grew up on Star Wars, DC, Marvel, and pro wrestling and loves to discuss and dissect most of it. He's been writing online for over a decade and never dreamed he'd be in the position he is today.