Where Game Of Thrones' Stars Can Be Seen Next As We Wait For Season 8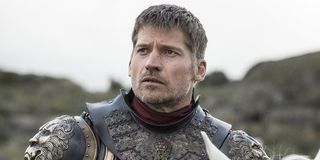 Game of Thrones fans have a long wait ahead of them before Season 8 airs on HBO. While it sucks we may have to wait until 2019 to see all our favorite characters back in action again, there are ample opportunities to see some of your favorite stars between now and whenever Season 8 finally makes its way to television. Check out the list below for where Game Of Thrones' stars can be seen next while we wait for their return to Westeros.
Gwendoline Christie (Brienne Of Tarth)
As many Star Wars fans undoubtedly know, Gwendoline Christie will return to the silver screen later this year as Captain Phasma in Star Wars: The Last Jedi. While unquestionably her biggest role leading up to Season 8 of Game of Thrones, Christie is also currently filming another potentially big project from Robert Zemeckis. Titled The Women Of Marwen, Christie will star alongside Steve Carell in what is said to be an action-packed film. Finally, Christie is also filming The Darkest Minds, which is a science fiction film about superpowered children being placed in internment camps. The latter two films are expected to release in 2018.
Project We're Most Excited For: Star Wars: The Last Jedi
Kit Harington (Jon Snow)
While he may be King in the North on Game of Thrones, Kit Harington will be trying to destroy the monarchy later this year in Gunpowder. In this upcoming miniseries on The BBC, Harington plays Robert Catesby who is believed to be the mastermind behind the Gunpowder Plot. In addition to his television role, Harington is also returning to the silver screen to star alongside Jessica Chastain in The Death and Life of John F. Donovan. With stars like Natalie Portman, Kathy Bates, Susan Sarandon, and Jacob Tremblay attached, one can speculate this will be Harington's shot at film success after the literal and figurative disaster that was Pompeii.
Project We're Most Excited For:The Death And Life of John F. Donovan
Nikolaj Coster-Waldau (Jaime Lannister)
Fans of the Kingslayer won't have much to hold them over until Nikolaj Coster-Waldau makes his return to Game of Thrones, but the actor does currently have one foreign film in the works that sounds interesting. In Domino, Coster-Waldau stars alongside Carice van Houten (aka Melisandre) as the two play cops hunting down the killer of their fellow cop who was gunned down in the line of duty. The big draw here, at least for American audiences, is two GoT actors playing cops, but with Brian De Palma directing, this is definitely one film audiences should keep an eye out for. Unfortunately, no release date for Domino has been announced as of yet.
Project We're Most Excited For: Domino
Sophie Turner (Sansa Stark)
Many are already aware that Sophie Turner will be returning as Jean Grey when X-Men: Dark Pheonix premieres in 2018, but Turner also has two projects in post-production that should roll out sometime soon as well. The first, Huntsville, takes creepy to the max as Turner plays a high school girl who begins a questionable relationship with an older man in town (Dylan McDermott). The second is a bit less creepy as Turner teams up with Asa Butterfield as a physics student attempts to use a time machine to prevent his girlfriend from breaking up with him in Time Freak. No release date has been announced for the latter two films, but they're both in post-production so it shouldn't be too long until audiences can enjoy them.
Project We're Most Excited For: X-Men: Dark Phoenix
John Bradley (Samwell Tarly)
While Samwell Tarly continues to take credit for the things Gilly clued him in on, John Bradley will be featured in a horror film alongside a bunch of other U.K. talent. Patient Zero, which toplines former Doctor Who actor Matt Smith, is about a man with the ability to speak to a new species created following a pandemic. Bradley won't be the only Game of Thrones vet in tow as Natalie Dormer is starring alongside Smith as they work in tandem to find an antidote that is capable of saving humanity. If only Gilly were around for this adventure, things might get resolved a bit sooner!
Project We're Most Excited For: Patient Zero
Peter Dinklage (Tyrion Lannister)
Peter Dinklage has managed to stay busy in Hollywood ever since he burst onto the scene in the early 2000s, and these next couple years will be no exception. Dinklage will be featured in smaller films such as Three Christs, I Think We're Alone Now, and Three Billboards Outside Ebbing, Missouri just to name a few, but the one that has everyone buzzing is his role in Avengers: Infinity War. With so much mystery surrounding the Game of Thrones actor's character, hype has been high in regards to who he is playing. Considering this is a Marvel film that contains literally all the biggest names in Marvel comics, that's really saying something!
Project We're Most Excited For: Avengers: Infinity War
Joe Dempsie (Gendry)
Joe Dempsie celebrated a return to television as Gendry on Game of Thrones in Season 7, and he's not stopping there. Dempsie has been cast in an upcoming spy thriller series developed by the Fox Network Group in the UK called Deep State, which sounds interesting. In it, Dempsie plays Harry Clarke who is described as a morally rigid spy who cannot stand for the things he must do in his line of work. The series is expected out in 2018, although it hasn't been said specifically when British or American audiences will get to see it. Dempsie is also to be a part of the musical film Been So Long, which is also due out sometime in 2018.
Project We're Most Excited For: Deep State
Iain Glen (Ser Jorah Mormont)
Much like Nikolaj Coster-Waldau, audiences will get to see Iain Glen spend some time with a Game of Thrones costar he has had little interaction with. Glen will play boss to Lena Headey's character in The Flood as she plays an immigration officer tasked with deciding the fate of an asylum seeker. That film is expected to release in 2018, and will definitely be a film for GoT fans to watch if they wanna see Ser Jorah and Cersei sharing a screen. Glen will also play another figure of authority in What About Love as he plays the role of an American ambassador. That film is currently in post-production so it's possible it could be released before the year's end!
Project We're Most Excited For: The Flood
Lena Headey (Cersei Lannister)
We've already mentioned how Lena Headey will be teaming up with Iain Glen in The Flood, and while that project is exciting, her other project, Fighting With My Family, just might top it. The film, which is based on the family of actual WWE star Paige, features Headey playing the role of Julia Knight. Knight is the matriarch of this odd family, who all wrestle professionally in hopes of making it big. Dwayne Johnson and Stephen Merchant are driving forces behind this project, which should entice fans of films regardless of how they feel about professional wrestling. The film is completed and is expected to release in 2018.
Project We're Most Excited For: Fighting With My Family
Nathalie Emmanuel (Missandei)
Nathalie Emmanuel has gained quite a bit of attention for her role in Game of Thrones, and her celebrity only stands to gain from an upcoming 2018 film The Titan. The film, which features Sam Worthington, is an indie thriller in which a military family undergoes experimentation involving genetic evolution and space exploration. Not much is known about Emmanuel's character at this time, other than her name is Tally. That film is expected in 2018 as well as the third film in the Maze Runner series, called Maze Runner: The Death Cure, where Emmanuel will reprise the role of Harriet.
Project We're Most Excited For: The Titan
Conleth Hill (Varys)
Conleth Hill may be the master of secrets on Game of Thrones, but not even Varys can rival the power of IMDb when it comes to finding his projects. Hill is supposed to be appearing in The Isle, which is a supernatural horror film set in 1846, although that currently might be up in the air. The filmmakers launched an Indiegogo page asking for donations to cover the rest of the film's budget, and they didn't get close to their goal, which might affect this film's future. If that doesn't pan out Hill is also attached to an animated film about an African king called I Am Khama, although it presently lacks a release date.
Project We're Most Excited For: The Isle (if it happens)
Liam Cunningham (Davos)
Ser Davos may not be the best with words on Game of Thrones but Liam Cunningham is well-spoken enough to land himself a voice acting role in the offseason! He's also the only actor on this list to be appearing in an upcoming video game as fans will be able to play hear Cunningham as well as Mark Hamill, Gillian Anderson, and others in Squadron 42 which is currently listed for a 2017 release date. For those not so into gaming, Cunningham is also going to be featured in Channel 4 and Amazon's much-anticipated anthology series Philip K. Dick's Electric Dreams, which is expected to premiere September 17th.
Project We're Most Excited For: Philip K. Dick's Electric Dreams
Maisie Williams (Arya Stark)
Maisie William's offscreen projects are kind of weird in the sense that they almost mirror those of her costar and on-screen sister, Sophie Turner. Williams is also starring in an X-Men film, as she'll play Wolfsbane in X-Men: The New Mutants. If that weren't enough, Williams is also co-starring alongside Asa Butterfield in the film Departures where she'll play a terminally ill British teen. Beyond that Williams will also voice a character in the upcoming film Early Man, which is from the makers of Wallace And Gromit. She'll additionally have a role in the upcoming biopic Mary Shelley. Minus the last film, which is out in 2017, 2018 is the expected date for all these projects, so it should be a great year for Williams!
Project We're Most Excited For: X-Men: The New Mutants
Emilia Clarke (Daenerys Targaryen)
Those who are waiting to see the mother of dragons won't have to wait long as Emilia Clarke is to star alongside actor Jack Huston in the film Above Suspicion later this year. Based on a true story, Clarke will play an Appalachian woman in an illicit affair with an FBI agent that ended in the first ever conviction of an FBI agent for murder. If that doesn't sound action-packed enough, Clarke will also be appearing in a Star Wars film in 2018 as she is attached to the Han Solo film set for 2018. Details recently surfaced about the character she may be playing, and from what we've reported, it sounds very exciting.
Project We're Most Excited For: Han Solo spinoff
Game of Thrones is expected to return sometime before or in 2019. For more shows that can distract fans during this long wait they have to endure, visit our fall premiere guide.
Your Daily Blend of Entertainment News
Mick likes good television, but also reality television. He grew up on Star Wars, DC, Marvel, and pro wrestling and loves to discuss and dissect most of it. He's been writing online for over a decade and never dreamed he'd be in the position he is today.