How Rick And Morty Is Changing Up The Interdimensional Cable Gimmick In Season 3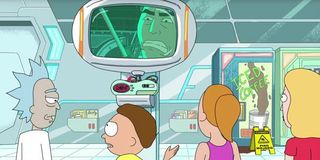 We all love television, but imagine having INFINITE television. That's a concept that Rick and Morty expertly explored in two great episodes from its first two seasons via Interdimensional Cable, but now it looks like the series won't return to that well again in Season 3. In fact, it appears we won't even get a case of Jan Quadrant Vincent fever this year, because the long-awaited third season of the hit sci-fi comedy is going to turn the Interdimensional Cable element on its head by focusing on Morty's extracted memories for a similar gimmick. Check out the trailer for the upcoming episode to see for yourself.
Based on that trailer, it looks like the bubble-bellied Rick and his teenage sidekick are going to get in trouble on yet another adventure that leads to some other exciting bits from the past. (And it might also include Dream from Neil Gaiman's Sandman?) Morty will look directly into the colorful eyes of a "Truth Tortoise," and he will achieve an unbearable degree of enlightenment as a result, with no explanation given for any of this wonderful shit. To help Morty cope with knowing all truths, Rick will take him to a hidden room in their house to remove the bad memories, and Morty will discover that Rick has extracted dozens (if not hundreds) of the boy's traumatic experiences over the course of their partnership.
Right off the bat, it's clear that this memory gimmick offers storytelling opportunities that might not have been available to the Rick and Morty team in previous seasons. Instead of focusing on weird characters like Ants in my Eyes' Johnson and Stealy, the episodes will spend more time on shorter (mis)adventures of the series' titular duo, making the darkly humorous vignettes far more personal for each of them. No word as to whether or not their bizarre court case, the encounter with a face-hugger, or this season's Pickle Rick adventure are some of those experiences, but we will have to wait and see.
The fact that Rick and Morty is opting to move away from "Interdimensional Cable" (while still retaining the fundamental DNA of that episodic structure) doesn't necessarily surprise us. Even the Season 2 incarnation of the episode made it abundantly clear that the folks behind the series begrudgingly decided to do it -- with Rick blatantly lamenting that they nailed it the first time they did it. Even the way he says it in the trailer above is without mirth. With this new format, it looks like Justin Roiland, Dan Harmon, and the rest of the folks behind the show want to try and at least temporarily move away from the multiverse cable concept, while still adhering to the vignettes that made the "Interdimensional Cable" episodes so successful and fan-loved in the first place.
Rick and Morty airs every Sunday night on Adult Swim at 11:30 p.m. ET. However, there are plenty more stories coming up in the next few months that are not limited to Earth C-137; check out our fall TV premiere guide for more information on all of them and fill out your TV calendars accordingly!
Your Daily Blend of Entertainment News
Originally from Connecticut, Conner grew up in San Diego and graduated from Chapman University in 2014. He now lives in Los Angeles working in and around the entertainment industry and can mostly be found binging horror movies and chugging coffee.