What Netflix Can Learn From Adult Swim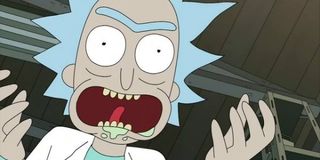 While Netflix has easily turned into one of the most successful content platforms in recent memory, it has also become increasingly apparent that the streaming service cannot rest on its laurels for long. Netflix CEO Reed Hastings even recently came out and admitted that he believes more of Netflix's current shows should be canceled to force the service's creative teams to take more "risks." Even in the face of its tremendous success, it's clear that the streaming giant is looking for new ways to innovate and keep itself fresh for an ever-changing audience base.
If Netflix is looking for the means to try new things, there is already another network whose business model could serve as a strong model for success: Adult Swim. Cartoon Network's late-night block of alternative content has come a long way since its humble beginnings with Space Ghost Coast to Coast in 2001, and there are quite a few lessons that Netflix could learn from its success. With that in mind, we have assembled a list of ways Adult Swim's model for success could help Netflix in its endeavor to reinvent itself. First and foremost, let's kick this off with Adult Swim's willingness to break away from the structures of traditional episodic television.
Expand Beyond Just Traditional Episodic Television
Although Adult Swim typically utilizes a regular schedule of content on a nightly basis, the network has also found ways to branch out and provide stories that veer away from the typical episodic television format. These have taken the form of miniseries (such as the recent Neon Joe, Werewolf Hunter event), and even the Season 3 premiere of Rick and Morty -- which superseded Adult Swim's traditional lineup of content for endlessly looping the same episode of the beloved sci-fi comedy as an April Fools prank.
The lesson that Netflix can learn here is that there are opportunities for branching out of traditionally scheduled, episodic television content. The streaming service has already taken a step in this direction by releasing entire seasons of series at once and varying up running times from episode to episode; now it's time to go even further. From miniseries to broadcasts of live events and even short films, Netflix should look for ways expand the definition of what constitutes "television" anymore.
Embrace Lesser Known Artists
Over the years we have seen Adult Swim establish a few name-driven flagship series such as Rob Corddry's Childrens Hospital or Dan Harmon's Rick and Morty. However, when viewed as a whole, the pantheon of Adult Swim content is generally populated by shows created by lesser known artists. Think about it; can you imagine Aqua Teen Hunger Force going to any other network without an A-list name backing it? By prioritizing content over the folks behind the content, Adult Swim has effectively helped foster brand new voices in entertainment.
Of course, Netflix has certainly invested in lesser known artists over the last few years -- The Duffers Brothers are a perfect example of how that gamble can pay off. However, the men behind Stranger Things feel more like the exception than the rule, as most high-profile Netflix shows are typically backed by big names such as Tina Fey, Baz Luhrmann, or David Fincher. Sometimes it's not about the name behind a series; it's about the series itself, and that emphasis on content is something Netflix should refocus its efforts towards.
Invest In Low-Budget Projects
There's a reason many of Adult Swim's shows look so cheap; it's because they're as cheap as they look. Even The Eric Andre Show (which has handily become one of the network's crown jewels over the last four seasons) typically costs only $3 million for an entire season of content. That's one of the biggest differences between these properties: Netflix hemorrhages money on shows that often don't go beyond one season, while Adult Swim opts for a comparatively low-risk business model.
On that note, Netflix should similarly look at ways to become more thrifty in how it develops its content, instead of attempting to swing for the fences with most of its ventures. There's no question that massive shows like The Defenders, or prestige comedy specials for legends like Dave Chappelle require enormous price tags, but in between those massive undertakings, we want to see bolder investments into more bizarre avenues. Money talks, and a cheaper series can almost always take more risks with its storytelling.
Create Different Levels Of Brand Identity
Among all of the things that Adult Swim has managed to get right over the course of its existence, its ability to create a sense of brand identity is its greatest accomplishment. Watching a block of Adult Swim content is an experience, as the network leans headfirst into its counterculture sensibilities, and often even provides music and visual content from up and coming artists to pad its commercial breaks. Adult Swim feels like no other network on television, and that sense of singular identity is one of its greatest strengths.
We're not saying that Netflix needs to strike the same tone and go after the same demographics as Adult Swim. However, what we are saying is that Netflix needs to find a new way to establish its brand that extends beyond "streaming service." This change could involve creating a greater sense of immersion within each of the subgenres that it offers (horror, family movies, etc.), or establish a social media component to its content. Whatever happens, Netflix needs to follow Adult Swim's lead to feeling like a fully developed brand in and of itself.
Are there any other lessons you think Netflix can glean from Adult Swim? Give us your thoughts in the comments below. Beyond that, check out our summer TV premiere guide for more information related to the rest of the shows headed to the small screen over the next few months.
Originally from Connecticut, Conner grew up in San Diego and graduated from Chapman University in 2014. He now lives in Los Angeles working in and around the entertainment industry and can mostly be found binging horror movies and chugging coffee.
Your Daily Blend of Entertainment News
Thank you for signing up to CinemaBlend. You will receive a verification email shortly.
There was a problem. Please refresh the page and try again.