Why Our Rick And Morty Theories Might All Be Right And Wrong At The Same Time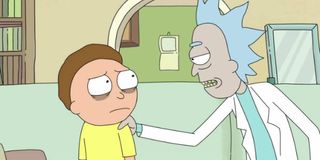 As a show that regularly deals with the concepts of alternate realities, Rick and Morty is no stranger to fan theories. Quite literally anything can happen at any given time, leading many fans to come up with some insane theories about the hidden nature of the series. While the folks behind other shows often like to chime in and confirm or deny theories about their worlds, Dan Harmon takes a much more ambiguous approach to the show. The Rick and Morty co-creator addressed his openness to these theories (such as the one stating that Rick knows he's on TV) and said:
So basically your fan theories are the Adult Swim equivalent to Schrodinger's Cat (or Schrodinger's Rick?). Unless definitively proven to be false, your wild fan theories about Rick and Morty live in a perpetual state of truth and falsehood. Is there another Pickle Rick running around somewhere? There can be. Did Rick and Morty's courtroom drama really happen? Sure, if you want. What's the true origin of Mr. Poopybutthole? Until the show gives us something definitive, you be the judge.
That said, this also means that Dan Harmon doesn't necessarily believe the whole "Rick knows he's on a TV show" theory. Even if the alcoholic Mr. Sanchez has his suspicions, his fourth wall breaks are more of a storytelling device than anything concrete within the universe. That is, until they decide to make it a reality.
For a show like Rick and Morty, this ambiguous acceptance of fan theories opens up an insane number of possibilities for the series as a whole. Fans have come up with some pretty wild speculations about the show over the course of its three seasons on the air -- ranging from the possibility that Ms. Frizzle from is Morty's grandmother, to the possibility that Rick isn't a genius, he just drinks megaseed juice from his flask on a regular basis. By Dan Harmon's own assessment in his comments to EW, it doesn't really benefit the writer's room of the show to shoot down any ideas for no reason. Who knows when Rick and Morty will want to crossover with an episode of Magic School Bus?
Rick and Morty airs every Sunday night at 11:30 p.m. ET on Adult Swim, and even as the long-awaited Season 3 begins to come to a close, we can look forward to plenty more stories (14 more, in fact) when the sci-fi comedy's fourth season finally gets underway. If you're looking for other shows to fill the Rick and Morty void this fall, have a look at our TV premiere guide to see what other debuts are on the horizon.
Originally from Connecticut, Conner grew up in San Diego and graduated from Chapman University in 2014. He now lives in Los Angeles working in and around the entertainment industry and can mostly be found binging horror movies and chugging coffee.
Your Daily Blend of Entertainment News
Thank you for signing up to CinemaBlend. You will receive a verification email shortly.
There was a problem. Please refresh the page and try again.