Rick And Morty's Dan Harmon Explained Mr. Poopybutthole To Us In The Most Mind-Blowing Way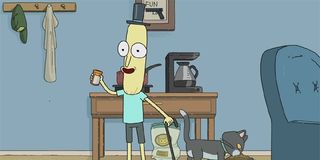 In the second season of the hit series Rick & Morty, the show reveals one of its best, if not most confusing, twists. In the episode "Total Rickall," the Smith household is inundated with alien parasites implanting false memories of fake characters -- and while the audience is initially led to believe that the story's first new character, Mr. Poopybutthole, is one of these phonies, it's tragically revealed at the end of the story that he definitely isn't. Fans have tried to come up with theories for how it's possible for Mr. Poopybutthole to actually exist -- but Rick & Morty co-creator Dan Harmon recently provided an explanation that tops them all:
With the third season of Rick & Morty set to premiere on Adult Swim this Sunday, July 30th, I had the immense pleasure of sitting down for an interview with creators Dan Harmon and Justin Roiland during a Los Angeles press day earlier this month -- and it was during this conversation that I learned of Harmon's Mr. Poopybutthole thoughts. Being the nerd I am, I specifically asked about the show's continuity, and if "Total Rickall" possibly takes place in a different universe than most episodes, and Harmon proceeded to offer up the aforementioned proposalthat fully explains Mr. Poopybutthole's existence. And while both creators made it clear that there really aren't any right or wrong answers, will still love this idea.
The level of thinking that Dan Harmon illustrates in his explanation really shouldn't come as a big surprise to Rick & Morty fans, given that it is that same level of thinking that is ultimately one of the most rewarding elements of the show. Every episode is a wonderful interpretation of fantastic science-fiction ideas, and even as trips around the multiverse start to get bizarre and complex, they still find themselves grounded in logical concepts. As a result, the series can get away with a character like the randomly-introduced, fourth-wall breaking Mr. Poopybutthole because its stupidity is backed by its own special brand of intelligence.
Not to be ignored also is the series' brilliant attention to detail -- which Justin Roiland perfectly demonstrated during our chat as well. While "Total Rickall" never specifically says where the alien parasites originated, Roiland told me that you can actually see where they came from two episodes earlier in "Mortynight Run" (which he initially tried to use as a proof that "Total Rickall" does take place in the show's "normal" universe/timeline). Said Roiland,
Doing my due diligence, I looked back at the two Rick & Morty Season 2 episodes, and lo and behold, Justin Roiland wasn't kidding. Notice the pink blob in this screenshot from "Mortynight Run":
And then check out how much they've multiplied in this screenshot from "Total Rickall":
Given Rick's regular adventures, it was pretty obvious that he was the one who let the parasite invasion happen through his own carelessness, but it's still amazing that Dan Harmon and Justin Roiland would go as far as to subtly show it happen as an Easter egg.
Fans have been diving deep into two seasons-worth of Rick & Morty for three and a half years now -- but the wait for more episodes is finally almost over. Following the April Fools release of the Season 3 premiere a few months ago, the second episode is finally set to air this Sunday, July 30th, at 11:30pm EST/10:30pm CST on Adult Swim. Stay tuned for more on that, as well as more from my interview with Dan Harmon and Justin Roiland! In the meantime, head to our summer premiere schedule to see what else is gumming up the works on the small screen in the near future.
NJ native who calls LA home; lives in a Dreamatorium. A decade-plus CinemaBlend veteran; endlessly enthusiastic about the career he's dreamt of since seventh grade.
Your Daily Blend of Entertainment News
Thank you for signing up to CinemaBlend. You will receive a verification email shortly.
There was a problem. Please refresh the page and try again.