How Voight Found Out Who The Mole Is On Chicago P.D.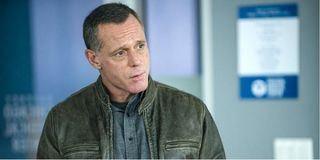 Warning: Spoilers ahead for the midseason finale of Chicago P.D. Feel free to skip over to one of our other lovely articles until you've caught up!
In a reveal that's been coming most of this season, Chicago P.D. has finally decided to let Hank Voight in on who's actually been informing on him from his unit, and we're here to let you know how it all went down. That's right folks, Voight now knows that Ruzek has been trying to take him down by talking to Denny Woods, and, as you might imagine, he is not happy.
The episode started with Ruzek and Woods having another of their clandestine meetings, and the news wasn't good for Ruzek. Woods was pissed that he had only been given the footage of Halstead punching a civilian while he was undercover from a couple of episodes ago instead of handing over something "actionable" that he could use to get rid of Voight. Not only did Woods threaten to put Ruzek's sister behind bars, but he detailed how her kid would end up in foster care and said he'd publicly ruin Ruzek's career as well. Then, Woods gave him 24 hours to come up with something solid on Voight or risk all hell coming down on him and his family.
Meanwhile, the Intelligence Unit is trying to bust open a prescription drug ring that's infiltrated the suburbs and is leaving soccer moms addicted to drugs like Oxycontin. An undercover Upton is able to locate a street level pusher (at, you guessed it, a kids' soccer game), but when the woman gets suspicious, Upton and Halstead have to find her at home. It isn't long before her kids come screaming out of the house that their mom won't wake up, and the detectives find her in the process of overdosing inside. When the woman dies, they find out she's actually the daughter of Tommy Wells, a former cop who went through the academy with Voight and is now a big time judge.
With such a high profile case, the pressure is now on to find out who her supplier was and shut down the pill mill. The team finds another low level pusher, Vance, and manage to turn him, mostly thanks to Wells giving the OK for a deal to be made that would give Vance immunity for his crimes after he walks in on the meeting Voight and the D.A.'s office are having with the pusher. Unfortunately, Vance gets killed with a skilled shot to the head before he can set up a meet with the supplier.
While the team is looking over Vance's apartment after his death, they find $20,000 in a shoebox. Ruzek offers to get the money into evidence, but Voight stresses that he'll take care of it. Then, during a quiet moment at the precinct, we see that Ruzek has been wearing a surveillance device that takes audio and video, and shows Voight taking the cash. Later, Ruzek meets with Woods again, and we find out that Ruzek had actually planted that money in Vance's place, hoping that Voight would take it and he could get evidence of it. Ruzek decides to pretend that Voight didn't take the bait, but Woods doesn't buy it. And, he's super salty over the fact that Ruzek still hasn't done his job. He gives the young detective until 6 p.m. the next day to turn over evidence against Voight or bring the cash back, or their deal will be over.
After Intelligence finally gets the supplier in custody, Voight realizes that he actually isn't the one who killed Vance, as they'd previously suspected. He was killed by ammo that's only used in the police issued service revolvers that Voight and Wells were given when they were in the academy; ammo that hasn't been made since 1994, the year Wells quit the force. In exchange for not turning Wells in, Voight asks for a favor. Of course, that favor is to know who's working with Woods to take him down.
The final scenes of the fall finale show Ruzek being driven out to the parking lot of an abandoned factory by Olinsky, and Voight getting out of his car to face the mole he's been waiting to have revealed for several weeks. What Voight doesn't know, though, is that Ruzek told Woods off in his last meeting with him, effectively throwing his career and sister under the bus. So, when the show comes back from hiatus, it'll be interesting to see if Voight actually believes Ruzek and tries to help him and his sister out, or, you know, if he kills him and buries the body someplace deep.
We can see what fate awaits Ruzek when Chicago P.D. returns at midseason to NBC on January 3 at 10 p.m. EST.
Your Daily Blend of Entertainment News
Yennefer's apprentice, Gilmore Girl; will Vulcan nerve pinch pretty much anyone if prompted with cheese...Yes, even Jamie Fraser.
Your Daily Blend of Entertainment News
Thank you for signing up to CinemaBlend. You will receive a verification email shortly.
There was a problem. Please refresh the page and try again.