2008 Winter TV Preview: Psych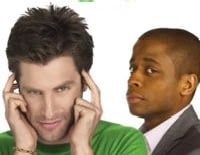 Psych - Season 2 (part 2)
Premieres: Friday, January 11th at 10:00 p.m. EST
Network: USA
Creator(s): Steve Franks
Starring:: James Roday, Dulé Hill, Corbin Bernsen, Kirsten Nelson, Timothy Omundson, Maggie Lawson
Website: USAnetwork.com
In Psych, James Roday plays Shawn Spencer, a police consultant for the Santa Barbara Police Department. Despite having no police experience himself, growing up with a Detective father (Corbin Bernsen) who constantly drilled him and honed his observational skills sharpened his abilities to the point that people think he's psychic. Dule Hill plays Gus, Shawn's best friend and business partner. Gus is one of the few people who knows that Shawn's psychic abilities are an act and while he disapproves of the subterfuge, Gus often finds himself helping Shawn with his cases.
Psych's last original episode aired in December and centered on Shawn clearing Gus' parents of murder. The second part of season 2 deals with another person in Gus' life when his wife asks for his help in a missing person case. Kerry Washington guest stars as Gus' wife.
I've caught several episodes of Psych due to USA's love of Sunday afternoon marathons. In typical USA original series fashion, it's obviously low budget and obviously shot in Canada, but it's still well written and well acted. Dulé Hill is playing a similar type of character to the one he played on The West Wing, but with Psych's much smaller cast, he's able to do a lot more. James Roday has a goofy, affable Zach Braff/John Krasinski way about him that makes it easy to believe that his character would be able to pull off such a ridiculous ruse. It's definitely not must-see TV, but with very few other shows on, now is a great time to introduce yourself to series you may have overlooked in the past.
For the full 2008 Winter TV Premiere Schedule: CLICK HERE
Your Daily Blend of Entertainment News
Your Daily Blend of Entertainment News
Thank you for signing up to CinemaBlend. You will receive a verification email shortly.
There was a problem. Please refresh the page and try again.