Watch Keanu Reeves Get Dangerous With A Motorcycle For Weird Super Bowl Ad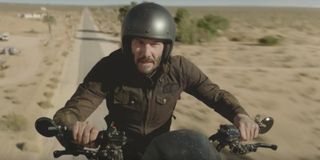 When it comes to modern action stars, few have developed a reputation quite as sterling as Keanu Reeves. The John Wick actor has continuously shown commitment to the physicality of his roles, and he has embraced stunt work in a way seldom seen among actors. Now, it looks like Keanu Reeves is taking that idea to the world of Super Bowl commercials, as a Squarespace ad featuring the action hero standing on a motorcycle has just hit the web. Take a look at the commercial, below.
We expect nothing less from a guy like Keanu Reeves. Standing on a motorcycle going down a desolate freeway, he can utter encouraging self-help phrases to himself, and it's inspiring. Then, for reasons that don't seem entirely clear to us just yet, he manages to quite literally lift the motorcycle up into the air and fly off into the sky.
It's arguably not too surprising to see Keanu Reeves take part in a commercial like this, regardless of how bizarre and absurd it seems at first glance. The Speed star has become widely-known for his badass on-screen exploits over the course of his career, so standing on a motorcycle in an ad seems to line up with a guy who can kill someone with a pencil or save humanity from machines.
For fans of Keanu Reeves' work, it might feel good to know that he's keeping in shape and consistently challenging himself in the world of stunts -- even if it's just for a Super Bowl commercial. Following last year's release of John Wick: Chapter 2, it has become clear that Reeves' isn't done performing in that fictional assassin world, as John Wick: Chapter 3 is already in development. Moreover, he's also expected to appear in the upcoming John Wick-inspired TV show, The Continental, so keeping limber on that bike will undoubtedly pay off when the time comes to once again suit up and kick some serious ass.
Keanu Reeves isn't the only A-list star who has taken to the world of Super Bowl commercials this year. In fact, in the lead up to the big game on Sunday, many high-profile ads have already hit the web -- including several featuring Danny McBride and Chris Hemsworth in a Crocodile Dundee spoof, as well as a beer commercial featuring Jurassic World: Fallen Kingdom's Chris Pratt in all of his shirtless glory. Star power seems to be a hot commodity for Super Bowl commercials this year, but few have reached the glorious absurdity of Keanu Reeves' Squarespace ad.
Make sure to watch out for Keanu Reeves' bizarre Squarespace ad when the Super Bowl airs this Sunday at 6:30 p.m. ET. For those of you looking for more information about all of the TV shows set to debut this spring, you can also hop over to our comprehensive midseason premiere guide to see anything and everything that's coming soon!
Originally from Connecticut, Conner grew up in San Diego and graduated from Chapman University in 2014. He now lives in Los Angeles working in and around the entertainment industry and can mostly be found binging horror movies and chugging coffee.
Your Daily Blend of Entertainment News
Thank you for signing up to CinemaBlend. You will receive a verification email shortly.
There was a problem. Please refresh the page and try again.