We Finally Know What's Going On With That Danny McBride Crocodile Dundee Teaser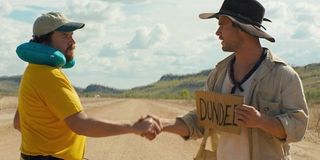 Last week out of the blue, it broke that a new Crocodile Dundee project was on the way starring Danny McBride as Brian Dundee, the son of the original legendary bushman, Paul Hogan's Mick Dundee. Although advertised as a movie, there was understandably some skepticism about if this was legitimate, especially considering the announcement of its existence came only months before it's supposed to hit theaters. Well for those of you who doubted its authenticity, it turns out you were right on the money, as Dundee: The Son of a Legend Returns Home is just an elaborate advertising campaign.
Following the release of two teasers, the second of which showed Chris Hemsworth playing Brian Dundee's partner on this adventure, Brisbane Times reports that Dundee: The Son of a Legend Returns Home is part of elaborate advertising that Tourism Australia will run during the Super Bowl next month. Tourism Australia and Screen Australia, the production company that's listed on the previews, are keeping up the facade that this is an actual movie that will be released in summer 2018, but contrary to what Paul Hogan said about Dundee: The Son of a Legend Returns Home being used to "bring Dundee to a new generation," it appears that this project is just a way to convince people to visit the Land Down Under. It's also worth noting that Dundee: The Son of a Legend Returns Home's director, Steve Rogers, has previously directed commercials for Nike, Old Spice and Audi, to name a few.
Arriving 17 years after Crocodile Dundee in Los Angeles was released, Dundee: The Son of a Legend Returns Home follows Brian Dundee, a loudmouthed American, heading to Australia to find his father, who's missing in the Outback. To do that he'll turn to Chris Hemsworth's Wally Jr., who is the heir to his father's outdoor tour company and knows everything there is to know about exploring Australia's terrain. This kid of story might have worked as a quasi-sequel poking fun at its predecessors, akin to the 21 Jump Street movies, instead you should expect this "tale" to be told as an elaborate tourism campaign across the most high-profile football game of the year. Perhaps after the game has aired, a full video of this Crocodile Dundee project will be made available online.
Aside from the lack of information surrounding Dundee: The Son of a Legend Returns Home, one big tipoff that this wasn't a legitimate movie is that Danny McBride and Chris Hemsworth (who is a Tourism Australia ambassador) have packed schedules. McBride has been working on the new Halloween movie and Hemsworth only just recently wrapped shooting Avengers 4. Fitting in time to shoot an advertising campaign is one thing, but a movie just wouldn't have been possible given what's on their plates. Still, it will be interesting to see how this both compares to the previous Crocodile Dundee movies and convinces people to travel to Australia for their vacations.
The Super Bowl airs Sunday, February 3 on NBC, and for those of you wondering what actual movies are coming out this year, head over to our 2018 release schedule.
Connoisseur of Marvel, DC, Star Wars, John Wick, MonsterVerse and Doctor Who lore. He's aware he looks like Harry Potter and Clark Kent.
Your Daily Blend of Entertainment News
Thank you for signing up to CinemaBlend. You will receive a verification email shortly.
There was a problem. Please refresh the page and try again.