This Is Us' 7 Most Heart-Wrenching Moments, Ranked By Emotional Devastation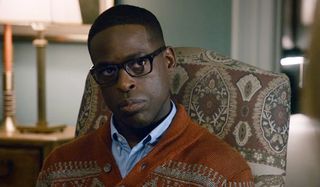 This Is Us is a series that figuratively feeds on the tears of its audiences; at least, one can assume that based on its killer ratings coinciding with its attempts to floor us. As sorrowful as the show can be at times, This Is Us is unquestionably one of the best dramas on television, and many of the series' saddest moments could very well be the reasons fans keep tuning in episode after episode.
With Season 2 now behind us (and making us question certain things), we're looking back to revisit the episodes that wreaked the most emotional devastation on fans. So call off all appointments and join us for the 7 This Is Us moments that absolutely left viewers in crumpled messes when they were through.
7. Jack's Death
Many This Is Us fans might consider Jack's death to be the saddest moment of the series, and we certainly agree it was a gut punch, but we can't in good conscience put it near the top. Fans have known since the fifth episode that Jack Pearson was no longer living in the present, but while the wound was fresh for the family in the flashback, that early reveal certainly eased the fanbase's suffering. But no amount of prep could emotionally shield us when watching Rebecca, who'd been assuming best case scenarios, learn that Jack had died of a heart attack. It was perhaps the most heartbreaking TV moment to immediately follow a vending machine purchase.
Level of Devastation: A cry typically reserved for an event everyone knew was coming. Still very sad, but a sadness eased by mental preparation. Perfect single-tear material.
6. Toby's "Heart Attack"
Toby is now a beloved staple of This Is Us, but he seemingly could've been just another sad story arc. The drama began when Toby flew cross-country to win back Kate's love after she'd previously dumped him. The couple did get back together, and things seemed great until the night was cut short by Toby collapsing from a "heart attack," (which was later revealed to be something else). Toby was rushed to a hospital for emergency surgery and fans were left with a cliffhanger that wouldn't be resolved until after a full month of repeats. Needless to say, fans were pretty traumatized at the time, and worried heavily that he wouldn't pull through.
Level of Devastation: Eyes welling uncontrollably and giving way to tear-streams at the thought of This Is Us's biggest mode of comic relief dying like that.
5. Kevin Skipping Opening Night For Randall
Kevin and Randall Pearson have their differences, as brothers of all kinds do, but the two always are there for each other when it matters. The best example of this came late in Season 1, when Kevin was minutes away from debuting in a play meant to show off his serious-actor skills. He received a call from Randall, who was in the midst of a nervous breakdown, and Kevin chose to back away from potentially advancing his Hollywood in order to rush to his brother's side. And as Kevin held the sobbing Randall in his home office, viewers experienced an emotionally complex moment mixing pity and disappointment with tears and choices leading to potentially devastating consequences. All things that This Is Us exhibits quite well.
Level of Devastation: Some sympathetic pout-faced crying, and maybe enough to cause an extended sniffle, but with the caveat that the hardships here are mixed in with positive feelings about family love and loyalty, giving us all the more reason to keep sniffling.
4. Randall Confronting Rebecca About William
Randall Pearson is a mama's boy, this we know. This Is Us has shown numerous flashbacks of Rebecca doting over her adopted son, which made it all the more devastating once Randall discovered Rebecca knew his biological father William. Sterling K. Brown did an excellent job of making audiences feel the knife of betrayal as he brought up all the times Rebecca could've told Randall about William, and Mandy Moore definitely carried the scene's weight just as well, mixing regrets with fear that Rebecca could be losing her son over her actions. Tears or no tears, it's one of the series' strongest scenes to date, and rewatching will no doubt give fans a renewed case of goosebumps.
Level of Devastation: A silent and possibly seething cry in a room without anyone else in the house, with a bellyache to follow. Some pillow punching may be involved.
3. Kevin's Breakdown After Losing The Pendant
Kevin's struggles with drug addiction in Season 2 weren't easy to watch, but one rock bottom moment in particular was the most exceedingly painful. After a weekend bender full of old memories and regrettable decisions, Kevin stumbled back to his latest one-night stand's house in search of the pendant Jack had given to him years earlier. As Kevin's sloppy pleas resulted in his one-time lover turning the lights out and left him collapsed in a pained heap, This Is Us fans really saw just how far the skidmarks went as Kevin went off the rails. Granted, he would fall even further, but with this performance, Justin Hartley really swung from our heartstrings in showing how mixing addiction with repressed feelings can peel someone to their core.
Level of Devastation: The sympathetic and ever-so-slightly judgmental tears are in full free-fall here, especially for those who've experienced similar intoxicant-fueled spirals, or have known someone who has.
2. Deja Goes Home With Her Mom
Deja instantly became a fan favorite when she first debuted as Randall and Beth's foster child earlier in This Is Us Season 2, which definitely made her leaving all the more emotionally crippling. Sterling K. Brown didn't make things any easier on our tear ducts, of course, as he delivered a speech to his departing foster daughter that was Emmy worthy, to say the least. This moment only seems to get better as time passes, because while Deja is now back in the Pearsons' care, it seems as though her time as "Deja 2.0" is long gone. If only Shauna had lost her rights to Deja before this, perhaps things would be different going into Season 3. Instead, we're worried for darker times ahead.
Level of Devestation: The sheer number of tears that flowed here could only be matched by the complete lack of shame in how they were produced. If only an "ugly cry" was a legally binding way to sustain care of a foster child.
1. William's Death
Jack's death was definitely the more high-profile fraternal passing, but if there was an award for the most heart-wrenching dad death on This Is Us (or modern primetime TV in general), William would win. His swan song started with Randall on a road trip to Memphis, where the two men bonded over fond memories being shared from both their lives. Tragically, the trip was cut short after a raucous night of singing and revelry, as the next morning saw Randall discovering his biological father unresponsive and in a bad way. William and Randall got to share one final moment, with the former in his deathbed, and Randall found himself mourning holding onto someone he had only just gotten to know. Needless to say, the episode was full of tour de force performances.
Level of Devestation: This Is Us fans likely called into work, school and LIFE that next day, because it pretty much felt like one's own family member died that night. And the tissue shortages could not be reversed.
Save your tears, everyone, because This Is Us will return to NBC for Season 3 later this fall. In the meantime, everyone can write their personal saddest moments in the comments below, and for a look at upcoming television in 2018, head on over to our midseason premiere guide.
Your Daily Blend of Entertainment News
Mick likes good television, but also reality television. He grew up on Star Wars, DC, Marvel, and pro wrestling and loves to discuss and dissect most of it. He's been writing online for over a decade and never dreamed he'd be in the position he is today.