Splitting Up Together: Jenna Fischer's New ABC Comedy Is Formulaic, But Fun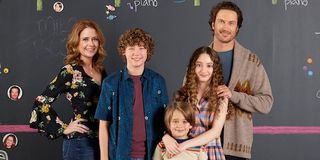 The modern nuclear family has changed considerably over the years, and its evolution is something that ABC has already tapped into on plenty of occasions -- particularly with the long-running success of the aptly-titled Modern Family. With Splitting Up Together, the network is bringing Office vet Jenna Fischer back to primetime for a new comedy with its sights on the controversial topic of divorce, though it sadly sidesteps the more interesting complications. All in all, Splitting Up Together is the story of a family dealing with the fallout of two parents who decide to (you guessed it) "split up together," and the result is an entertaining, but mostly hollow, experience.
That titular decision is made before the show even opens, too. Lena (Jenna Fischer) and Martin (Oliver Hudson) invite their closest friends and family over to announce they have decided to pull the plug on their relationship, but due to their shared financial woes with their house, they will continue to keep living together for the foreseeable future. As we watch them alternate between parenting duties and the single life on a weekly basis, Lena and Martin trade off the burdens/joys of taking care of their three eccentric kids, while also trying to get out into the world and move on from the central failed marriage.
On a purely conceptual level, Splitting Up Together admirably feels like a new premise that's ripe for exploration. The fact that Lena and Martin have already accepted the fact that they don't want to be together anymore (or do they?) circumvents some of the traditional drama inherent to a divorce-oriented story, and the fact that nobody else in their lives seems particularly affected by their big decision is actually a refreshing way of saying "look at how this is so not a big deal anymore." On the one hand, it's arguably a nice change of pace compared to the usual life and death tone that divorce narratives naturally generate on television; but on the other hand, it also robs Splitting Up Together of some chances for more natural drama to offset the comedy.
To that end, Splitting Up Together's biggest issue is that it cannot quite figure out where it wants to settle down on the comedy spectrum. From the very first episode, it is clear the series is attempting something edgier than most traditional sitcoms, at least in the way that it approaches topics of sex and parenting. There's even a subplot involving Lena tackling a medical issue involving her son's testicles that seems particularly frank for a traditional broadcast network. That said, whether it's intentional or merely a consequence of existing on a network like ABC, Splitting Up Together never quite goes all the way with its edgier gags, and the outcome is a sitcom that feels awkwardly nestled between tame, family-friendly content and the more daring TV salaciousness seen on less restrictive networks.
On a performance level, Oliver Hudson seems to be the clear standout of the bunch. Jenna Fischer gets to have some fun as the bored mom thrust back into the young person's dating world, but it's Hudson that gives the show the bulk of its emotional core and heart. Early on, Martin comes across as an unlikable narcissist, but by the time the premiere comes to an end, we get a much better sense of who he is and how the divorce has affected him. It also helps his case that Hudson has so much experience in the traditional multi-cam sitcom realm, having spent six years playing a lovable goofball on CBS' Rules of Engagement, while Fischer's time on The Office relied more on dry, deadpan deliveries.
Similarly serviceable is the show's supporting cast. The friends and family in Lena and Martin's shared life all serve as a chorus to sound off on the former couple's bizarre antics, though there are few legitimate standouts among the ensemble. In fact, the only two who make any real impact are Mad TV alum Bobby Lee (who brings a genial goofiness to the show as Martin's best friend, Arthur), and newcomer Olivia Keville as Mae, the bizarrely deadpan feminist daughter who frequently butts heads with Martin and her brothers.
If you are looking for some solid, disposable TV sitcom fun that doesn't have too many sharp corners, then Splitting Up Together will probably deliver the laughs that you're looking for. Beyond that, however, it's mostly a tame and formulaic exercise in the family comedy world that relies too heavily on familiar tropes to generate its premises and offer up its laughs. Not "bad" by most metrics, but also not particularly memorable, either.
Splitting Up Together airs Tuesday, March 27, at 9:30 p.m. ET on ABC. Make sure to catch it for yourself, and then head on over to our midseason premiere guide to mark all of the other major spring TV debuts down on your TV-watching calendars!
Your Daily Blend of Entertainment News
Originally from Connecticut, Conner grew up in San Diego and graduated from Chapman University in 2014. He now lives in Los Angeles working in and around the entertainment industry and can mostly be found binging horror movies and chugging coffee.