The 8 Best Netflix Original Food Shows, Ranked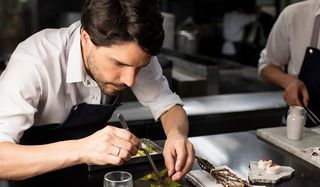 Food shows have dominated television to the point where they have more than one dedicated TV channel, and while Food Network and Cooking Channel may have the lion's share of food-related programming, they aren't the only chefs in the kitchen. Netflix, for instance, is slowly cooking up an impressive library of original series that any foodie worth their subscription salt should be watching. For those who want to dive in but have no idea where to start, we provide our ranked list of the tastiest treats the platform has to offer. But let's start off with a show that takes a different look at food consumption.
8. Rotten
Most people assume the food they buy in stores and restaurants is safe, authentic, and of the best quality possible. Rotten's goal is to show that's not always the case by giving viewers a look at the meal's tumultuous path to the plate. The Netflix docu-series may not be the most palatable food show for subscribers to watch, but it's highly educational, and it feels vital in its mission to expose the corrupt, greedy, and sometimes inhumane practices utilized by the global food industry. Rotten can and should make everyone think twice about the foods and drinks they're putting into their bodies, and while the footage might ruin a few foods for some, Rotten's crash course in food production is as educationally eye-opening as it is horrifying to watch.
7. Cooked
Cooking is now considered an art form by many, but not long ago, it was far more of a necessary skill for everyday life. To that end, Cooked focuses on the four major elements used to cook food (air, water, fire, earth) and episodes explores each element's strengths for cooking, and how people around the world use them to prepare meals. In a world where learning how to cook is no longer a top-tier requirement for survival, author Michael Pollan's Cooked will inspire anyone who routinely burns toast to pick up a spatula and up their culinary game. Watching Cooked won't necessarily improve anyone's poor cooking skills, of course, but the inspiration it provides should be enough to transform any lowly beginner into a semi-competent cook.
6. The Big Family Cooking Showdown
Cooking as a family can often be a nightmare, but The Big Family Cooking Showdown just might inspire some people to give it a shot anyway. In each episode, two families square off in and compete in various cooking challenges, with the winning family going on to the next round. The series is hosted by prominent cooking experts like Great British Bake Off winner Nadiya Hussain and Michelin star chef Giorgio Locatelli, and it's rife with meals that'll make even experienced cooks say "Wow." The addition of family recipes and extra hands help to create truly lavish meals that a single person probably couldn't make on their own, which is what really set this show apart from others, with the family aspect making it all rather wholesome.
5. Ugly Delicious
Is a food always at its best when it's made in the country from which it originates? Ugly Delicious host and internationally renowned chef David Chang certainly explores that in the series, as each episode centers on a popular food's origins, how it is traditionally prepared, and how others are preparing it in various other parts of the world. Those with an interest in food history, as well as what dishes like pizza and crawfish might look like around the world, will be thrilled at the amount of research this series endured, as well as the vast amount of locations Chang travels to just to tell one food's story.
4. Nailed It!
If anyone ever truly needed a show that brings Pinterest fails and other assorted culinary disasters to life, this is it. Nailed It! takes the most incredible-looking confectionary items found on the internet (and in its guest judges' kitchens), and challenges three home bakers to try and recreate them. The results are rarely perfect and sometimes embarrassingly awful, and when that's combined with the manic comedic wit of host Nicole Byer, Nailed It is quite possibly the most humorous cooking competition on television. Viewers might feel bad for the stressed-out contestants, but considering one of them walks away with $10,000 for an effort that would get them laughed off the set of most other cooking programs, we think they can handle the humiliation.
3. Chef's Table
Cooking competitions and travel shows are fun to watch, but few series really showcase the true rockstars of modern cooking in quite the same way as Chef's Table. Each episode centers on a world-renowned chef, their story, and the food that they cook. Seems simple, but behind each chef is a tale that's as rich, diverse, and eclectic as the meals they put on the table every night. Plus, each subject has very little in common with the other chefs, beyond the fact they make amazing food, so it never feels like the same old story. The series is somewhat more of a celebration of prolific chefs than the food itself, but it is nothing short of magical watching these brilliant minds craft meals that others could work their whole lives to recreate and still fail.
2. Zumbo's Just Desserts
Australian chef Adriano Zumbo's desserts are the stuff of legend that makes even the set of Willy Wonka and the Chocolate Factory look a bit basic in comparison. As such, his cooking competition Zumbo's Just Desserts has remarkably high standards as he tasks contestants with creating lavish and stylized desserts that, given the three-hour time frame, are quite frankly unbelievable. Jaw-dropping reveals are the norm in this series, and if a contestant doesn't meet Zumbo and co-host Rachel Khoo's strict standards, or the challenges' themes, they're forced to go head-to-head with another contestant in recreating one of Zumbo's incredible creations. The winner gets $100,000 and, likely, the undying admiration of any person who binge-watched this sugary series from start to finish.
1. Somebody Feed Phil
Most people know Phil Rosenthal for creating the international hit sitcom Everybody Loves Raymond, but they really should know him for his work in front of the camera. Rosenthal's award-winning and short-lived PBS food series I'll Have What Phil's Having has been reworked by Netflix into Somebody Feed Phil, and it may just be the definitive food and travel show on television, period. Rosenthal's goofy demeanor, sense of humor, and genuine warm-hearted nature allow him to connect with folks across the globe in a way that many celebrity chefs and TV hosts cannot, which makes for some really great television. Somebody Feed Phil will make you want to try new foods and travel to new places, and Phil will leave you in stitches all throughout.
All of these shows are currently available to stream on Netflix. For a look at some new things the platform has on the horizon, check out our Netflix premiere guide. For a look at what's happening on television in general in the coming months, visit our midseason premiere guide and summer premiere guide.
Mick likes good television, but also reality television. He grew up on Star Wars, DC, Marvel, and pro wrestling and loves to discuss and dissect most of it. He's been writing online for over a decade and never dreamed he'd be in the position he is today.
Your Daily Blend of Entertainment News
Thank you for signing up to CinemaBlend. You will receive a verification email shortly.
There was a problem. Please refresh the page and try again.