Why Jane The Virgin's Finale Twist Means Jane And Rafael Might Not Be Happy In Season 5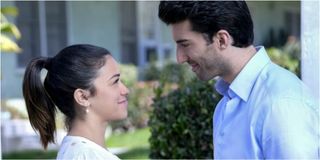 Warning: Spoilers ahead for the Season 4 finale of Jane the Virgin. Feel free to come back once you've caught up!
Well, folks, leave it to Jane the Virgin to give us a finale twist that really packs a shocking punch. Unfortunately, the Season 4 finale ends on a note that might mean Jane and Rafael won't be so quick to get their sweet happily-ever-after when the show returns. And, they'll have Rose and Michael to blame, as it actually looks like Jane might not be a widow after all. Here's what went down.
The main focus of the finale was Alba finally getting her citizenship and the surprise party Jane decided to throw for her after the swearing in ceremony. The day before the ceremony and party, though, Rafael admits to Xo, Alba and Rogelio that he's planning to propose to Jane that night, asking for each of them to give their blessing. Since he and Jane have just revealed that they've found an apartment and are planning to move in together, Alba is especially happy that he'll be making an honest woman out of Jane, and everyone gives him their blessing.
But, secrets are hard to keep in a family like this, and Jane begins to wonder if something is going on when Alba offers to babysit for them that night, even though it's her bingo night and when River, who's hanging out with Rogelio to get to know him better before they appear as a married couple on screen, suggests that Jane get dressed up for the dinner she and Rafael had planned that night. Of course, Jane is excited, and when Xo asks if she's going to say yes tells them, "He's my future. Who else could it be?"
Well, we've known for a while now that Rose has been trying to get in touch with Rafael and somehow convince him to tell her Luisa's location. After he talks to Petra at the hotel, a messenger who's been sent from Rose tells him to go see her as soon as possible, then disappears into the crowd in the lobby. In an effort to get her to finally leave him alone, he goes to see her in prison. He assumes she has information on his birth parents that she wants to trade for Luisa's whereabouts, and tells her nothing she says will get him to spill the details she's looking for, but Rose tells Rafael that he'll definitely want to know what she has to say.
Later, when Jane gets to Rafael's place for their date, not only is he not ready, but he's been drinking, looks terrible and actually yells at her telling her to leave. Jane does, but changes her mind in the hall, bangs on his door and once she gets inside tells Rafael that he doesn't have to talk to her, but people in relationships don't leave. He goes out to the balcony, and stays there long enough that Jane gets ready for bed without him talking to her. When he finally comes to bed, she assumes he found out something about his parents and instead of correcting her, Rafael lays his sexytime moves on her. The next morning, he's clearly still in a bad mood, but Jane is miffed that he acts like nothing happened and still won't talk about it.
And, here's where things get super wacky. During Alba's party, Jane takes Rafael aside and tells him he can tell her anything because she loves him and he's it for her forever. They kiss and Rafael tells Jane he has to go do something and to be at his place after Alba's party has finally wrapped up. Guys, when Jane gets there he opens the door, lets her in and Michael, yes, supposedly dead for several years Michael, is standing in Rafael's apartment!
Since there was no indication Jane didn't see Michael's body after he died from complications due to being shot, it didn't seem like some tricky, telenovela, he-ain't-really-dead death. A huge part of the this season has been Jane fully coming to terms with his death, getting back into dating and eventually falling back in love with Rafael. Now, of course, all that progress has been blown apart. So, it's unlikely Season 5 will see Jane and Rafael riding off into the sunset any time soon. Unless we find out that this isn't really Michael, but some masked impersonator, which wouldn't be totally unlikely on this show.
Jane the Virgin will return sometime next season on The CW. For more on what you can watch in the coming weeks, check out our midseason premiere guide and summer premiere guide. To see when finales for all your favorites will air, bookmark our 2017-2018 season finale guide.
Yennefer's apprentice, Gilmore Girl; will Vulcan nerve pinch pretty much anyone if prompted with cheese...Yes, even Jamie Fraser.
Your Daily Blend of Entertainment News
Thank you for signing up to CinemaBlend. You will receive a verification email shortly.
There was a problem. Please refresh the page and try again.