A CW Star Wants To Play Marvel's America Chavez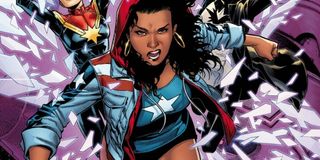 Anyone who has seen Jane The Virgin doesn't just know how supremely talented Gina Rodriguez is, but should also be very much aware of how easy it is to be utterly charmed by the actress. (There may be some slight falling in love with her, too.) Gina Rodriguez is already dabbling in big screen projects, but it now looks like the 32-year-old actress has pinpointed the role that could do make her a certified star. That's because she wants to portray the Marvel superhero America Chavez, and could be a good fit if the MCU ever decides to bring that character into the fold.
Gina Rodriguez made it clear that not only she is very much aware of the superhero, as she apparently "immediately jumped with excitement" at the mere mention of America Chavez, but she has also informed her manager that if Marvel Studios does ever look to adapt the superhero then she wants to at least try for an audition. The ball is now firmly in both Marvel and her manager's court to get the job done. It shouldn't be too hard, though, because Gina Rodriguez is downright perfect for the part, and I'm guessing she'd be one of the first people mentioned for it anyway.
From the sound of things, Gina Rodriguez has already been doing her homework in regards to the character, too. That's because during her discussion with Geeks Of Color, she also briefly mentioned Gabby Rivera's first solo series for America Chavez, which only hit shelves as recently as March 1. Clearly Gina Rodriguez is champing at the bit to portray a superhero on the big screen, and in the shape of America Chavez she's immediately seen a kindred spirit and a character that she could thoroughly truly sink her teeth into. Plus, since there aren't that many female, Latina superheroes out there, it's safe to say that these opportunities don't come around every too often, and Gina Rodriguez is making sure that she's well prepared for when they do.
After originally being introduced in the 2011 miniseries Vengeance, America Chavez has since become a member of the Young Avengers in 2013, as well as the A-Force (which is an all-female Avengers team) and the Ultimates, too. Raised on the woman-only Utopian Parallel universe by her two mothers, America Chavez has a variety of superhero powers, but she's still not sure just how capable she is. This is discovered in Gabby Rivera's series, which sees her taking off to college and dealing with alternate universes. America Chavez is also queer, which has made her a cult hero in the LGBT community.
Gina Rodriguez made this declaration of intent after her appearance at the Hacking The Script: Disrupting Diversity In Hollywood panel at South By Southwest earlier this week, which was also attended by Doctor Strange writer Jon Spaihts. Fingers crossed he immediately sped back to Marvel HQ to repeatedly poke Kevin Feige with a stick until he's greenlit an America Chavez film, because having Gina Rodriguez play her is just too good an opportunity to miss.
Your Daily Blend of Entertainment News
Your Daily Blend of Entertainment News
Thank you for signing up to CinemaBlend. You will receive a verification email shortly.
There was a problem. Please refresh the page and try again.