Pauley Perrette's Abby Just Left NCIS In The Most Heartbreaking Way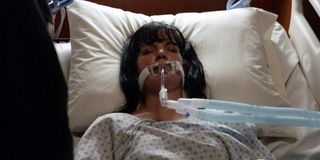 Warning: Major spoilers ahead for Pauley Perrette's last episode of NCIS. Be sure to watch the show before reading!
Pauley Perrette's final episode of NCIS has finally aired, and it was just as emotional as promised. After weeks of assurances that fans will be treated to a special farewell for Abby Sciuto that would be heartfelt, nostalgic and even include a special reveal, the show did not disappoint when it came time to actually send off a character (and actor) who's graced the small screen procedural for all 15 of its seasons. Last week, Abby nearly made it through the episode unscathed, but was targeted at the very end by a gun-toting mugger who became quite trigger happy when she tried to talk him out of doing anything dumb. But, by the end of tonight's episode Abby manages to walk away with nothing but her arm in a sling, even though she did decide to leave her family at NCIS behind. Here's what happened.
The episode started with a light-hearted card game with Gibbs and other senior members of NCIS, but as soon as he got the call from McGee about the shooting, that all changed. When we see Torres, Bishop and Palmer in the morgue standing over a body covered by a body bag, we soon find out that Clay, who tried to push Abby out of the way, took two bullets to the chest and died. (Here's why that death actually went down.) When they test his clothing, they find his blood and the blood of former Army Specialist Clint Marshall, who was dishonorably discharged in 2008. But, when they storm his home, they find him dead with his throat slit. They also find a file on Abby, though, meaning that the "mugging" was actually a hit on Abby.
When they finally uncover the person behind the hit, it's revealed to be former Army Sergeant Robert King, who once tricked Abby into making a bio-weapon that he was hoping to unleash in Afghanistan to get rid of the enemy so no more American soldiers would have to fight there. So, when Abby is able to find him at a cafe, she heads off to confront him alone. Abby gets him to confess by telling him she poisoned his coffee, but is willing to give him the antidote, and he admits to putting the hit out on her when he starts to show signs of the poison. When he says she's not tough enough to do something like that, she notes that she's tired of all her hero friends dying while he gets to live. Of course, it turns out that she didn't actually poison King at all, but it bought enough time for Gibbs and Torres to find King and arrest him.
The nostalgia factor was also out in full force, just as those involved in NCIS had said it would be. Perrette's last episode featured a host of flashbacks to times both good and bad, leading to (bitter)sweet memories flowing for the audience as well as Gibbs, Ducky, McGee, Palmer, Bishop, Torres and the rest of the NCIS team. Basically, if you didn't spend most of the hour crying or nearly crying, get thee to a doctor, because something is very wrong with you.
As you might imagine, Abby felt terrible about Clay dying when the hit was meant for her. So, she went to see him in the morgue, left him the photo he carried of himself and his mom, and made a promise to start the charity in her name that he'd wanted to get going. This meant that Abby later had to tell the team that she was leaving; escorting Clay's body to London so he could be buried near his mom and then getting the charity off the ground, and not coming back to NCIS. After leaving a note for Gibbs outside his home and sharing a sweet goodbye through his window, the final moments saw her pack up her lab, turn out the lights and walk away.
You can see how the team carries on without Abby (and how the show carries on without Pauley Perrette) when NCIS airs its season finale next Tuesday at 8 p.m. EST on CBS. For everything else coming up on TV in the next few weeks, be sure to check out our summer premiere guide, and to see when all your favorites are ending visit our 2017-2018 season finale guide.
Head to the next page to watch the preview trailer for the next NCIS episode, "Fallout."
While some fans out there probably think it would have made sense for NCIS to say goodbye to Abby during the season finale, that wouldn't leave any time for any other characters to visibly cope with her absence, which tends to help others deal with their own feelings of loss. (Not just in cases involving still-living TV characters, of course.) The preview for the follow-up episode, "Fallout," certainly looks like it will be putting the team through some grief, with Sean Murray's Tim McGee specifically looking like he might be mulling his own exit. Check it out!
McGee looks like he's taking things the hardest here, which is bound to make some fans suspicious that NCIS might be taking yet another major character out of the ensemble in the near future. Season 16 is a sure thing at CBS, but given how often cast shakeups happen these days, we can't guarantee that all of the familiar faces will be back. We can only hope, right? "Fallout" airs next Tuesday on CBS.
Your Daily Blend of Entertainment News
Yennefer's apprentice, Gilmore Girl; will Vulcan nerve pinch pretty much anyone if prompted with cheese...Yes, even Jamie Fraser.
Your Daily Blend of Entertainment News
Thank you for signing up to CinemaBlend. You will receive a verification email shortly.
There was a problem. Please refresh the page and try again.