How The Bachelorette's Becca Reacted To Learning One Contestant Was A Virgin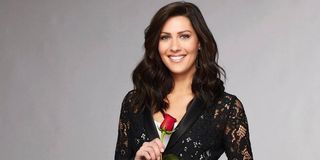 Finding love on this season of The Bachelorette has not been easy for Becca Kufrin. Her pool of suitors has been filled with a wide variety of weirdos, from a male model who insisted on talking about modeling all the time while wearing gold man-panties, to a guy who busted his face up after falling out of bed and a couple of truly unsavory characters who even include an actual criminal. Well, with all those guys finally gone and Becca thinking the drama was finally behind her on this journey, she got another curve ball thrown at her recently when contestant Colton Underwood revealed he was a virgin. Luckily for Colton, Becca was understanding, encouraging and even gave him a rose for his honesty. That doesn't mean that telling her didn't cause some tension, though. Here's what happened.
So, as the episode opens Becca and her six dudes are in the Bahamas to enjoy the sand and surf of island life. The first one-on-one date goes to Colton, and while Colton has kept his v-card secret from Becca this entire time, the five guys left back at the hotel all know, and spend most of their time sitting around gabbing about how they can't see Becca ending up with the former pro-football player because of his virginity. Meanwhile, Becca and "bronze god" (her words) Colton are having what seems to be the most sexually charged date of the season. She's in a bikini, his muscles are poppin', their hands are all over each other...you get the idea.
Just when Colton is about to tell Becca his big not-so-secret secret while they're on their boat date, another boat arrives with an interesting man aboard who helps them learn to dive for conchs, which, according to their new friend, is known as "Bahamian viagra" because they're such an aphrodisiac. This leads to a lot of sexual puns from Becca as she recalls the date to the camera, along with talk of how she and Colton don't need aphrodisiacs because they're sooooo into each other. As you might expect, everyone watching this who already knew Colton was a virgin was cringing a lot.
Colton's moment on the boat ruined by sexual innuendo and out-right sex talk, he felt he had to wait until the second part of their date. So, when he and Becca sit down to dinner in their finery (or, with Becca in her finery and Colton dressed like he's working in the cubicle next to yours) he broaches the difficult topic ASAP. After reminding her that he dedicated a lot of time to football in his young life, which meant that he neglected the personal side of things for a long time, Colton finally spit out that he's still a virgin. Becca seemed a bit stunned, as most of us would when a hot football player who had his hands all over us a few hours ago spills this kind of detail, but she was basically gentle with him and tried not to overreact to the news.
However, after a few moments of floundering on Becca's part as Colton continues to explain, she excuses herself and goes out to the balcony to think things over alone. This, of course, caused Colton to panic a bit. He figured that he'd blown it. After all, why would she need alone time to process his virginity if she was totally cool with it? When Becca comes back, though, not only does she continue to ask gentle questions about why it's never happened for Colton, but she eventually gifts him with the first rose of the trip for his honesty and desire to make his first time special despite the pressure to just get it over with.
Overall, I think Becca handled Colton's virginity reveal pretty well, even though her briefly walking away from dinner seemed like overkill. I mean, the dude's 26 and he's never had sex, it's not like he's a 78-year-old virgin; that would really give folks pause. And, even though Becca didn't ask for an answer to the question I was dying to get (Why in the hell didn't he tell her sooner?!), at least she engaged Colton in a conversation about his choice and ultimately rewarded him with a rose and asking to do a hometown visit with him.
We can all see how that visit with Becca and Colton The Virgin's family goes next week, when The Bachelorette returns to ABC, Monday at 8 p.m. EST. To see more people on the small screen who may or may not be virgins, check out our summer premiere schedule.
Your Daily Blend of Entertainment News
Yennefer's apprentice, Gilmore Girl; will Vulcan nerve pinch pretty much anyone if prompted with cheese...Yes, even Jamie Fraser.