The Problem Isn't Modern Family Killing Off A Character, It's The Hype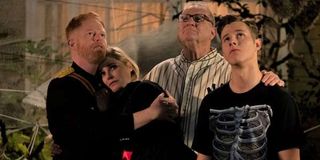 Spoilers for last night's episode of Modern Family, "Good Grief," can be found throughout this article. Read on at your own risk of spoiling yourself on the death that has been teased ahead of the new season of the comedy for months.
It's not super often that comedy plots become big talking points. The Big Bang Theory has figured out how to get its viewers invested in things like marriages and babies, and a few other comedies, including Modern Family or The Good Place, have broken through the noise and made us care about the show's plot as much as the jokes.
So, when Modern Family announced there would be a death during Season 10, we sat up and paid attention. When we learned that death would be "significant" we started speculating about the possibilities. There was a lot of hype around this deathly plotline. Then, last night during Modern Family Halloween-themed episode, we learned who had died: Shelley Long's DeDe. If you are asking "who?" you may not be alone. If you vaguely are aware of DeDe on the show, you may be asking, "why?"
I'm an unabashed Modern Family fan. From the day Phil started tripping over the stairs in the show, I was totally on board with the quirky ABC series and totally in love with most of its characters. (Sorry Manny.) Thus, when Modern Family came right out and told us a "significant" character would be killed off the series, I was grieving a little already. However, I also thought, "Great. This show has needed a new direction for a while. Good for the creative team, going out on a limb and trying something new."
I suppose that following the big DeDe reveal, the death being an important part of the plotline is still true to an extent, but it's hard for me to even explain how flabbergasted and irritated it was to learn that Shelley Long's character was the one the series chose to say goodbye to---and in her sleep in a hotel in Greenland, nonetheless. I know that co-creator Christopher Lloyd did not promise a "major" character would be killed off the series, but there are a lot of people on Modern Family that would have felt more "significant" or meaningful than DeDe, as DeDe has generally not been portrayed in a positive light.
DeDe was Mitchell and Claire's mother, but she was also a hot mess and they didn't have a ton of respect for her. She notably caused a scene when Jay and Gloria got married. She also caused rifts between Claire and Mitchell, as she was nicer to Mitchell while critical of her daughter. But mostly, she was a non-presence on the series, the reason Jay was able to get with Gloria in the first place.
There was plenty of speculation about who would be killed off on the series. Initially, Jay seemed as if he could be a strong contender, as the family's patriarch and an important character on the show. However, that speculation died after Ariel Winter made some comments. Really, she deserves major kudos for throwing everyone off of the scent by telling the media that the death would not be an older person who people thought would go...
In fact, though, if Modern Family wasn't going to kill off Claire or Cam or Jay or, hell, little Joe (wouldn't that have been a dark turn?), there are so many more people who have had an impact on the show that the viewers themsevles could have actually grieved for. If we are looking at Winter's comment as evidence, the obvious answer here would have been Dylan.
Regardless, the show wanted the death to have an impact on the characters on the show, forget the viewers. After DeDe died in her sleep during "Good Grief," co-creator Steve Levitan mentioned that Modern Family is:
DeDe's death is expected to come up in one of Modern Family's follow-up episodes, so the show will address it again. In addition, her death will affect pretty much everyone in the Dunphy and Pritchett family in at least some small way. (Allegedly Cam and DeDe even ended on good terms even though DeDe was always a little passive aggressive about his size.) If someone like Dylan or Sal or Cam's Sister Pameron had died on the series, it probably would have had a lesser effect on some characters than others and may not have been as big of a moment for the series.
Yet, still.
If a show is going to tease a big death for months in advance and if words like "significant" and dealing with "bigger life events" are going to be bandied about, the expectation should be that the character leaving the show will really matter. The expectation for the episode itself should be that it would be a significant episode, as well. "Good Grief" is a fine episode of Modern Family, but there was nothing to be wowed about here.
In Season 10, I don't suppose the series needs to break the mold completely, but wouldn't it have been wonderful if this episode had been a real surprise for the viewer?
Modern Family is still going strong in its 10th season on ABC. If you'd like to catch up with the show after its recent death, new episode of the long-running comedy air on Wednesday nights at 9 p.m. ET. To find out when your other favorites are airing, take a look at our full fall schedule.
Your Daily Blend of Entertainment News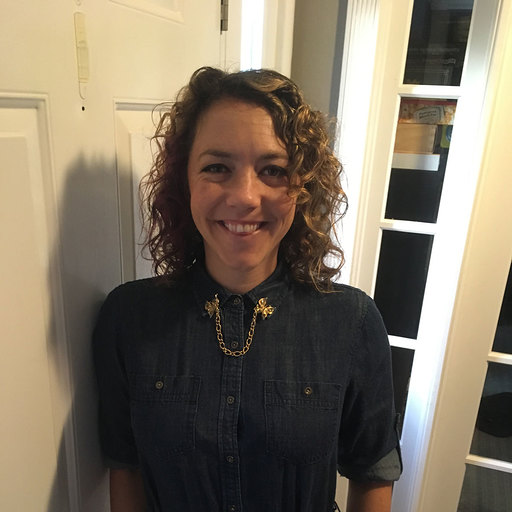 Reality TV fan with a pinch of Disney fairy dust thrown in. Theme park junkie. If you've created a rom-com I've probably watched it.